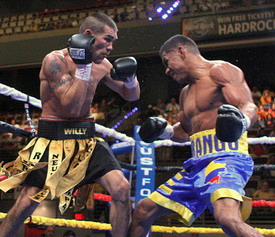 By Wray Edwards: Photos © Wray Edwards/ESB – click here to view photo gallery –
Juan Urango from Coral Gables, Florida took another step back in his quest for another championship by dropping Carlos Vilches from Mendoza, Argentina. Vilches, 53-7-2 showed courage and toughness as he confronted Urango, 19-1-1 in a contest billed as a title eliminator for a super lightweight championship opportunity.
A very responsive crowd at the Seminole Warriors Hard Rock Live was treated to two very exciting co-features. Urango, who looks like a boxer (for what that's worth) proved, in this case, that form follows function. His compact, triangular torso provided plenty of power for his victory. Though game, Carlos was no match for Urango's burrowing inside style. These photos attest to the action: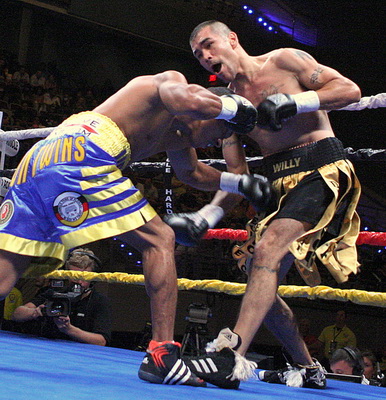 Juan would burrow in…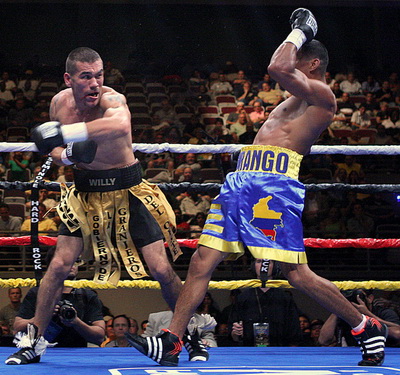 And Carlos would strike back trying to create boxing distance.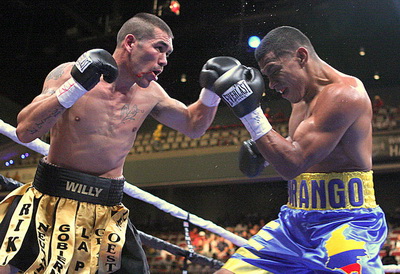 With distance, Vilches was able to hold his own with minor interruptions by you know who…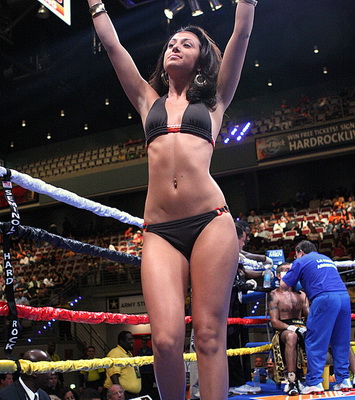 OK by me.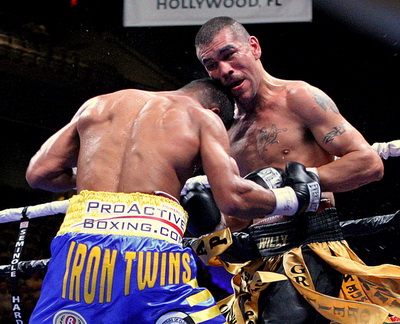 Back at it, Juan would resume his head-long assault. Not long after this…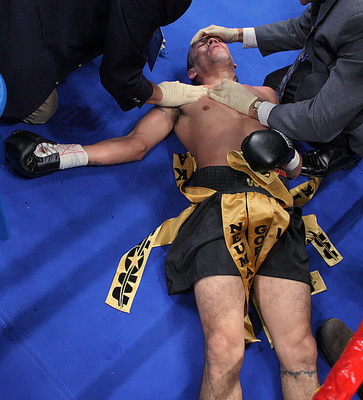 Round Four came to a sudden end for Vilches as he fell victim to a Urango right hook which switched off the lights for the stalwart Argentinian. The blow was so terminal that the ring physicians wasted no time getting in the ring to assess Carlos' condition and revive him.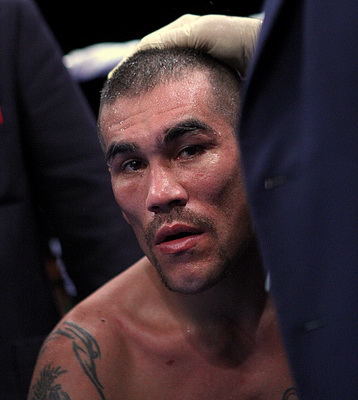 After ten minutes or so, the docs got Vilches up on a stool where he was comforted by his team. Urango was declared the winner by KO at 1:45 of ROUND 4.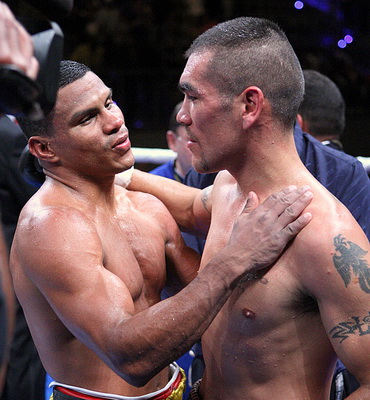 One of my favorite moments in any sport is that moment of sportsmanship and honor where humans do what is most human…show kindness. It is especially important in violent sports, as it instructs younger watcher in the art of respect and honor.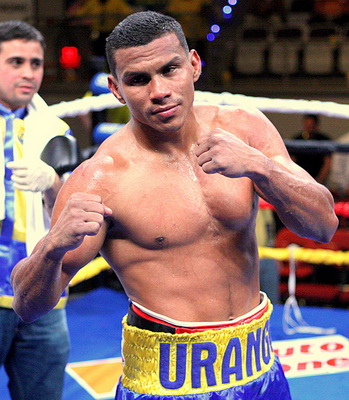 Urango's fighting style is messy and very difficult to photograph at least versus Vilches and, really, in general…but it gets the job done. I like him as a person and boxer.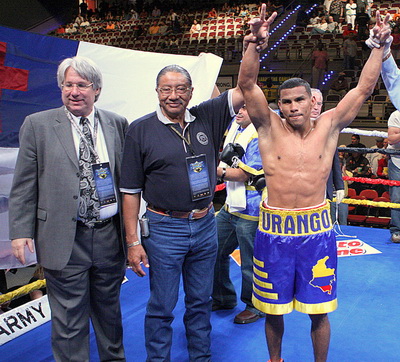 So do his sponsors.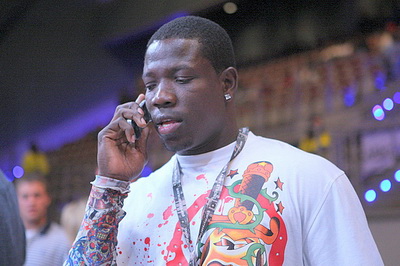 Meanwhile, back on the floor… "So Joe, Kessler seems to be missing in action. How about you and I get together and compare knuckles?"
THEN THERE WAS "MEAN" JOE GREEN (10-0-0, 14 KO's) WHO SEEMED TO HAVE ISSUES WITH JOSHUA OKINE (18-3-1, 2 KO's) REGARDING SUPER MIDDLEWEIGHT RANKINGS.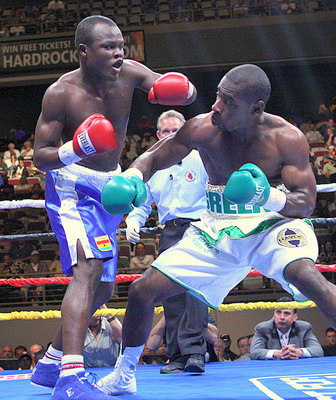 Okine was crafty and very pushy about his assaults on Joe. He did pretty well and gave Joe a good workout and not a little pain.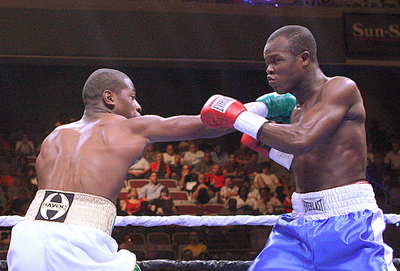 He did manage to keep his distance fro many of Joe's punches.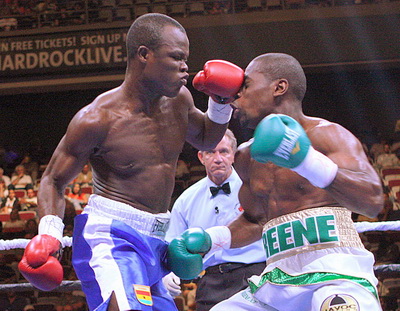 "How would you like it if I just pulled your nose right off your face?!"
Green saw a lot of energy coming his way from Joshua.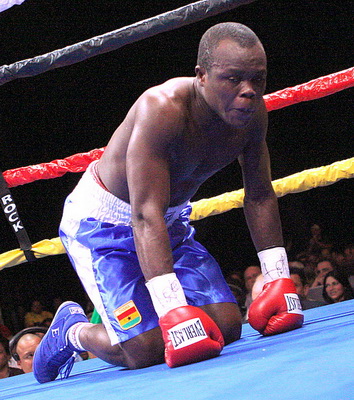 Joe had trouble keeping his punches up and hit Okine several times below the belt. On this occasion, the punch was very low, brought okine to his knees and cost Green a point.
Back on his feet Joshua found that Joe could keep his punches up if he had to.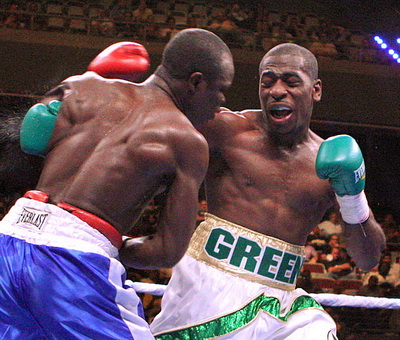 Okine made life difficult for Joe…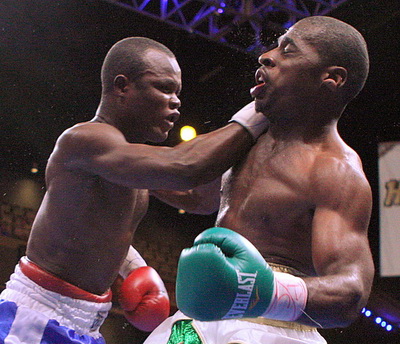 many times.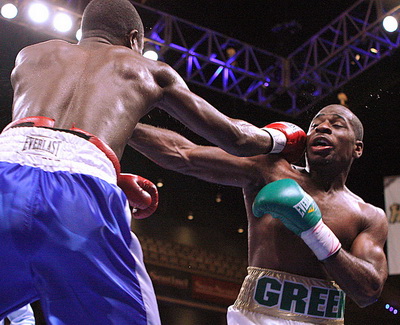 They had similar reach, so no advantage there.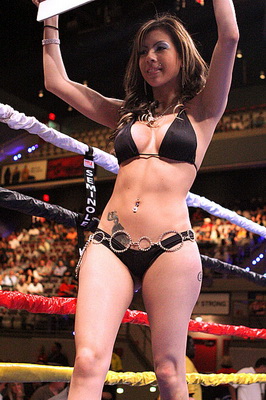 I Really like Boxing!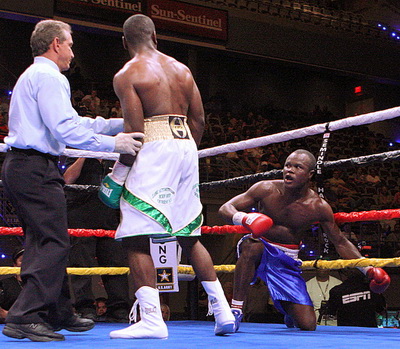 Not so much for Okine this night.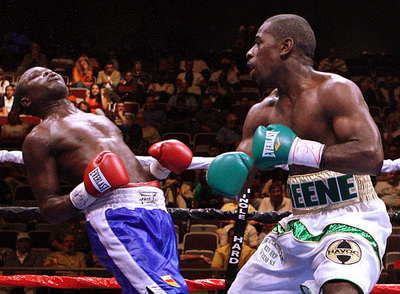 In fact…way not so much…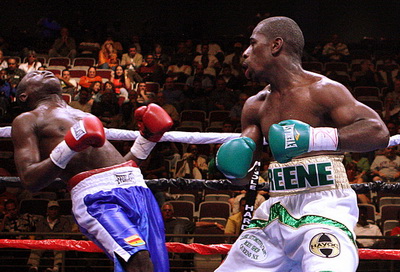 Here Okine looks very "laid back"…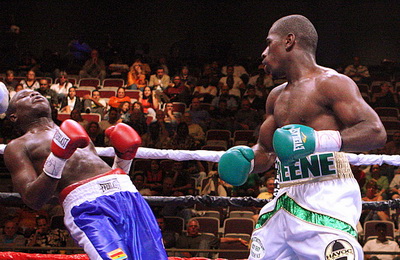 but not by choice.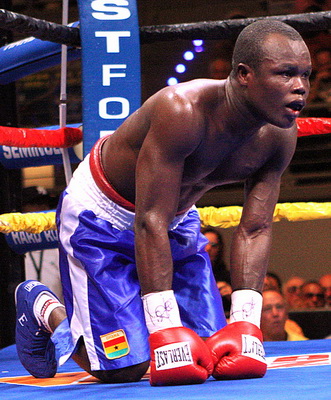 "Hey!…I remember doing this when I was about six months old."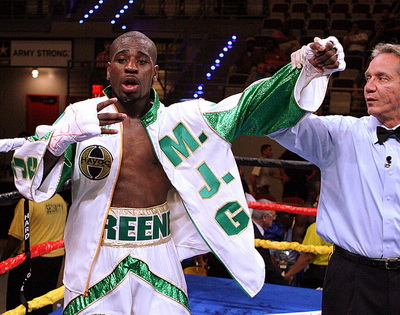 Joe had decided to scramble Joshua to the point that Ref. Frank Santore, Jr. called the TKO at 2:00 of Round Nine. This contest showed that Green needs a lot more training before he has all the tools his body is capable of using. His mother yelling from the seats was not that much fun. In general, the fight seemed to last forever. I don't know what it was. I asked the photog next to me if this wasn't the fourteenth round. He said, "Seems like it."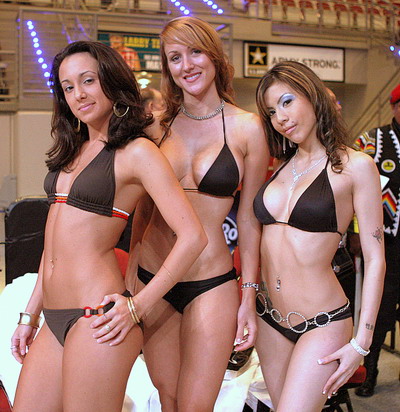 There were many fun things to do at the match. Not the least of which was to watch these young ladies do their jobs.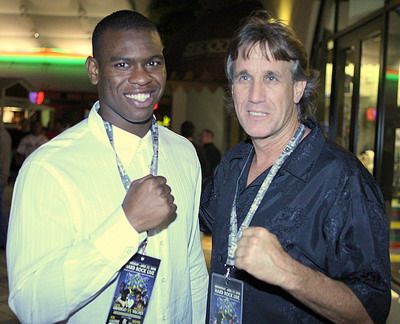 Outside after the fight we ran into Elija McCall who is soon to make his pro debut. His co-trainers are his father (of course) and Ricky Fisler. East Side Boxing thanks Seminole Warriors and Redline Media for their hospitality. See you at the fights.