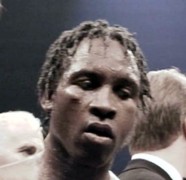 14.04.08 – By Ted Sares: The British press hates a winner who's British. They don't like any British man to have balls as big as a cow's like I have. — Nigel Benn
I'll fight him [Roy Jones] in a phone box in front of two men and a dog. –Steve Collins
Not being born to parents who were accountants was probably my biggest mistake –Chris Eubank
When you think of these three guys, you sometimes think of words like peacock, controversy, arrogant and celebrity (particularly insofar as Chris Eubank was concerned). These were trademarks outside the ring, but in the ring, they provided uncommon excitement and entertainment..
Unfortunately, for two, Nigel Benn and Eubank, their career defining fights ended with tragic results and tend to detract from their entire body of work. As one writer stated, "One man's finest hour was the end of another man's life as he knew it." Let's look at that work now and see how their accomplishments stack up insofar as being prospective inductees into the International Boxing Hall of Fame.
Nigel Benn (1987-1996)
Benn conjures up words like fury, rage, and ferocity. These were his trademarks in the ring. Unfortunately, his career defining fight against Gerald McCllelan ended with tragic results.
Nigel "The Dark Destroyer" Benn, a Middleweight and Super Middleweight boxing Champion, 42 – 5 – 1 with 35 KO's (three of his defeats came at the end of his career), was born in Liford, England the son of Barbadian immigrants. As an amateur, he had a fine record of 41 wins and 1 loss. His pro KO percentage was an excellent 83%.
Ostensibly an orthodox fighter, he was a ballsy and brash bomber and is still considered to be one of the hardest punchers of all time, but when he fought at the top level, he sometimes and inexplicably became somewhat unglued. Still, the ferocity and velocity of his punches unmatched and were launched with evil intentions, the purest of rage, and often punctuated with a whirlwind of deadly hooks and uppercuts from all angles. With Nigel, the thing was his excitement and unpredictability. You knew what to expect…or maybe you didn't…. which made him so exciting. He would come out bombing and winging and try to ice his opponents in short order usually knocking them out, but his "take no prisoner" strategy sometimes meant that he himself would be stopped. Some even called him one of boxing's bad boys, and labeled his style as downright dirty. I refer to it as "win at all cost."
Nigel presented an unabashedly snarling mien and personified the aura of a person you would not want to meet in a dark alley. In short, he was one tough guy!
His quality of opposition was excellent. Aside from the hapless Winston Burnett (who would finish with 20-98-3), Benn fought boxers with mostly decent records in his early years, a departure from the norm. Guys like Reggie Miller, Abdul Umaru Sanda, Darren Hobson, Nicky Piper, Jamaican Anthony Logan, Kid Milo, Canadian Dan Sherry, Puerto Rican Jose Quinones, American Sanderline Williams, Congolese Mbayo Wa Mbayo, David Noel, and Argentinean Hector Lescano all came in with winning records.
He then stepped up to a higher level. He did battle with South African Thulani Malinga (twice), Italian and former WBC Super Middleweight champion Mauro Galvano (twice), former world champion Chris Eubank (twice), Juan Carlos Gimenez Ferreyra (46-6-3 coming in), Vincenzo Nardiello (26-3), tough Michael Watson (21-1-1 coming in) and, of course. World champion Steve Collins (twice). While the names here might not resonate as much with an average American boxing fan as they do with one in Europe or the UK, they should strike an intimate chord with all serious boxing fans regardless of location.
Steve Collins (1986-1997)
Among his early victims were Sam Storey (for the Irish Middleweight Title), rugged Tony Thorton and Kevin "Killer" Watts (for the USBA Middleweight Title.) He lost to Mike McCallum in 1990 for the WBA Middleweight Title in a close fight I attended. He then rebounded with 5 straight victories including wins over tough Eddie Hall and Dan Morgan. He dropped a razor thin and controversial MD to Reggie Johnson and a close UD to Sumbu Kalambay.
A discouraged Collins finally won the WBA Penta-Continental Middleweight Title in 1993 by KO win over South African Gerhard Botes. A year later he garnered the WBO Middleweight Title by a KO over the very capable Chris Pyatt in South Yorkshire, England. He would go on to win 15 straight to close out his career (the last 5 by stoppage). More importantly, during this streak, he fought and beat Chris Eubank and Nigel Benn twice. Benn, who had been though a grueling battle with Gerald McClellan, quickly got the message that his punching power was not good enough to stop concrete-chin Collins. Due to some brain scan issues, Steve found himself stepping into Ray Close's shoes to meet Chris Eubank and he proceeded to beat the great English fighter twice. By the time he accomplished this remarkable feat, he was the reigning W.B.O. Middleweight champ, a fact still overlooked to the present day.
In all, he would successfully defend his new Super Middleweight title 8 times before retiring in1997 with a TKO win over Craig Cummings, 34-2, in 3 rounds. Curiously, he had begun his career in 1986 with a 3 round TKO over one Julio Mercado in Lowell, MA. Amazingly, he had book-ended his career with 16 in the beginning and 15 at the end with the TKO as icing on the cake. His final professional record was 36-3 with 21 KO's.
The quintessential professional, Steve was a road warrior having fought in Scotland, Ireland, Wales, England, Northern Ireland, France, Italy, Atlantic City, Las Vegas, the Meadowlands Arena in New Jersey and in and around the Boston area. More to the point, he was an extremely tough, seasoned, iron-chinned, determined and talented fighter who had long paid his dues training in the Boston area. He was considered to be one of the toughest pound-for-pound fighters of the late 90's having never been stopped in a high profile career.
Chris Eubank (1985-1998)
With one of the best physiques in boxing and arguably the best chin, he strutted like a peacock before each fight, but once the bell sounded, he was all business. He fought at five different weights on five different continents, and prior to losing his first bout, had a long and impressive unbeaten streak at 41-0-2..
"Simply the Best," as he was known, finished with a slate of 45 (KO 23)-5 (KO 1)-2.
His level of competition was high from the start. In fact, he beat rugged Eric Holland in only his fourth bout. Having fought the likes of Renaldo Dos Santos, Nigel Benn (twice), Michael Watson (twice), Graciano Rocchigiani, Henry Wharton, Tony Thornton; Lindell Holmes, Dan Schommer (whose only career defeat was at the hands of Eubank) and Carl "The Cat" Thompson (twice), he fought simply the best.
Fighting from long range, he relied on awkward movement and superior reflexes, using quick sneaky shots and jarring uppercuts. Sometimes having stamina issues, he showed great heart at the end of his career, ironically winning over fans who would have nothing to do with his earlier arrogant persona.
But it was the second Watson fight that really did in Eubank, as he was never the same after that incredibly dramatic ending. Totally gassed, decked, reeling and ripe for the picking, he throws a vicious right uppercut from Hell that puts the gallant Watson down. never recovered in the break between rounds. That he was able to come out for the next (and final) round is a testament to his courage (or perhaps to the courage of his corner). At any rate, the results were tragic.
These fighters represented the cream of the crop during a great era of fighters in the UK, often fighting each other. Whether they get into the International Boxing Hall of Fame remains to be seen, but if the don't, it will not be because of their lack of providing incredible excitement and indelible memories for boxing fans throughout the world. They will not soon be forgotten by boxing aficionados.
What do you think?