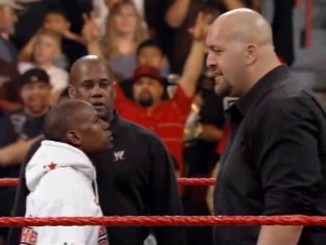 For the first time ever, today's Left-Hook Lounge Q&A session takes a look at an event that took place AWAY from the sport of boxing. Who does the topic at hand surround?…Yep, you guessed it….The man of many names. Some call him 'Money'…Others call him the 'Pretty Boy'.
Recently, he ditched both names and put the world on notice that comedian turned actor Cedric isn't the only 'Entertainer' on the short list of Hollywood's "In-Demand" group. Last Sundays historical WWE 'Wrestlemania' event was ground breaking in many ways. Today, in the aftermath, we take a look at the man who resides center-stage, as well as two commonly asked questions from fight fans around the globe, and answers that present my take on the topics.
Jorge Acevedo (Miami, Fl): What should fight fans make of Floyd Mayweather Jr. and his latest wrestlemania antics?
Vivek W.: Floyd Mayweather Jr. is driven by two things. Legacy and money. Nothing else. Legacy, because at the end of the day, he wants to be remembered as the best. Money, because he wants to walk away from the game with the most chips. That being said, legacy and money parallel each other in a way that few seem to truly understand. Consider this….Generally, an athletes legacy is established by the ability to entertain at only one level. Floyd has turned that into entertainment on many levels. He's suddenly become the proverbial 'Jack-of-all-Trades' who's only a 'Master-of-One'. In a very strange way, Floyd has turned his biggest God-given asset from a plot, to a near subplot. He wasn't the greatest dancer in the world, but he coaxed non-dance fans like myself to be at home in time to see him 'Dancin With The Stars'. Many choose not to follow the antics and grime of some rap music, but leading up to the Dela Hoya fight, his partnership with rap phenom 50-Cent, gave new meaning to the term 'Change' in those very same people who now occassionally bop to Fiddy's music because he's partners with Floyd and vice versa. He's never been viewed as a person with cross-over appeal to many, yet the already famous and historical WWE saw it's largest PPV audience in history by promoting an event with him at the center of it. Anyone who questions Floyds innate ability to create a larger-than-boxing legacy and generate endless 'benjamins' as a result, is missing the big picture to this sudden Mayweather madness. Boxing fans are upset because he's not fulfilling his ring legacy, but it seems that Floyd is aiming for a target much bigger than boxing and its fans. He has delivered some type of desired entertainment on various levels which has allowed him to benefit the way that he has. As I think of it, although I detest some of Floyd's antics myself, it amazes me the level of criticism he gets despite having a reputation of one who actually delivers, in contrast to that of an Alex Rodriguez of the New York Yankees (who I have great respect for). Reports show that Rodriguez individually has a higher salary than the entire Florida Marlins ballclub. This is a guy who has failed to deliver in crunch time repeatedly, yet is raking in more than a whole MLB roster, and no one makes a peep. A-Rod, and a few other athletes of the world should be questioned for taking top dollar for what isn't always top performances. Mayweather on the other hand has soundly delivered on every scale, which is why his name is in such high demand. Believe it or not, this is a very Muhammad Ali-esque venture that – if he retires undefeated – could one day land little Floyd in history books printed nationwide. Bottomline, we as fight fans may not agree with Floyd's out-of-ring escapades, but ask yourself one question: If you had the chance to earn millions in and outside of your profession, would you not?
RaSaul Patterson (Camden, NJ): Do you think Floyd Mayweather's comments about Miguel Cotto on "Friday Night Fights" were justified, or more excuses?
Vivek W.: Both. Before I get into my Pro-Mayweather argument, I think Cotto-biased fans should see this matter for what it really is. The best way I can lay out arguments for both sides on this topic is as follows: I DISAGREE WITH MAYWEATHER because this is the fight that alot of fans want to see. I AGREE WITH MAYWEATHER because when you understand his agenda – which is to take only the huge mega fights – dodging Cotto comes with an easy out. I wrote an article a few months ago that spoke about the fact that I once had a conversation about Miguel Cotto with a few fight fans out on the West Coast and although they liked him, they all saw him as somewhat a 'regional' fighter whose support group falls considerably short outside of the NYC/Puerto Rico areas. Personally, I think that Cotto is one of the best fighters in the game right now, but when you look at what he's done on a grand scale to hype up a mega fight against Mayweather, the results get a bit sketchy. Cotto's humble attitude is his best attribute to the 'blue-collared' fan, yet his biggest flaw in a 'white-collared' sport. How does Mayweather feel Cotto stacks up globally? Check out these stats and you decide. A semi-retired Felix Trinidad came back to the sport for the first time in years – which followed a very lopsided loss – and not only sold more tickets in the same venue (MSG), but did 250K more PPV buys (550K to 300K) than Cotto who was fighting a future Hall-of-Famer (Mosley). Oscar Dela Hoya did 586K PPV buys against the same fighter in their first fight, 975K PPV buys in their second. Dela Hoya did 935K PPV buys against the greatly outmatched and far less talented Ricardo Mayorga. Dela Hoya also did better than 1M PPV buys against Bernard Hopkins. Few of those fights rivaled the anticipation of a proposed Mayweather/Cotto showdown, but each had great marketing fighters which Mayweather/Cotto appears to lack. Cotto has yet to headline a PPV fight card, let alone bring the kind of crowd base that would excite Mayweather enough to fight him. The two things that the Mayweathers, Tysons, and Dela Hoya's of the world have that Cotto undeniably lacks – but will need if he ever really wants to face Mayweather – is image and marketing, cause image and marketing is what makes a mega fight, a mega fight. Although great, talent alone has not put Cotto in the minds of the masses. Few in the media have the 'juevos' to say it, but in a blunt reality, Cotto has yet to transcend that mainstream spectrum like many of the great Latin fighters of the past have. When Trinidad fought, all other non-Puerto Rican fight fans watched. When Morales, Barrera, Camacho, Duran, and other great Latino's fought, everyone along with all other Latin fight fans watched. When Cotto fights, (for whatever reason) it only catches fire among Puerto Ricans and New Yoricans. Until this changes, there may never be enough motivation in the mind of Mayweather to take this fight. The only reason I think Mayweather eventually will is because some fight fans have made Cotto a measuring stick for him. But the reality is, Floyd has made millions and is already a H.O.F. lock. In his mind, Cotto needs him more than he needs Cotto. So if being a big enough draw is the only way that Cotto lands this fight, I hope that rapper Fat Joe and the Terror Squad have room in their next video for the Puerto Rican pugilist because it's obvious, his P.R. team doesn't quite match his talent. I know, I know. There's a ton of fans out there who feel that it should be about his skill level, and you know what, it should, but in this politically driven world, it simply isn't.
There are many other questions about Mayweather to be answered. But the ones of greatest importance unfortunately need to be answered by him. Not a boxing scribe wondering the same things you are!
(Got Feedback or Questions?: Write ESB's Vivek Wallace at vivexemail@yahoo.com or show some love at www.myspace.com/anonymouslyinvolved)