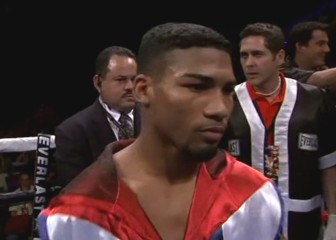 By Matthew Hurley: In his American television debut on ESPN's Friday Night Fights (FNF) promising super featherweight contender Yuriorkis Gamboa, 9-0 with 8 KOs knocked out Johnnie Edwards, 13-2-1 with 7 KOs at 1:34 of the first round. Gamboa, a former Olympic gold medallist came out fast, immediately backing Edwards into the ropes. Edwards had no answer for Gamboa's hand speed and before he could even set his feet beneath him he was on the canvas from a quick left hook.
Edwards rose on unsteady legs as Gamboa charged after him, firing rapid combinations before landing a stiff right hand, missing with a left and then ending the night with a straight right cross. Referee Brian Gary immediately called a halt to the fight as Edwards attempted to rise. The stricken fighter stutter-stepped to a neutral corner before falling into the protective embrace of Gary.
In 2004 Gamboa, representing Cuba in the Olympic games, won the gold medal in the flyweight class. The young fighter defected from the Cuban national team in 2006 when they were in competition in Venezuela. He then escaped capture to Columbia with two of his teammates, Yan Barthelemy, who won gold in the light flyweight class, and Odlaneir Solis, before fleeing to Miami, Florida. All three fighters were promptly signed by the German promotional firm First Artist and Arena.
Barthelemy, 5-0 followed his compatriot into the ring on FNF, winning a unanimous six round decision over Antonio Diaz.
Gamboa, already ranked in the top ten by the World Boxing Association, is anticipating a rapid rise to an eventual title shot. With an extensive amateur background, listed at 400 bouts, the athletically gifted young fighter looks to be one of the most promising young fighters out there. He is currently scheduled to take on Jose Rojas, 24-6-1 with 16 KOs in his next bout on April 11th at a site yet to be determined.