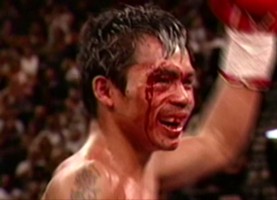 By Christopher Cruz: The rematch between Manny Pacquiao (45-3-2, 35 KOs) and Juan Manuel Marquez (48-3-1, 35 KOs) set for March 15th at the Mandalay Bay Resort & Casino, in Las Vegas, Nevada, has been long overdue for almost four years. They will come to a final resolution in the Ides of March, but I am sure you already know that. You may even already have a favorite to win this much-awaited rematch.
But what is surprising to me is the fact that many knowledgeable observers I come across pick Marquez, 34, to win it. It is surprising to me because in the time between their first fight and the rematch one fighter has virtually maximized his upside while the other has seemingly regressed.
The split draw decision of the first fight had supporters of both camps and observers clearly polarized. Either you felt Pacquiao, 29, was cheated of a clear victory, or Marquez was robbed of a technical demonstration win.
Whichever side you were on however, you wanted the return bout as soon as possible. Unfortunately due to negotiating snafus, the rematch was indefinitely shelved and its resolution was left to the fans' imaginations.
It is at this point where the two fighters took different paths in their careers. While Pacquiao added to his ever-growing reputation, Marquez took the seemingly safe road to notch wins over names like Orlando Salido, Victor Polo, Terdsak Jandaeng and Jimrex Jaca. Even in their losses Pacquiao and Marquez would differ greatly. Morales took a clear-cut unanimous decision victory over Pacquiao, but even in defeat Pacman would enhance his warrior reputation and box-office charisma. It was not so rosy for Juan Manuel Marquez, who would lose a controversial decision to Indonesian Chris John that almost put his career back to square one.
While Pacquiao would win his trilogy with Morales via emphatic knockout victories, the biggest name in Marquez' rêsumê in the same time frame would be the loss to Chris John. In the past year Marquez would make up for lost time taking on Barrera and Juarez to make his case for the much-awaited rematch with Pacquiao.
While much has been said about the intentional shift in Marquez' fighting approach from a safety-first counterpuncher to a willing aggressor, nothing in his last seven fights would even begin to compare to the improvements that Manny Pacquiao has had from their first meeting. While Pacman's straight left is still the money punch, his right hook packs the kind of power that staggered a game Morales right in the first round of their third fight. Pacquiao's balance will always be compromised by his long glide when unleashing those straight lefts, but he has learned to follow up effectively with hooks while recovering his stance. This is a very critical spot for both fighters as Pacman paid a hefty price every time he missed with his left in the first fight. Marquez was in his elements timing that left and countering with crisp combinations from the second round on, but it was by no means an easy night for him. Even though Pacquiao relied on his trusty old 1-2 of the setup jab and the straight left he would still manage to hammer Marquez with it every now and then to make it a really competitive fight.
This is why I really find it surprising that a lot of people favor Marquez in the rematch. If there's anything Marquez has gained in the interim, it is wear and tear. He still has the textbook technique and execution, but will his chin be as durable as it was before the first round of the first fight?
The chin factor is even more important now because from all indications a Pacman weighing in at around 144lbs. on fight night hits harder than a Pacman weighing around 139lbs. That's what Pacman weighed in the third and second fights with Morales. Say what you will about whether Morales was a spent force or not, not everyone even at the elite level would have knocked out the man that night in that frightening fashion.
The adage about a fighter carrying less and less of his power as he goes up in weight does not apply in the Pacquiao-Marquez rematch, simply because we are talking here about the same two fighters at 126 and at 130. Were Pacquiao to go up against a natural junior lightweight who has established himself at the weight for a reasonably long time, we might consider how the effects of his power on the opponent may diminish, but in this case the opposite may even be true. Theoretically, Pacman has fought his last seven fights at junior lightweight while Marquez has only recently moved up to 130lbs, fighting Barrera and Juarez. So it is actually Marquez who has climbed up recently at the weight in which Pacquiao has been more or less ensconced comfortably since 2005.
We all know how disastrous it was for Marquez when Pacquiao was able to land cleanly at 126, will the additional 4 pounds enable Juan Manuel Marquez to better hold up to a two-fisted barrage this time? And with those two fists holding bigger power than what felled him before?
It is tempting to say that Pacquiao would be hard pressed to land those clean straights in the rematch, but the fact is that even with a predictable 1-2 offense he was still partly successful in the first fight, doing serious damage especially in the last rounds where he got Marquez hurt again.
I do not think Juan Manuel Marquez will be able to fend off a two-fisted marauding Pacman. Manny will walk through heavy leather to land his own, and then the bigger power will prevail. Pacman will force Marquez to trade after one of his straight lefts, and Marquez may counter with a punch or a three-to-four-punch combination, but the difference between the rematch and the first fight is that the measured pace that Marquez has successfully set before will be replaced with the frenetic nonstop barrage that cuts both ways.
I can see Marquez getting dropped early, and it will only get worse for the Mexican counterpuncher from there. Pacman has been at his fiercest when he's especially motivated. Now there are the draw to be settled, The Ring's predictions of a Marquez victory and Juan Manuel Marquez' statements to the media, more than enough bad blood to fuel his spartan training, and more importantly, what he will do in the ring.
The counter puncher will be decimated by the third round in a savage exchange that will be even more brutal than all the fights either fighter has had.
I wouldn't miss this one for it promises to be a bloodbath.