By Christopher Roche, Brickcityboxing.com, photo by Wray Edwards / East Side Boxing — Boxing Questions (and answers)
1. Will Sultan Ibragimov's movement and quick hands be enough to upset Wladimir Klitschko on Saturday night?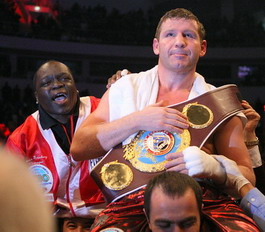 Many observers probably think I am crazy for asking the above question regarding Klitschko and Ibragimov. However, the beginning of 2008 has reinforced the lesson that anything can happen in the world of boxing. Just last Saturday, Jose Navarro won every round on a judge's scorecard, but he lost the fight. The Saturday before that, heavily favored Paul Williams went down in flames against Carlos Quintana. In the opening bout of the year, 6 to 1 favorite Paulie Malignaggi had to scrap and claw to barely beat Herman Ngoudjo. Even Jermain Taylor's performance last Saturday against Kelly Pavlik raised some eyebrows, as many observers predicted an early walkover for Pavlik.
In the world of Boxing, nothing is ever as it seems. This weekend, at Madison Square Garden, the unthinkable could happen. Sultan Ibragimov will find a way to defeat Wladimir Klitschko.
How will this happen, do you ask? Ibragimov has three X-factors in his arsenal that will give Klitschko trouble. Ibragimov has good movement, fast hands, and he is a southpaw. Emanuel Steward obviously is taking note of those three factors, as he brought in Andy Lee to spar with Klitschko and simulate Ibragimov's difficult package of assets.
As I go back over Klitschko's record, I recall that it was not very long ago he was stopped by Lamon Brewster. As I peruse further, I come to the golden nugget: Corrie Sanders stopped Klitschko via a second round TKO. The South African sniper, Sanders, was hardly in his prime back in 2003, and I remember thinking that he looked like a couch potato compared to the shredded Klitschko. However, Sanders was a southpaw who could move and throw combinations. Klitschko proved he could not handle what Sanders brought into the ring. Ibragimov is similar to Sanders, but he is a better version.
Klitschko, to his credit, is a much better version of himself as well, and he has not been chin-checked since his loss to Bewster in 2004. Since that loss, Klitschko has defeated DaVarryl Williamson, Eliseo Castillo, Samuel Peter, Chris Byrd, Calvin Brock, Ray Austin and Brewster (in the rematch). While Klitschko looked impressive in many of those wins, none of those fighters has the combination of movement and hand speed that Ibragimov has, with the possible exception of Byrd, but Byrd is a borderline cruiserweight. As for the others on that list, Castillo was a cruiserweight, and outside of Peter, none of those other fighters are contenders. We can draw our own conclusions as to the quality of many of those opponents.
Ibragimov's opponent list will not make anyone forget about Muhammad Ali's either, so he has plenty of questions that require answers. However, Ibragimov proved he can beat larger opponents, as he did against Shannon Briggs (in a very boring fight), and his decisive win over Evander Holyfield gives him some credibility with American fans.
Despite his lack of signature victories, and his dubious draw to Ray Austin, Ibragimov has the attributes to give Klitschko problems. The table is set for Ibragimov to pull off a historical upset. Now all he has to do is make it through the main course and get his just desserts.
2. With John Duddy, Peter Quillin and Joe Greene on the card, will this be the best undercard that nobody sees on Saturday?
I realize that HBO wants to show the Joe Louis documentary, especially since this is Black History Month, but I am not sure I agree with their programming choice to only show the main event on Saturday. The Joe Louis special will air right before the Klitschko vs. Ibragimov bout here on the East Coast and after the fight out West.
Joe Louis has been gone for over 26 years, and HBO is deciding that now is the time to finally produce a special on one of the greatest heavyweights of the 20th century? Where was HBO when Joe Louis was alive? Would Joe Louis have wanted to see young, hopeful fighters, in a struggling sport, be pre-empted by HBO, so they could show a documentary that is perhaps 30 years overdue?
For those of you who have not seen Peter "Kid Chocolate" Quillin fight, I must say that you are missing out. Quillin is a dynamic middleweight, who is tall and shredded. He throws a vicious left hook, and after his fights, he showers the crowd with chocolates. Quillin says that he represents all of New York, and he works with children in his spare time, through his group called "The Kid's Kids". Quillin seems to have the total package of size, speed, power, and personality, but his efforts will not be seen unless a ticket is purchased at MSG.
"Ireland's" John Duddy and "Mean" Joe Greene are two other dynamic middleweights who will be toiling on the undercard.
Duddy is often not seen on live television in America, but as long as he wins on Saturday, he is in line for a title shot against Kelly Pavlik. After watching Pavlik's performance last Saturday against Taylor, I have to say that Duddy's stock ticked up. Most people in boxing gave Duddy absolutely zero chance of beating Pavlik, but since Pavlik did not look like an invincible knockout artist in his second bout with Taylor, Duddy's chances have improved. Duddy moves around the ring very well, and he is an extremely tough combination puncher. Taylor offered up a blueprint for neutralizing Pavlik's right hand, but Taylor was not busy enough to win the fight on the judges' cards. If Duddy can follow Taylor's lead, but be a little busier, then he has a chance at making his title challenge very competitive. Perhaps he can pull off the unthinkable.
"Mean" Joe Greene is another rising middleweight who is relegated to non-television status. Greene recently signed with Warrior's Boxing, and he is an impressive body puncher. Greene's last bout was a frustrating affair for him, because his opponent came to survive and hold. The young Brooklynite will be looking to put the thrill back into his game on Saturday. Incidentally, Green is trained by Andre Rozier, who is also the man behind "Havoc" clothing, which produces boxing trunks for some of the top fighters in the game.
The undercard will likely sell as many tickets as the main event, and I think it is a shame that no airtime will be devoted to it. While I realize a Joe Louis documentary is long overdue and extremely worthy, I wish that HBO could have planned it better and had space for both programs.
Fight I Would like to See and Why
Miguel Cotto vs. Carlos Quintana: Quintana's performance against Paul Williams earned him another shot at Cotto. For his part, Cotto needs to mark time until Floyd Mayweather decides to fight him, and a Quintana rematch would be intriguing. After seeing Quintana dazzle Williams, I have to find out for sure if his loss to Cotto was a fluke, or if his win over Williams should be questioned.
Quote of the Week
"Where I come from in the Welsh valleys, we don't mind a bit of cold, but I can understand if Hopkins doesn't like it…After all, when you get to his age, you do start feeling the cold!"-Joe Calzaghe
Apparently, Hopkins was in the UK last week doing a photo shoot and moaned about the cold weather. One of the producers threw a pair of socks to him, and Hopkins allegedly threw a temper tantrum of "diva-like" proportions. Quote appeared on Eastsideboxing.com.
Calzaghe may not be prone to a temper tantrum any time soon, because he will be celebrating after his fight with Hopkins.
Injustice of the Week
The injustice of the week is that one judge gave Jose Navarro every round against Cristian Mijares last Saturday. Navarro won by a count of 120-108 on that aforementioned card, but he lost the fight by a split-decision.
Something does not smell right about that.
Non-Boxing Thoughts
A couple of weeks ago, I predicted that the Giants would defeat the Patriots by a count of 31-28 in the Super Bowl. While my score was a little high, the margin of victory was correct. Eli Manning shook off the haters, and the Giants became the unlikeliest Super Bowl Champions.
I will be accepting congratulatory messages at the e-mail address included below.
Reader Submissions
I will be taking reader submissions and answering them in this space. Please e-mail me at chrisrockk@hotmail.com with questions and commentary, and we will include as many as we can. Please include your first name and hometown for publication and type the word "Column" in the subject line.

*This column is inspired by the premier novel of the twentieth century, Ernest Hemingway's The Sun Also Rises. Hemingway spoke highly of the sport of boxing, and he participated as both a fighter and a referee. Every other week this column will humbly pay homage to the man who helped glorify the fight game back in its early stages. With a little hard work, the Sun Will Rise Again for Boxing, as together we can restore the sport to the top, one fan at a time. Thank You for reading the column.