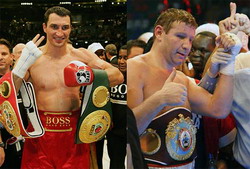 19.02.8 – by Pavel Yakovlev: This Saturday IBF world heavyweight champion Vladimir Klitschko will meet WBO champion Sultan Ibragimov in a match to unify their belts. As of this writing, Klitschko is heavily favored to win, with major betting houses picking him over Sultan by odds of 1/6, 2/11, 1/8, and 1/7.
Klitschko (49-3, 44 knockouts) is rightly regarded by most boxing experts as the dominant heavyweight of today. At 6'6 ¾", 243 lbs., and with a reach of 81", with considerable athletic skill, very good speed and devastating punching power, Vlad is a veritable monster of a fighter who has already established himself as one of the best 50 heavyweights of all-time. With Emmanuel Stewart – regarded as the dean of today's boxing trainers –in his corner, Klitschko hopes to eventually prove himself to be a bonafide all-time great heavyweight..
But in spite of his impressive credentials, Klitschko is not invincible. In Sultan Ibragimov he may be facing a fighter who can give him a serious run for his money.
Ibragimov (22-0-1, 17 knockouts) has proven himself to be a fast, talented, moderately hard-hitting boxer-puncher. He has a southpaw's advantage. Because he is trained by Jeff Mayweather – one of boxing's best and most savvy trainers – it is a given that Ibragimov will fight intelligently when he enters the ring against Klitschko.
In this writer's opinion, Ibragimov will probably not attempt to trade punches with Klitschko. Nor is it likely that Ibragimov will try attack Klitschko head on in an attempt to overwhelm him with a display of aggression and power, as Corrie Sanders did to the champion in 2003. It is suicide for a boxer to stand in front of Vlad and leave himself open to Klitschko's wrecking ball punches.
Mostly likely Sultan will try to fight Klitschko in the same manner that he fought Shannon Briggs last year – by boxing, moving on his feet, and utilizing lightning fast jabs and counterpunches from both hands. Calvin Brock gave Klitschko a bit of trouble in 2006 by moving well laterally; it is likely that Ibragimov will fight similarly.
In all probability Klitschko will patiently stalk Sultan, seeking to dominate the fight with his long, powerful left jab while simultaneously looking for opportunities to end the fight with his devastating right cross or left hook to the head. At 6'6 ¾" to 6'1 ½" and with a five inch advantage in reach, Vlad can afford to bide his time from long range, attempting to outjab Ibragimov until a chance to end the fight materializes.
This writer envisions the fight unfolding according to any one of the following four scenarios.
SCENARIO#1: KLITSCHKO BY MIDDLE ROUND KNOCKOUT – The most likely outcome is that Vladimir will stop Ibragimov sometime in the middle rounds, perhaps between the sixth and ninth round. Under this scenario Vladimir patiently stalks Sultan from long range, maintaining control of the fight by making ample use of his long, powerful left jab. Here, Vladimir will not risk leaving himself open by attacking with heavy punches from both hands; rather, he will take his time, and he will seek to use the jab to set-up a fight ending right cross.
Should this scenario unfold, it is because Ibragimov is using excellent, fast footwork in order to prevent himself from being an open target for Klitschko's devastating left hooks and right cross. Here, Sultan moves effectively from side-to-side, darting in with fast right jabs, and countering Klitschko on occasion with his left cross or right hook. Sultan will not be winning rounds, but he will be frustrating Klitschko by dint of his capacity to survive.
As the rounds progress, Klitschko's thudding left jab begins to land more frequently, and Sultan begins to slow down as a result of the cumulative punishment. When this happens, Sultan becomes a sitting duck for Vlad's devastating right cross and the fight ends after Ibragimov is counted out or he is defenseless after a couple of trips to the canvas.
LIKELIHOOD OF THIS SCENARIO HAPPENING: 40%
SCENARIO #2: KLITSCHKO BY DECISION – This is essentially the same fight as described in scenario #1, except that Sultan boxes well enough to keep himself out of deep trouble for the entirety of the fight. Under this scenario, Sultan may take a trip or two to the canvas, and he will lose a lopsided decision on the cards. Here, Sultan is never in a position to outbox or outfight the taller, more skilled Klitschko, but he does land just enough solid punches to keep Vlad at a distance.
If the fight goes the distance, it will be because Sultan is fighting to survive, and not to win.
LIKELIHOOD OF THIS SCENARIO HAPPENING: 20%
SCENARIO #3: KLITSCHO BY DEVASTATING EARLY ROUND KNOCKOUT – Under this scenario, Klitschko scores a devastating early round knockout and the bout ends in any of the first four rounds. Here, Vlad patiently stalks Ibragmov with his left jab, and he quickly sees an opening for his blistering left hook or his pulverizing right cross to the jaw. The punch knocks Sultan out or hurts him so badly that the referee ends the contest as Vlad is battering his foe.
Klitschko is a very powerful puncher, so an early round knockout is never out of the question regardless of whom he fights. Nonetheless, this writer regards this outcome as fairly unlikely because Sultan is a smart, fast mobile fighter who will probably not get himself into trouble early.
LIKELIHOOD OF THIS SCENARIO HAPPENING: 20%
SCENARIO #4: IBRAGIMOV UPSETS KLITSCHKO – Under this scenario, Sultan boxes well enough to survive the early rounds and he comes on strong later in the fight. Here, Vlad is seriously fatigued after eight or nine rounds of action, and he begins dropping his hands. Sultan begins to hurt Vlad with strong left crosses and right hooks, and Vlad wilts. Hopelessly behind on points, Sultan wins the bout by late round TKO or knockout as Vlad's tiredness prevents him from being able to defend himself.
In order for this outcome to play out, Klitschko will have to be weakened by fatigue. There is no other way for Vlad for this scenario to manifest. Given Vlad's fatigue related problems in some fights in his past, it is not impossible that such a problem could undermine him again in the future.
Should this outcome materialize, I expect that Vlad will dominate the action through the first seven or eight rounds. He will come unglued in this scenario later more from his own stamina issues than from Sultan's fighting prowess.
This writer advises fans to watch the films of Jimmy Young's 1977 decision win over George Foreman to get an idea of how, conceivably at least, Sultan might be able to fatigue Vlad and win late in the fight.
LIKELIHOOD OF THIS SCENARIO HAPPENING: 20%