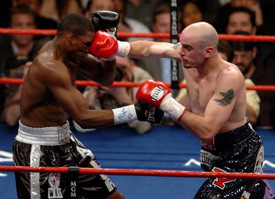 18.02.08 – By Vivek Wallace, photo by Naoki Fukuda: On Saturday night before 9,000 plus fans, Kelly Pavlik found himself on the winning edge of yet another classic matchup with Jermain Taylor. Coming into the fight, Taylor knew that he would have to employ more head movement, more jabs, and more endurance to overcome the "Ghost". From a gameplan standpoint, that was totally accurate. The trouble is, he was suppose to do that for more than the first 9 rounds.
His inability to maintain that strategy in the Championship rounds was the X-Factor, because as it stood in the end, that was exactly where his ambition to overcome his career's lone obstacle fell short..
In the aftermath, now that Pavlik has taken away Taylor's shot at redemption, the questions about Taylor's future have began to surface.
When you analyze the career of Jermain Taylor there's somewhat a double-edged sword. His will can never be questioned. His skill, depending on who you ask, can.
Either way it goes, one thing that I've personally learned about Jermain is that his biggest asset has perhaps become his biggest liability. That asset – turned liability – better known as his heart, is the common denominator in this whole equation.
In an era where fighters are constantly bashed in the media for taking what are known as tune-up fights, or 'lay-downs', it seems that this was the one thing Taylor should have possibly given more thought to in an effort to preserve himself a bit.
His last 5 opponents spanning over his last 7 fights register a solid 189-11 record collectively. The barrage of names, equal in stature.
Arguably the greatest middleweight of this era, Bernard Hopkins, whom Taylor became the first in over 10 years to defeat, which he did in two fights. Arguably the greatest defensive fighter of this era whom Taylor battled to a 12 round draw with, in an action filled fight. Two smaller, yet very skilled fighters in the slick Cory Spinks and the battle-tested Kassim Ouma. Then finally, his eventual conqueror, the very dangerous and still undefeated Kelly Pavlik.
How many men in this sport would have the heart or courage to entertain this many 'top-billing' fighters consecutively?
As rugged as welterweight 'next-man-in-command' Miguel Cotto is, there's no coincidence why he chose the talented yet far-under-the-radar Alphonso Gomez after facing Zab Judah and Shane Mosley in two consecutive bouts, rather than pursuing an Antonio Margarito, or more dangerous opponent.
Even Pound for Pound great Floyd 'Money' Mayweather lasted no more than four consecutive grueling bouts before embarking on what will equate to a 9 month hiatus prior to his second matchup with Oscar Dela Hoya – after taking on Judah, Baldomir, Dela Hoya, and Hatton.
No matter what fighter you look at along the rankings in the various weight divisions, few have had the heart and will to engage in battle after battle, with the sports elite. On the heels of such an effort, we now must wait to see what next for a man that is far better than his recent losses lead on to believe.
Personally, I think There's a huge upside left in Taylor. Many in the sport would beg to differ. When you think about it, it probably doesn't matter because who's right and who's wrong has very little to do in the end when it's time to decide who's right and who's left. That's what this sport is all about, and in the end, I think Taylor's ability will easily allow him to rise to the surface again.
Is the end near for Jermain Taylor? Only if Pavlik is his nemisis. Very few other fighters would have walked away with a victory against Taylor as he appeared in Saturday's fight.
If Jermain Taylor can take some time to regroup his mind and face a few not-so-great contenders to not only hoan his craft, but also rest his body, there's no doubt in my mind that Taylor can compete.
His future success will all come down to whether or not he chooses to, (for once), be weak in the face of his previous strength, and disobey that courage of heart that at this very moment beckons for him to answer the recent challenge of Roy Jones Jr, or the possibility of Mikkel Kessler.
If he can lose that courage of heart temporarily and resist that urge, he may benefit. If he fails to, he won't. It's that simple.
Only time will tell.
(Got Feedback or Questions?: Write ESB's Vivek Wallace at vivexemail@yahoo.com, or show some love at www.myspace.com/anonymouslyinvolved)
(Tune in to this weeks "Left Hook Lounge" which is a weekly Q&A session by Vivek Wallace – Now scheduled for Wednesdays/Previously held on Thursdays)