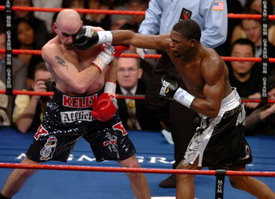 By Taj K. Eubanks-17 February 2008- photo by Naoki Fukuda: What began as journey of inspiration and success has now collapsed like a house of cards. Pavlik-Taylor II more than lived up to boxing fans' expectations as a 36-minute slugfest and potential Fight of The Year candidate.
Kelly Pavlik, galvanized by his previous drubbing of former undisputed middleweight champion Jermain Taylor, was firing on all pistons as he had an answer for every weapon in Taylor's arsenal. Taylor gave a good showing of himself with a spirited and, dare I say, more disciplined effort than in the previous match. It was not enough, however. While Kelly Pavlik's hands were once again raised in victory, Jermain Taylor's second loss only raised questions.
Once the darling of HBO and a can't-miss contender, Jermain Taylor's career trajectory has now taken a surprising freefall. Athletically gifted, good-looking, and humble with a hardscrabble story to match, Taylor was someone with whom anyone could identify and Madison Avenue could adore. His two controversial wins over Bernard Hopkins established him as a star but also left many with the impression that Taylor might not be the real deal. After all, as the old axiom says, "You have to BEAT the champion to beat the champion," which many felt Taylor did not do. Still, armed with the lineal middleweight championship, Taylor carried his momentum into matches with Kassim Ouma, Winky Wright, and Corry Spinks. His performances, however, were less-than-stellar and doubts about Taylor's legitimacy as a true champion, which began as whispers, grew to deafening levels when Taylor's championship slipped away as he was viciously knocked out by Pavlik.
Taylor's second defeat delivered more questions than answers, however. Should Taylor move up to the super-middleweight division? This seems like a logical choice as it has become clear that Taylor cannot beat Pavlik, who intends to lord over the middleweight division for the foreseeable future. However, Taylor's prospects at 168 pounds are not much more promising as he will ultimately be forced to knock on the door of one of boxing's top three fighters pound-for-pound, Joe Calzaghe. And of course to get to Joe Calzaghe, he must first navigate a hostile terrain speckled with contenders like Mikkel Kessler and Edison Miranda who, like Calzaghe (and Pavlik), can box AND punch and who do so at a higher weight.
Taylor also has the less enticing option of remaining at middleweight and trying to pick up Arthur Abraham's fringe belt, but this avenue seems unlikely as Abraham apparently has no intention of fighting in America and happens to be a virtual unknown to the boxing public. Also, having a single belt for the sake of having it makes no sense either, as unification is always (or should be anyway) the ultimate goal of a champion and, assuming Taylor could snatch Abraham's trinket, all middleweight roads ultimately lead to-you guessed it-Kelly Pavlik.
One final option which has yet to be discussed (an almost criminal oversight, this writer feels) but yet is plainly obvious, is to bring back the architect who made Jermain Taylor a tour de force in the professional ranks to begin with: Pat Burns. No disrespect to Ozell Nelson, who certainly corrected many flaws in Jermain's game between the first and second fights, but Pat Burns may be able to provide a return to form of the Jermain Taylor who dethroned Hopkins, an incarnation many feel was his most impressive to date. Saturday night's Taylor was fierce and determined but fought in spurts, abandoned his jackhammer jab all too often, and seemed to receive little sound advice with which to make adjustments. Pat Burns' return may be the trump card that Team Taylor needs to get back in the game.
And so it stands that Jermain Taylor's brain trust has its work cut out for itself. He is still young and healthy and has time to further refine his skill set. Yet make no mistake about it, the next decision that is made for the former champion must be made soberly and with the utmost deliberation, for his career hangs in the balance.