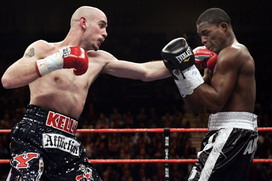 17.02.08 – By Bill Calogero, TheDailySports.com: Kelly Pavlik (photo by Chris Farina/TopRank) went twelve rounds for the first time during his professional career en route to a twelve-round decision over Jermain Taylor last night from the MGM Grand Resort & Casino in Las Vegas. The "Rematch" was broadcast live on HBO PPV and was co-promoted by DiBella Entertainment and Top Rank, Inc.
The first round started fast with both fighters attempting to establish their jab. Jermain Taylor rattled off several quick and stinging jabs that landed. Kelly Pavlik started the round off by using his jab effectively too. The only difference to me was that I felt that Kelly was able to follow his jab with several hard rights that landed flush. Taylor was able to show his much superior hand speed from the start of this round and ultimately throughout the fight. It was a close round but on my card, I gave it to Pavlik..
Round two was also a close round. Taylor landed several hard rights, which followed his snappy jab. His punches were crisp and powerful and you could see the determination on his face. Pavlik showed why he is referred to as a "Blue Collar Fighter" by systematically throwing his jab followed by the right hand. His punches were straight and were getting to Jermain before he could throw his own. Again, this was a close round, but I gave it to Kelly Pavlik on my scorecard.
The third round was similar to the second except in this round, I felt that it was Taylor who came out on top. Jermain was the one landing the right hand following his jab. Although Kelly continued to throw punches, I felt that Taylor won the round. He landed the harder shots.
The fourth round was another close one. Both fighters were successful, as they had been in the previous three rounds, landing stinging right hands that followed their jab. I gave the round to Pavlik mainly because it was he who pressed the fight and continued to throw punches for the whole round. Taylor fought in bursts and when he wasn't throwing punches, Pavlik was.
As the fifth round was going on, I couldn't help but think how workman like Kelly Pavlik is. He almost seemed robotic, throwing his jab, then his right…one-two, one-two. I thought Taylor was sitting back and timing Kelly….as if he was going to unleash a barrage of punches, but it never happened. On my scorecard, Pavlik won the round with his steady non-stop attack.
Taylor landed several very hard right hands during the sixth round. As was the case in the earlier rounds, he was able to loop his right after landing his quick jab. Although he was scoring, Pavlik continued his one-two, one-two approach, following his straight jab with straight right hands, which were landing squarely on the face of Jermain Taylor. Pavlik also began doubling up his jab, which caused Taylor to wait and "expect" the right hand to come and land. It did, consistently and I gave Pavlik the round on my card.
The seventh round was the slowest round of the fight. Both fighters seemed to take a break, but in my opinion, it was Taylor who took more of a break. Pavlik continued to press the action, winning the round on my scorecard.
In the eighth, Pavlik continued to unleash his jab followed by his right….one-two, one-two, one-two….very methodically. But in this round, Taylor started to fight with more purpose. He was throwing his punches harder than he had been. They were also landing flush and because of this, I gave Taylor the round on my scorecard.
As the ninth round progressed with Kelly Pavlik throwing his jab, followed by his right, exactly as he had for the entire fight, I couldn't help but think of the old "Tortoise and the Hare" story. Slow and steady wins the race and Kelly Pavlik was steadily throwing and landing his shots and on my card, was clearly winning the race. Taylor landed a few very hard punches, and if he could have thrown more in succession, I think he may have squeaked out the round, but he didn't and on my card it was another 10-9 round for Kelly Pavlik.
The tenth and eleventh rounds went to Taylor on my card. He was able to land a couple of hard body shots that seemed to take Kelly Pavlik out of his methodical rhythm. Once that happened, other punches seemed to get in and score for Jermain Taylor. Both rounds were close and Pavlik continued to press the action, but I thought that Taylor got the better of the two combatants, landing the more meaningful punches.
The twelfth and final round was no different from the previous eleven. It was close and featured both fighters throwing and landing their jabs followed by right hands. But it was in this round it became evident that Jermain Taylor was out of gas. He stopped punching mid-way through the round and let Kelly Pavlik one-two him to the point where it was obvious that Pavlik took the round.
It was a good fight. Both fighters showcased his talent. Both fighters landed a substantial jab and powerful right hands. Both fighters came in and fought their best and gave it their all. One judge scored the fight 117-111, one saw it at 115-113 and the third had it 116-112, all in favor of Kelly Pavlik giving him the unanimous twelve-round decision win in the non-title, 166 pound "catch-weight" contest. TheDailySports.com scored the fight 116-112 also in favor of Kelly Pavlik.
Kelly Pavlik showed he IS the real deal, improving to 33-0 (29 KOs) and will chart his way through the Middleweight division. Jermain Taylor proved he is a Champion caliber fighter, dropping to 27-2-1 (17 KOs) and will be back now campaigning in the Super Middleweight Division.
On the under card, Fernando Montiel retained his WBO Super Flyweight Title by stopping Martin Castillo with a crushing left hook to the body at 1:54 of the fourth round. Montiel dropped Castillo with a left hook to the head in the last seconds of the first round, but did not seem to put Martin in trouble, as he was up and ready to go as Joe Cortez reached the count of eight. The body shot however, put an end to the contest for good in the 4th.
Fernando Montiel improves to 36-2-1 (27 KOs) while Martin Castillo loses for only the third time in his pro career, dropping to 33-3 (17 KOs).
In an action-packed fight, Cristian Mijares retained his WBC Super Flyweight Title with a twelve-round unanimous decision over the tough, Jose Navarro.
There were no knockdowns during the bout, but there were many punches thrown and landed by both fighters. During the entire fight, both fighters fought toe to toe. There was not ONE clinch, which added to the excitement.
The fight started out one-sided, in favor of Mijares, but as the bout progressed, Navarro showed his toughness and battled back through his bleeding nose, which eventually turned his white trunks red. In the 11th round two back-to-back shots opened up a severe cut over Jose's right eye, but it did not prevent the warrior from finishing the fight on his feet.
Two judges had the fight for Mijares with scores of 115-113 and 117-111, while the third scored the fight for Navarro with a score of 120-108, which had to be an error, giving Mijares the split decision win. TheDailySports.com scored the fight 115-113, also in favor of Mijares.
Cristian Mijares improves to 34-3-2 (13 KOs) while Jose Navarro drops to 26-4 (12 KOs).
To round out the PPV card, Ronald Hearns stopped Juan Astorga at 1:10 of the eighth and final round to earn the TKO victory. Hearns improves to 18-0 (14 KOs) while Juan Astorga drops to 11-2-1 (6 KOs).
All in all, another great night of boxing. I DO have one comment I can't keep to myself. Harold Lederman, whom I have always admired as HBO's ringside unofficial judge, has been coming up with some crazy scores of late.
During the Pavlik-Taylor bout, his scorecard was, in my humble opinion, way out of whack. He continued to give Taylor rounds in which I asked myself what fight was he watching. Although Larry Merchant's card was different, he tried to support Lederman's, for what reason, I don't know.
It all seemed to add up looking to me like HBO had more to benefit if Taylor had come out on top. As a matter of fact, in the pre-fight discussions, Jim Lampley even said in not so many words that he felt Taylor was going to win this time. The way he said it was almost like…you all wait and see, this time it's going to be different. Don't get me wrong, everyone has his/her own opinion, but it just sounded like it was in the "plan" for Jermain to get the W. Maybe I took it wrong…..maybe not.
The bottom line was that they were all wrong. Taylor was a good fighter in the amateurs, but ever since he won the Middleweight Title, has been less than impressive. In both fights against B-Hop, AND in the fight against Wright, he was given decisions that should have gone the other way.
Although his performance last night was a good one, he wasn't the best man in the ring, Pavlik was. Maybe the TV networks should concentrate more on the production of their programs instead of the fighters. After all, is it their job to promote the fighters? They may have to promote a fight, but they should leave promoting fighters to the fight promoters.
###
For full discussions on these fights and all the other top pro boxing news, don't miss this week's "Talkin Boxing With Billy C" radio program. Tune into TPSRADIO.net on Wednesdays from 6-8pm EST to listen live, or go to www.TalkinBoxing.com for all information on downloading the podcast of the show as well as ALL previous shows and a listing of all syndicated radio stations where you can hear the "Talkin Boxing With Billy C" radio show.
We want to welcome our NEWEST affiliate broadcasting from the Fort Smith, Arkansas area, The Sports Hog 103.1 FM. Tune in on Saturday Mornings from 7:00-9:00 AM.
Go to www.TalkinBoxing.com for all information on the "Talkin Boxing With Billy C" Radio Program.