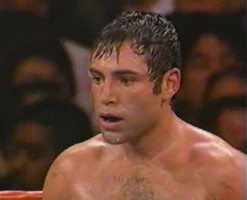 19.12.07 – By Andrew Wake: Sometimes a fighter gives his all, moves well, lands the cleanest and hardest punches, and has the crowd singing his name at tops of their voices, but, after the final bell has sounded and the judge's cards have been read, he leaves the arena with an L on his record and a feeling of bitterness and dejection in his heart.
Unfortunately, in the cruel world of professional boxing, events like this are commonplace. In some cases I'm inclined to believe that these events are just the result of bad judging but there are times, like the first Lewis v Holyfield contest, when something more scandalous appears to have taken place.
Respected trainer and ESPN analyst Teddy Atlas is someone who believes we see the best man losing too often but also stresses that a direct bribe is not always the cause. "It doesn't have to be like the old days, when a bag of cash is passed underneath the table." He told ESPN last year, "When a judge goes into a fight he knows that the house fighter, the promoter's fighter, has a lot of resources behind him. If he doesn't win, in a fairly close, competitive fight, there may be an understanding that that judge isn't working again for a while. And if that promoter has a lot of influence and puts on a lot of shows, then that's taking money from that guy's pocket. And you can't tell me as a human being that that's not influencing his judgment."
Here is a look back at some of the more controversial, if not necessarily scandalous, decisions we, as boxing fans, have had the misfortune to witness in the past ten years.
Lennox Lewis D12 Evander Holyfield – 13 March 1999, Madison Square Garden, New York, United States
IT'S ROBBERY read the front page of the New York Daily News. IT STINKS yelled the cover of the New York Post. "It was the worst decision I have ever known in any championship," wrote American sports writer Jack Newfield, "it's like the Vatican has been burgled". The Washington Post's Tony Kornheiser wrote "It was like The Three Blind Mice were scoring". Newspapers and websites around the globe gave similar opinions as it appeared that the whole world – except the judges, their immediate families and Don King – were united in the belief that Lennox Lewis had been cheated out of the undisputed heavyweight crown.
The punch stats proved the British fighter's superiority, he'd landed 348 punches to Holyfield's paltry 130 and clearly won nine of the twelve rounds but, to the amazement of all observers, the fight was scored even and a chorus of boos cascaded on to the ring.
South African judge Stanley Christodoulou rightly saw the bout for Lewis but, astonishingly, England's Larry O'Connell saw it as a draw and, even more astonishingly, New Jersey's Eugenia Williams, a judge who had limited big fight experience, had it 115 – 113 to Holyfield.
"Its plain robbery and that is what hurts boxing every time it starts to make a step forward," Lewis' trainer Manny Steward moaned, "I think they should have a Federal investigation".
Steward got his wish when an investigation was started but when it was concluded no wrongdoing was found or proven.
Despite no convictions for bribery being made the result remains the one of the most controversial of all time and the reasons behind it are still shrouded in mystery.
Felix Trinidad W12 Oscar De La Hoya – 18 September 1999, Mandalay Bay Resort & Casino, Las Vegas, United States
"Those last three rounds," De La Hoya said, in the build up to the fight, "which we call the championship rounds, is where I'm going to become a real champion". Little did Oscar know at that stage but his performance in those rounds he spoke of, would ultimately lose him the fight.
The bout between undefeated champions "The Goldenboy" Oscar De La Hoya and Felix "Tito" Trinidad was dubbed the "Fight of the Millenium" and was the most eagerly anticipated meeting of 147 pound goliaths since Leonard had taken on Hearns for the first time 18 years earlier; it was also the first massive all Latino PPV fight to be held on US soil.
In the fight itself, neither man's artillery could have been described as heavy but De La Hoya had the better of what exchanges occurred and dominated six of the first eight rounds with superior footwork and flashy flurries. The ninth was a questionable round because De La Hoya put strings of punches together, out landing his Puerto Rican foe by nearly two to one, but still two of the judges scored the session to Trinidad. The last three rounds, those championship rounds De La Hoya has spoken about so confidently, mainly involved Felix stalking Oscar around the ring as the "Goldenboy" ensure he preserved the comfortable lead he believed he held.
After the cards had been read in Trindad's favour, a stupefied Oscar said, "I know I won. I felt I put on the boxing lesson of my life".
This is a fight that really splits boxing fans. We didn't see the warrior like performance that had been expected from De La Hoya but I felt he did enough to take the win. However, boxing is a subjective sport and I can fully understand why people, including the judges, may have seen it differently. You could also make a solid argument for a draw, after all, that's the way Harold Lederman had it.
Paulie Ayala W12 Hugo Dianzo – 30 March 2001, Convention Center, Fort Worth, Texas, United States
Southpaw WBA bantamweight champ Paulie Ayala, who had a big money clash lined up with Clarence "Bones" Adams, retained his title with a unanimous decision over Hugo Dianzo in an event that one boxing writer called "The Great Texas Robbery".
Ayala, fighting in his hometown, started well but in the forth the lightly regarded Dianzo caught him and the Texas native found himself on the canvas. The knockdown was partially a stumble but enough to make it a 10 – 8 round nonetheless. In the fifth Dianzo got off many right hands, cutting Ayala, and making it seem that the "Bones" Adams fight would not be coming to fruition.
The man from the Lone Star state was sluggish down the stretch. He tried to rally late but it was Dianzo who was still landing the most leather and should have been picking up the points.
The judges scored it 115 – 113 (twice) and 115 – 112 and ESPN called it nothing more than a hometown decision.
Shane Mosley W12 Oscar De La Hoya – 13 September 2003, MGM Grand, Las Vegas, United States
Initially De La Hoya and his promoter, Bob Arum, wanted an investigation into the scoring of this one. While the decision did not go the correct way, the fight was close and did not warrant any actions of that nature. Oscar and Bob did, however, see eventually see sense and no such investigation was instigated.
The first couple of rounds were close, feel out, rounds but the "Goldenboy" moved well and was the one landing more frequently.
Mosley took the third and fifth but all the other sessions up to the eighth belonged to "The Pride of East LA" as he dominated with superb footwork and punches in bunches.
Before the start the twelfth and final round, Mosley's father and trainer told him his son that he needed a knockout. "Sugar" Shane, spurred on by his father's words, came out attacking but was met by a fighter who had leaned from his defeat to Felix Trinidad four years earlier, and was prepared to match fire with fire. Both men got in decent digs but Mosley was the stronger and took the round but, it seemed, not the fight.
To the amazement of nearly all that had crammed into the MGM Grand, the judges were in agreement that Mosley had won the fight 115 points to 113. The scores should have been the same but to the other fighter.
Punch stats revealed that De La Hoya connected 221 times to Mosley's output of 127.
"This is terrible," Said George Foreman, commentating for HBO, "This is not what you want boxing to be, De La Hoya won that fight, he won it until the end."
Sven Ottke W12 Robin Reid – 13 December 2003, Nuernberg Arena, Nuremberg, Bayern, Germany
Any list or article about controversial decisions has to include German former super middleweight champion Sven "Das Phantom" Ottke. Ottke (34 – 0 with 6 KOs) had so many stinky points wins on his resume that his list could have been dedicated to him alone but here I've selected what I believe to be the worst one of the lot, a fight in which former WBC champ Robin Reid was fighting two men, Ottke and overweight Belgian referee Roger Tilleman.
Former WBC champ, Robin Reid clinically outboxed the German in the early frames and in the sixth he sent Ottke to the canvas but instead of counting the referee declared it a slip. One observer said afterwards, "The only thing Ottke slipped off was the front of Reid's glove".
The following rounds were farcical as every time Reid landed a shot Ottke turned and looked at the referee for help. Tilleman duly bailed him out and gave Reid a ticking off for a series of infringements that, at best, would only be described as imaginary.
Reid practically stopped fighting after the seventh because he was, by his own admission, scared that if he got his shots off he would be disqualified but still this did not inspire Ottke to press the action and the at the end the Englishman should have been awarded Ottke's IBF and WBA crowns.
The judges scored it to the home fighter 115 – 113 twice and one ridiculous score of 117 – 112. While the judging was criminal, the refereeing was even worse and if boxing offences were punishable by law then Roger Tilleman would have found himself on death row.
Oscar De La Hoya W12 Felix Sturm – 5 June 2004 MGM Grand, Las Vegas, Nevada, United States
On this occasion "The Goldenboy" was beneficiary of, rather than the victim of, a bad decision.
All De La Hoya had to do was beat a man considered little more than a protected European with a title and he could call himself a six weight world champion and cash in his chips in a mega fight with Bernard Hopkins. Half way through the fight, though, it appeared that mega match up was slipping away as "The Goldenboy" was consistently being beaten to the punch while Hopkins – who himself had been involved in a below par outing that evening against Robert Allen – sat back stage chewing his fingers down to nubs.
The action of any one round was a microcosm of the entire fight as Sturm, the reigning WBO titlist, who coincidently has an economics degree, wasted little and used his snappy jab to keep De La Hoya at bay. The "Goldenboy" tried to respond by firing out combinations but most hit the German's compact guard and his attacks could not be sustained.
At the beginning of the twelfth Sturm lifted his hands in the air. He believed that he only had to survive the final three minutes and he would be heading back to Deutschland with his title and the name of boxing's most recognisable luminary on his résumé. He should have had a 115 – 113 points win in the bag, but, as it turned out, those scores were reversed and he would go home titleless and disapointed.
"That looks like a tailor made decision to set up De La Hoya versus Hopkins," Said Sky Sports' commentator Iain Darke, "He got the benefit of high charity."
Sturm had annouched himself beyond the confines of Germany but it would still take him two years to get another shot at world honours.
Courtney Burton W10 Emanuel Augustus – 6 July 2004, L.C. Walker Arena, Muskegon, Michigan, United States
Fight fans are rarely riled to the extent that they complain so much about a decision it sparks a State investigation, but that's what happened here.
It should have been a routine night for Michigan native Courtney Burton, he'd won 18 of his 20 professional contests, was fighting in his home state, and his opponent had lost a whopping 24 times. The reality, though, really did bite.
Emanuel Augustus, a well known but lightly regarded journeyman, bossed eight of ten rounds and was so in control that he took showboating to a level that would have put Jorge Paez and Prince Naseem Hamed to shame. The problem for Augustus was that he wasn't fighting just Burton, he was fighting the referee and the judges also.
The bout should have been over in the fourth stanza as Augustus landed a hard right to the head followed by a crippling left hook to the body. Burton sagged to his hands and knees and should have been counted out but Kelley deemed Augustus' perfectly shot low and gave Burton a one minute to recover.
In the eighth Kelley continued his grudge against Augustus by deducting a point for merely spinning out of a clinch. Burton, on the other hand, landed a series of illegal punches to Augustus' kidneys but did not receive so much as a warning.
One judge, Jack Richards, scored the contest for the correct man but judges Robert Paganeli and Ed Mosley somehow saw it 99-90 and 97-92 for the local combatant.
Disgruntled flooded The Michigan Athletic Control Board with complaints and an investigation was launched but, once concluded, the decision was never overturned.
Augustus would avenge this defeat in 2006, this time taking it out of the judges hands and stopping the Michigan native in eighth round.
Bobby Pacquiao W10 Carlos Hernandez – 8 October 2005, Thomas & Mack Center, Las Vegas, Nevada, United States
Despite having a world class sibling, Bobby "The Sniper" Pacquiao was seen as nothing more than a well schooled journeyman and expectations of him beating a former world champion, and the first man to floor Floyd Mayweather Jnr, were extremely low. Pacquiao aimed to leave with the unexpected win on his record but the way in which he got it was not satisfactory to him or the largely pro-Hernandez crowd.
"The Sniper" had a good opener and connected with a left hook at the end of round two that sent Hernandez to the canvas for only the second time in his 47 fight career but from the third onwards the Filipino tired and the 34 year old Hernandez was able to get off some chopping body blows.
Pacquiao came back with flashy bursts in the last two rounds but the Mexican was still the one landing the better whacks and had been the overall better craftsman and should have taken the decision.
The judges saw it 96 – 93, 97 – 92 and 95 – 94 to Manny's little brother, a result that was booed heartily by the Mexican faithful.
"I won the fight, the people knew it." A dejected Hernandez said, afterward.
Demetrius Hopkins W12 Steve Forbes – 17 March 2007, Mandalay Bay Resort & Casino, Las Vegas, Nevada, United States
Steve "2 Pounds" Forbes, fighting in his first contest since staring in the second series of The Contender, entered the ring to the sound of Eurythmics' "Sweet Dreams", little did he know but his own dreams were about to turn into a nightmare.
Before the contest the tall, rangy, awkward and undefeated Demetrius has promised to put on a boxing clinic and hoped that a good showing would move him to the upper echelons of the 10 stone division. The performance, however, did not live up to his prophecy.
Hopkins threw down some speedy combinations but Forbes bulldozed his way through them and landed some telling body shots that had the Executioner's favourite nephew looking discouraged as early as the fourth round.
Hopkins, the defending USBA champ, continued to land leather in spurts throughout the remainder of the fight but Forbes was like the Duracell bunny, he just went on and on and should have been the man putting the rounds in the bag.
The score were read as 118 – 110 twice and 117 – 111.
"I'm astounded," Said Sky Sports' Jim Watt, "118 points to 110 is a piece of nonsense. Forbes won the fight as far as I'm concerned. The scoring was ridiculous".
Joel Casamayor W12 Jose Amando Santa Cruz – 10 November 2007 Madison Square Garden, New York City, New York, United States
Sometimes a fighter gets old in front of your eyes and that's what appeared to have happened here with Ring Magazine and WBC interim king Casamayor.
There was too much clinching and not enough punching in the early rounds but, despite a first round knockdown, Miami based Cuban Casamayor did enough to take a slight lead. However from the middle rounds onwards, and after turning southpaw, it was a virtual shutout for the Mexican challenger.
Santa Cruz connected with 246 punches to Casamayor's 129, scored a knockdown and bossed eight of twelve rounds but still judges Ron McNair and Frank Lombardi saw the contest 114 – 113 to Casamayor who retained his titles by split decision. A verdict that left boxing fans shaking their heads in bewilderment.
"That's not just a bad decision, that's an outright robbery" cried HBO's Max Kellerman.
A rematch has been ordered but I can't help but feel that Santa Cruz's dream may have been ripped from him by judges that should hang their heads in shame.
……………………………………………………………………………………………
The decision of a fight can determine the trajectory of a combatant's career and with big money purses at stake it is not something that should tampered with or taken lightly, but due to the way in which the sport is organized and run, controversies will continue to be as much a part of boxing as gumshields and corner stools.
This list is by no means exhaustive so please use the comments section to discuss any fights you feel should be considered. I'm expecting differences of opinion but input from fans is one of the many things that make this site possibly the best around.
DING DING, let the debate begin.