28.11.07 – Photos by Tom Casino / Showtime: SHOWTIME CHAMPIONSHIP BOXING will present an extraordinary tripleheader as its season finale when IBO light heavyweight champion Antonio "Magic Man'' Tarver defends against Danny Santiago, Vernon Forrest risks his WBA 154-pound crown against former IBF welterweight kingpin Michele Piccirillo and Nonito Donaire, fresh off his knockout victory over previously undefeated Vic Darchinyan in the Upset of the year, makes the initial defense of his IBF flyweight belt against mandatory challenger Luis Maldonado..
Promoted by Gary Shaw Productions, LLC, the three scheduled 12-round fights will be televised live from Foxwoods Resort Casino, beginning at 9 p.m. ET/PT (delayed on the west coast.) Tickets, priced at $250, $150, $125, $100 and $75, are on sale and can be purchased at www.foxwoods.com or by calling (800) 200-2882.
ANTONIO TARVER: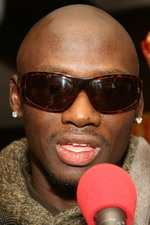 "We are training smarter, not harder. I have been at this a long time. I know how to prepare for a championship fight.
"I'm going knock him out. This guy is coming to win like everyone else who has come in front of me.
"The IBO Title is very significant. A lot of great champions who have come before me have won it with pride. I am proud to be Light Heavyweight Champion
"I don't think the boxing world has seen the best of Tarver. I'm in shape, I'm ready to go and Santiago is in for a rude awakening.
"I still have will and passion left. I am going to continue to be on top.
"I am motivated by my will to win and to be recognized. I'm 39 years old and feel very young and youthful. I have a great team behind me.
"I want to be remembered as an honest guy and a man of my word. If I can talk it, I can walk it.
"I believe the next guy who beats me will have to beat me at my best."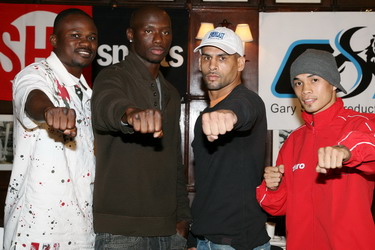 VERNON FORREST:
"I plan on beating him come Saturday night like I did in the amateurs. I will introduce him to my big right hand and put him on his back again.
"What motivates is big fights. I want to be known as a great champion.
"All my fights are important to me. You can't get to your next fight until you get past what's in front of you.
"This is a dangerous fight for me, because I'm the champion. This guy is coming into this fight to fight hard. This is a career making fight for him.
"I'm going to knock Piccarillo out, but I am always prepared to go the distance. I will tempt him at first, but I won't jeopardize a win for a knockout.
"I'm glad to be in business with SHOWTIME, because SHOWTIME is in business with Vernon Forrest.
"He is a strong fighter and has a very good jab. I trained to neutralize what he throws at me.
"Tarver is one of the best fighters of our era. I expect a world class performance out of Tarver."
DONAIRE:
"I still have a lot to prove. People call me a one hit wonder. But I will continue to fight to build my name and prove myself.
"I am going to do what I have to do to take him out, no matter what he comes at me with. This will be a great fight.
"This fight will validate me as a world champion and show people I am here to stay.
"Maldonado is a good fighter and not one to look past. But I am stronger, faster and smarter. After my win over Darchinyan, I am more confident.
"My arsenal is a lot stronger than Maldonado's."
DANNY SANTIAGO:
"It is an honor to be here and an honor to fight Antonio Tarver. I have been following him since I was 17 years old, and I am trying to get where he is at.
"Saturday is a chance for me to fulfill my dream. I have seen many of you on TV and at the fights, I am honored to be up here today and to be in front of the camera on Saturday night."
GARY SHAW:
"I have been a promoter and fan of the sport for a long time. When the boxing media twists things to fit the bill it upsets me. If they like a belt, or a fighter, they mention it. If they don't, then they ignore it. I am talking about Antonio Tarver and the IBO Title. Lennox Lewis, wore the IBO belt, and if it's good enough for Lennox Lewis and Roy Jones, Jr., then it's good enough for Antonio Tarver.
"I am proud to know Ed Levine (IBO President). He is a great man and one of the true gentlemen in the sport. I am proud to pay the sanctioning fee and put the belt on the winner on Saturday night. I know they will wear it proudly.
"Maldonado (who is traveling from Mexico) is a tough offensive fighter. This fight will not be fought all around the ring or on the ropes. It will be fought in the center of the ring. Every time Nonito Donaire looks up, Luis Maldonado will be right there in front of him. For those of you that saw both Marquez –Vazquez fights, this fight will be on par with those tremendous, all-action bouts. It's a great way to start the SHOWTIME CHAMPIONSHIP BOXING Telecast."