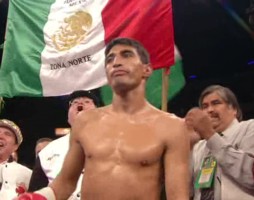 29.07.07 – By Frank Cairol: There is one reason why I am not counting out either Erik Morales (48-5, 34 KOs) against David Diaz (32-1, 17 KOs)this Saturday night st the Allstate Arena, in Chicago, Illinois or Marco Antonio Barrera (63-5, 42 KO) against Manny Pacquiao (44-3-2, 35 KOs) in October 6, 2007: "The Last Hurrah factor." Some of the greatest fighters ever manage to turn back the clock a for one night and have that one "Last Hurrah" or great boxing performance. It's even more startling when these fighters are taught to be finished. The Following are some of my favorite examples:
1) Roberto Duran – Iran Barkley (1989): did anybody expect Duran to win this one? Duran had been knocked out by Hearns in 1984 and Barkley had knocked out Hearns. Plus, Duran was 37-years-old, and considered well past it at this point. But circular logic, or sometimes any sort of logic, has no place in boxing.
Duran stunned Barkley in the very first round with a right hand, and then proceeded to go to war for the next five-rounds. He was seriously stung in the 7th and almost dropped in the 8th round but showing incredible will and courage he swept the final four rounds, capping it off with a picture perfect 11th round knockdown to earn a well deserved split decision.
2) George Foreman – Michael Moorer (1994): Previous to this, Moorer had just won the title from Evander Holyfield and was the true champion. As it turned out, the Fight itself was sort of uneventful as Moorer completely dominated for the first nine rounds. But in the 10th round, Foreman managed to drop the Bomb – a perfect right hand that knocked out Moorer. They say that the last thing a boxer loses is his punch. Well, Foreman never lost his evidently. This one was almost a miracle.
3) Wilfredo Gomez- Rocky Lockridge (1985): Ok, if anybody mentions that Gomez didn't win this one, I'm not going to argue but while maybe Gomez didn't win it, I think Lockridge lost it. They fought somewhat evenly for the first four rounds before Lockridge took over and gave Gomez quite a beating for the next five rounds, so much so that Angelo Dundee, brought in as an adviser, wanted to stop the fight, only to be told by Gomez that it wasn't his job to stop the fight. However, by the ninth round, Lockridge was badly fatigued, allowing Gomez to rally, mostly by jabbing and moving around for the last six rounds to steal the decision. While the decision was controversial, the resiliency, stubbornness and heart shown by Gomez was enough for me to include it in this list.
4) Lupe Pintor – Juan "Kid" Mesa (1985) – The great bantamweight Champion Pintor was thought to be over the Hill when he faced Meza. Previous to this, he had lost an all time great fight to Wilfredo Gomez, and then took a year off because of a motorcycle accident. When Pintor came back to boxing in 1984, he had an uneven year, winning four fights, losing one by KO, and fighting to a draw, before facing Meza in 1985. Pintor managed to turn back the clock, winding up that classic left hook to drop Meza three times to win a 12 round unanimous decision
5) Sugar Ray Leonard – Marvin Hagler: Though he had fought sporadically in recent years leading up to this fight, Sugar Ray was hardly finished. He had just been inactive for almost three years and having his first fight at middleweight against one of the greatest middleweight champions ever. No doubt, not many people were picking Leonard to win, pointing to his inactivity and the fact that he had previously never fought as a middleweight before. As it turns out, many people think Leonard actually didn't win this one, despite getting the decision. Frankly, I think Hagler is largely to blame. He gave away too many of the early rounds, fighting much too cautiously, which is the same reason why his fight with Duran was also a close one. Had Hagler fought with the all out determination, like the way he fought against Hearns, things might have turned out differently. This is not to diminish Sugar Ray's performance, don't get me wrong. Leoanrd did what he had to do and he did it brilliantly, by boxing Smartly, using his handspeed, and flurrying in the closing seconds of each round to try to steal them. Who really won? It was very close, but I feel that Leonard did enough to befuddle Hagler and eek out a close decision.
Will we see a last hurrah performance by either Morales or Barrera? Most people are betting that we won't. For me, I will tune in anyway because Morales and Barrera are warriors and legends who shouldn't be counted out, as they could still have one more great performance left in them. If they do, I don't want to miss it!