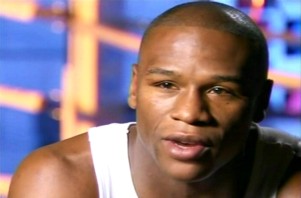 27.07.07 – By Richard Rodriguez: Floyd Mayweather Jr. (38-0, 24 KOs) and Ricky Hatton (43-0, 31 KOs) are reportedly going through the final stages of plans for a bout in December 8, possibly to be held at the MGM Grand Garden Arena. Mayweather, 30, retired from boxing after defeating Oscar De La Hoya in May 2007.
However, most boxing fans realized that Mayweather wouldn't stay retired long, and after Hatton recently destroyed Jose Luis Castillo by 4th round TKO on June 13, 2007, Mayweather's interested perked up. Hatton, 28, figures to be at a huge disadvantage going into the bout because he's a natural light welterweight, and is two inches shorter than the 5'8" Mayweather.
More than that, however, Hatton's reach is seven inches shorter than Mayweather, which is going to be a huge handicap for the British fighter, who is considered small even for light welterweight standards. Normally, though, Hatton is able to crowd his opponents and rough them up on the inside, but that's often because it's permitted in England, where the referees are very permissive to roughhouse tactics such as wrestling.
In the United States, much of the kind of wrestling moves that Hatton uses would likely prompt a warning by the referee. In the long run, it probably won't matter whether a referee allows it or not, in large part because Mayweather moves so well on the outside that he doesn't let his opponents get close to him for more than a few seconds before he skitters away.
Hatton will in all probability be chasing Mayweather all night long and swinging at air. No doubt, he'll like take a lot of punishment and end up losing badly. However, this bout is about money, and nothing else. For most of us, a Mayweather win is a forgone conclusion, because we know that Hatton can't deal with an expert boxer like Mayweather. Simply put, Hatton will come in and take a beating and walk off into the sunset with his 10 million, and probably will never give it another thought. Why should he? With that kind of dough, he doesn't even need to fight anymore, but of course, he will. You know what I mean, though.
Hatton briefly held onto the WBA welterweight title after defeating Luis Collazo in May 2006, in a fight that many people thought that Hatton lost. In that fight, Hatton had major problems with Collazo's size and took a lot of shots all night long. Afterwards, Hatton gave up the title rather than risk taking on another welterweight and potentially lose.
It's interesting that Hatton has opted to fight Mayweather, since he Oscar De La Hoya had recently expressed interest in fighting Hatton, which would likely bring in much more money than a fight with Mayweather, who often has difficulty in selling out arenas for some reason. At this point, it will be interesting to see whether fans outside of England will even care about this bout, mainly because there's very little mystery about who will ultimately win the fight.
Hatton has no business fighting any welterweights, particularly one as good as Mayweather, who at this point in his career is the top fighter in the division. It doesn't rest there, though, because there's probably a minimum of eight current welterweights that could wipe the deck with the petite Hatton. It's too bad that Hatton had to make the mistake of taking on the best. I just hope he's not ruined by the beating he will have to endure at the hands of Mayweather in December.