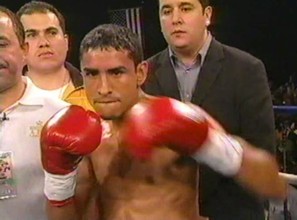 The slugfest that was Israel Vazquez vs. Rafael Marquez will continue on Saturday, Aug. 4, live on SHOWTIME when World Boxing Council (WBC) super bantamweight champion Marquez makes his first 122-pound title defense against the belt's previous owner, Vazquez, in "La VENGANZA!" at the Dodge Arena in Hidalgo, Texas. This is a highly anticipated rematch of an exhilarating, toe-to-toe, give-and-take battle that ended prematurely with Marquez (37-3, 33 KOs) forcing Vazquez (41-4, 31 KOs) to retire on his stool with a broken nose after the seventh round.
Also on the card presented by Gary Shaw Productions and Sycuan Ringside Promotions in association with Romanza Productions and Golden Boy Promotions is World Boxing Association (WBA) super bantamweight champion Celestino Caballero (26-2, 18 KOs) defending against Jorge Lacierva (32-6-6, 22 KOs).
The world championship doubleheader will be televised on SHOWTIME CHAMPIONSHIP BOXING at 9 p.m. ET/PT (delayed on the West Coast).
Tickets, priced at $25, $35, $50, $75, $100, $200, are on sale through all Ticketmaster outlets and on-line at www.ticketmaster.com. Tickets also may be purchased at the Dodge Arena box office Monday through Friday 10 a.m. to 5:30 p.m. (central time) plus the day of the event, online at www.dodgearena.com, or by phone at 956-668-7740.
Opening Statements.
Shaw: Thank you very much for joining us. I don't have to say anything about Rafael Marquez or Israel Vazquez. Everybody who has seen that fight or heard about that fight knows it was beyond a terrific fight.
On Aug. 4 on SHOWTIME, it is chapter two; SHOWTIME wants to call it Round 8. The fight was for the people and now these two great fighters (are going it at again). But the card is even better than the fight because in the opening fight you have Celestino Caballero against Jorge Lacierva for the WBA 122‑pound championship. So we technically have two 122‑pound world championships going on simultaneously with probably the winners going to meet one another.
What I'm told is that Marquez-Vazquez could turn into a trilogy because everybody knows the way they fight. Again, I want to thank you for being here. I want to thank the Dodge Arena in Hidalgo for hosting us, obviously SHOWTIME and Ken Hershman for being a great supporter of myself and the fighters I represent. I want to thank you on behalf of my co‑promoter, Sycuan Ringside Promotions and Romanza Productions.
Marquez: I would like to say thank you to everybody and thank you for this conference call.
Vazquez: I want to thank everyone involved in making this happen and I just want to say that I'm ready to regain my title.
Question: Rafael, what do you remember most about the first fight and especially about getting knocked down and coming back to win?
Marquez: Like I always said, Vazquez is a hell of a fighter, an excellent fighter. He punches hard and he proved it. I just got up. For this fight I'm preparing a lot better. For the first fight the date changed and I trained for (only) four weeks. It was for a month later, and they moved it a month. So I cut off training four weeks. But I'm training hard. I'll be ready to keep my title.
Question: Israel, what do you remember about the first fight and dealing with an injured nose? How difficult was it to cope with the fact that you lost the title the way you did?
Vazquez: I had great difficulty that night fighting with a broken nose. It was tough. I was unable to breathe. It was a tough night and a difficult loss. I feel good now. My nose feels good. I'm ready to come back and take back the title. I feel really good right now.
Question: Was your nose actually broken?
Vazquez: The condition was some kind of a metabolic blockage. The doctor's diagnosis was that the left nostril was completely closed. The right nostril was only 10 percent available for breathing.
Question: Israel, both fighters had said going into the fight they were willing to die in the ring for the title but you changed your mind somewhere during that fight. Do you have any regrets that you didn't live up to that?
Vazquez: My first concern always has to be, and for all fighters, their health. If I had decided to stay in there and let myself die, I wouldn't have a second opportunity and have an opportunity for this rematch.
Question: Rafael, do you feel you have a large psychological advantage over Israel based on what happened in the first fight?
Marquez: No, not really. I don't look at it that way. I don't see that I have any advantage at all. Every fight is a tough fight with a tough fighter. I see it that way. I prepare myself the best because I know he's coming for the title. I'm going to defend the title I have with everything I've got like always. I'll prepare myself for everything. And what is sure is that people are going to see a great fight, two warriors inside the ring. We'll do everything for me to defend my title.
Question: Rafael, at any point in the fight were you aware that Israel might have had problems with breathing and problems with his nose?
Marquez: Yes. When I got up, I noticed he was having problems breathing. But I didn't let it affect me. He could have stopped the fight earlier, but he decided to go all the way to the seventh. He couldn't go any more, but he showed that he was hurt in the first round and he continued to the seventh.
Question: Israel, a lot of people think a rematch is going to be similar to the first fight. How do you expect this fight to be different and what do you have to do to win it?
Marquez: Thank you for the comments. That motivates me. I'm going to use all my intelligence and hunger to regain the title, and to hold it (the belt) in my hands once more. The comments of opinions of the people motivates me a great deal and it helps me to seek perfection on Aug. 4.
Question: Rafael, do you think this fight will be different or similar to the first fight?
Marquez: I just see for this fight the same (kind of) fight. But the difference is the first fight I prepared for five weeks. Now I'm preparing myself for about 10-12 weeks. It's going to be a good fight. The difference is going to be more conditioning. It will be the same fight or tougher as the first one. I'll be ready for it.
Question: Rafael or Israel, do you want to make a prediction for the fight?
Marquez: When I fight, accomplishment is going to come. I know there is going to be a knockout in the fight, and I'm just ‑‑ I'm ready to fight even 15 rounds.
Question: Israel?
Vazquez: The only prediction is I'm going to win.
Question: Israel, you didn't have a ton of time between the end of the first fight and the time you had to start camp for the rematch. Was there any apprehension about your nose not being able to hold up in camp or anything like that or did you feel completely comfortable with how the nose was feeling at that point?
Vazquez: Actually, the one who should worry is Rafael. I'm not concerned at all. There's no need to be concerned. The results and diagnosis of the doctor have been very encouraging. Thank God it wasn't a dangerous condition. But I've been able to continue with sparring. Things are going very well. In fact, if it weren't that people would stop and ask me how my nose is feeling, I would have forgotten that I had a problem.
Question: What actually caused your nostrils to be completely blocked and 90 percent blocked in the other one? What was the reason for the diagnosis that the doctor gave you?
Vazquez: There was already inflammation. There was a delicacy in the bones; weakness because of numerous hits that caused additional inflammation, which eventually ended up causing the blockage.
Question: Rafael, do you think that Israel's nose is going to be a liability or are you approaching it as if he's completely healthy?
Marquez: No, the nose, it won't be a factor. I'm just going to do my best. I'll do in the ring whatever I'm trained to do in the ring for that fight for that night. And I'm just going to prepare for victory.
Question: Do you feel any obligation to come to fight and to give the fans a good show?
Vazquez: Actually, I do feel a tremendous sense of obligation. The public pays money to see ‑‑ whether they sit there or watch on TV. And it's extremely important that I give it my all each and every round. Even though it's very important, I want to give a good performance because I want to look good and I want to make sure that I come through for the public.
Marquez: Not only do I feel obligated and feel responsible to give everything in the ring so I can please the public, but also so I can please my fans. That's why I prepare myself the way I do. I want to compete and do my best and prepare myself mentally and physically the best way I can.
Question: Rafael, could you talk about your training, what kind of exercises you're going through, how many rounds you're sparring and how many hours you're putting in and so on?
Marquez: As you know, I do my training in Toluca, Mexico, for conditioning. I do my boxing training in Mexico City with Ignacio Beristain, and I'm sparring six rounds, eight rounds. I do exercises and workouts in the gym. I have been feeling good for a long time. I feel excellent. I think I've got the speed. I've got the conditioning and I've got the strength. So I have everything. I have all the elements to please the public, the fans and to put on a great fight.
Question: Rafael, after 13 years of being a professional boxer, how do you stay dedicated and go through all the heavy training?
Marquez: Since I was little I liked to box. That's what keeps me motivated. I want to become a lot better. That's why I take it seriously, because I know that I have a big responsibility once I get into the ring — with the fans, with the public, everybody involved in boxing. They believe I am a good boxer, and I just take it seriously. That's why I prepare myself the way I do.
Question: Is it tougher making the weight at 122 pounds as you get older?
Marquez: No. I didn't have a problem with 118 at that time. Obviously I take good care of myself. I'm two pounds over, a little more than that (now). It's a week before the fight. I just feel great. The problem is not going to be weight.
Question: Rafael, how do you feel knowing that you and Juan are perhaps the only brothers in boxing to hold world titles at the same time?
Marquez: I feel great. I feel excellent. My brother and I train together. We run together many times. We help each other and motivate each other. As I told you before, we take this seriously. We go into the ring, anything can happen. You put your life in their hands. I feel happy because my brother is a world champion. He feels happy because I'm a champion. We prepare the way we prepare because we like to be champions and part of history.
Question: Israel, considering the nose injury, what percent of your ability did you fight at the first time?
Vazquez: Actually, only half. I was not able to concentrate once I started feeling the discomfort. Then the discomfort turned to pain. The pain was really very intense. So having the pain in the nose, I wasn't focused on the fight as I should have been. I wasn't able to throw the punches the way I wanted to.
I feel everything was totally thrown off ‑‑ I was thrown off my whole plan. But this time I really believe in my heart that this is going to be very different. I'm ready and in good condition. The doctors have given me a good diagnosis. I feel very positive going into Aug, 4.
Question: Do you consider that Marquez beat you or that the injury played more of a part, in essence you beat yourself because of the injury?
Vazquez: I have to give Rafael all the credit. He deserves the victory. I don't want to take anything away from him. I'm looking at going into this fight being able to give more of myself and I'm focused. My nose is healed. I feel well and if anything were to go wrong I'd still have to give it my all because I'm determined to win back the title.
Question: Israel, in exactly what round did your nose began to bother you?
Vazquez: I feel that the injury came in the first round when I felt a punch, and then felt the pain. But the real discomfort started in the second round, and going up there ‑‑ the second, third, fourth, fifth rounds, they were really, really tough.
Question: Rafael, do you feel you're getting the respect you deserve?
Marquez: Like I said, I go into the ring to box my opponents, to knock them out if possible and to give a great show to the public. That's what I've been doing throughout my life. I like to show respect inside the ring, but I also like to get respect from my opponents.
Question: So you do or do not feel like you're getting the respect?
Marquez: I feel that I'm not. Boxers talk a lot.
Question: Israel, when you talk about the nose injury, are you using it as an excuse or are you talking about it as a fact?
Vazquez: I don't want to even think about what others are saying at this point. I don't want to focus on what other people are thinking, whether I've used this as an excuse or this is a fact. Everyone knows that it is a fact. But on Aug. 4 I'm going to remove all doubts. There won't be any questions. There won't be any reservations or any mystery. It will be very, very clear and I will make it clear.
Closing Statements.
Marquez: I just would like to tell all the people that that night you'll see an even better Rafael Marquez, faster, stronger and more accurate. I'm going to give a great show that night to the fans, to the media, to all the people involved in boxing. They're going to see a great Rafael Marquez inside that ring because I know Israel Vazquez is a tough fighter. But I know I have to be prepared to put on a great show.
Vazquez: First of all, I'd like to thank you for taking the time to participate in this conference call. I am very grateful for this rematch, which is very important fight to me. I will be able to demonstrate why I've been speaking so much about how I'm going to fight on Aug.4. I want to finally prove what happened in the first fight was real. There were no pretexts. There are no excuses. And I am looking forward to the opportunity of demonstrating how I am, who I am and you'll see the results on Aug. 4.