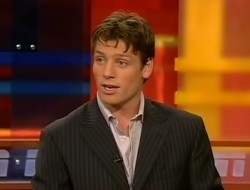 18.07.07 – By Ted Sares: 1. John Duddy, 21-0. This future candidate for Hollywood ala Mark Wahlberg does not know how to slip punches. He also cuts and bleeds like a modern version of Chuck Wepner. An arguably shot Yory Boy Campas gave him almost more than he could handle.
Once the cherry picking stops and he gets in there with someone who can pop, say adios to "Irish John." Like Duddy, James Moore emigrated to America and fights out of Gleason's Gym in New York. He has the pop. So Does Andy Lee, 10-0, who recently iced veteran Carl Daniels in one of the years most devastating knockouts. These guys are the real McCoy..
Duddy is a middleweight and there are several monsters lurking in that division. If he ever decides to step up and fight one of them, the result will be disastrous. Guys like Miranda, Green, Pavlik, Arthur Abraham, Kofi Jantuah, Kassim Ouma and many others lurk. Duddy needs to be wary.
If he moves up in weight, he will be sent to leprechaun dreamland by the likes of Alejandro Berrio, Lucian Bute or Adrian Diaconu. It would not be pretty.
2. Jeff Lacy, 22-1. He may have been exposed by Vitali Tsypko who lost a controversial MD to "Left Hook" last December. The fact is, Lacy is slow and ponderous, and throws one telegraphed punch at a time. A fast fighter like Calzaghe will, of course, have him for lunch, but I am betting that even slower fighters, but ones who have decent movement and a modicum of hand speed, will expose this once promising Floridian. Look for someone like Alejandro Berrio to retire this guy once and for all.
3. Edison Miranda, 28-2. No one can argue that he is not exciting or that he is willing to fight the best competition out there. The problem with "Pantera" is that he lacks technical skills and will eventually be exposed by a slickster. The Pavlik destruction was simple a mugging. I am talking about a technical dissection by someone like Paul Williams who would slice and dice the Panther. Even feather-fisted Jermaine Taylor is the kind of fighter who could put Miranda though hell.
Sure, a great offense is a good defense, but once the offense is neutralized, it will be Katie bar the Door for Miranda. I hope I am wrong because I like Pantera's old school willingness to fight anyone anywhere, but his skill set is sorely lacking and will be his undoing.
4. Tye Fields, 38-1. Despite a stellar record, the first time he meets someone who can reach him and who has pop in his punches, he will be taken out. Take that to the bank. Fields telegraphs and slaps with his punches. He does not turn his fists and lacks power for his size. At one point, he seemed to be pretty ripped, but in his fight against Kendrick "The Apostle" Releford,, 14-9, he appeared somewhat flabby
Beating a shot Ed Mahone or a grossly overweight Bruce Seldon shows me nothing, and shame on Maurice Harris and Sherman "Tank" Williams for losing to this 6′ 9½″ giant. Someone like DaVarryl Williamson is going to perpetrate the exposé
on this guy.
If I could fight like Ty, I wouldn't.
5. Sergio Mora, 19-0. Again, Mora is someone with speed and fine technical skills, but absolutely no power. Usually, hand speed behind combos can generate power ala Sugar Shane Mosley, but in the case of the Latin Snake, it generates a sound not dissimilar to Chinese firecrackers going off.
What is Mora's claim to fame? He has two "wins" over Peter Manfredo Jr., but he has never fought let alone beaten a legitimate top ten worthy boxer. His clash with Erik Regan last year in Sacramento was-coma inducing. Yes, I like to see guys practice the Sweet Science, but Mora goes too far. Thankfully, his fight with Jermaine Taylor is off, but why did he get it in the first place? Its time for a tough guy like Alfonzo Gomez or Zab Judah to end the misery.
Honorable mention: Joe Mesi, 35-0. Mesi (post-Jirov) will be beaten the first time he fights a legitimate opponent. Monte Barrett exposed him and Vassiliy Jirov did serious harm to him. Unfortunately, Joe seems to be the only guy who fails to realize what Jirov did. Someone like Michael Moorer could do something even worse. Let's hope not for Joe's sake.
Watch for Ted Sares's new book Boxing is my Sanctuary due out in the fall 2007