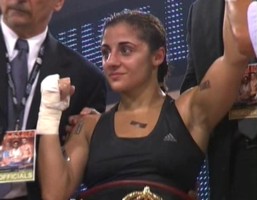 Spotlight Boxing's fourth big "ProSieben Fight Night" will take place September 7 at the Burg-Wächter Castello in Düsseldorf. In the first fight card under the new agreement, the wildly popular world champion "Killer Queen" Susi Kentikian (17-0, 13 KOs) will defend her WBA flyweight title against Shanee Martin (8-3. 4 KOs).
In the co-feature, heavyweight Sebastian Köber (9-0, 9 KOs) faces Edgar Da Silva (25-9, 19 KOs).
Other hot 'new generation' fighters on the card include WIBF super welterweight world champion Karolina Lukasik, super middleweight Dimitri Sartison and middleweight Gennady Golovkin — all unbeaten, talented, young and hungry.
Lukasik (7-0) faces unbeaten GBU/WBC/WBA titleholder Jisselle "Magic" Salandy (14-0) in a unification clash, Sartison (20-0, 13 KOs) will face off with WBA #6 contender Gusmyl Perdomo (14-1, 8 KOs) for the WBA Latino belt and Golovkin (8-0, 8 KOs) who will be in for his toughest fight as a pro versus Olympian Geard Ajetovic (13-1-1, 6 KOs). Also seeing action will be female flyweight Rebekka Herrmann (9-1) and Spotlight newcomer Magdalena "The Beast" Dahlen at junior bantam. Opponents will be announced.
Three world champions in Düsseldorf: Regina Halmich, Ina Menzer and Julia Sahin
The "Box – Queen" Regina Halmich will defend her WIBF world title, in her 55th pro fight, against US-American Wendy Rodriguez (18-3-3 (3)) who is listed within the top five of the rankings.
Halmich stated: "Wendy Rodriguez is a tough challenge for me. I will have a precise and accurate preparation for this important fight. Too bad that my injury gave me kind of a setback but everything is running on schedule right now. As to my retirement from boxing, I wouldn't like to say good-bye from boxing with a defeat. There won't be any further professional fights for me in Düsseldorf. However, the handkerchiefs should still remain in the bags. Right now it's bad to talk about the last fight or parting. Apart from that, Düsseldorf is a very good memory. One year ago, I defeated the Hungarian Milo clearly in same place. At the end of January, the Düsseldorf public again proved their enthusiasm for boxing when they pushed my stable colleague Julia Sahin to the world championship in a great fight."
Additional "woman power" on the card will be provided by WIBF featherweight champion Ina Menzer, who will defend her belt against the Mexican Jazmin Rivas (16-4-0 (7)). It will be her first appearance in Düsseldorf.
The unbeaten featherweight, who grew up in the nearby Mönchengladbach, is looking forward to her fight near her hometown. The 26 year old Ina Menzer said: "I'm excited about his and happy to fight in Düsseldorf as it is very close to my hometown and many of my friends can come and see me! It will be a tough challenge. She has a great record, especially her 7KOs make her very dangerous. It will be a tough but interesting fight."
Jr. flyweight champion Julia Sahin (18-0-0 (2)) will defend her WIBF belt at jr. flyweight in Düsseldorf fo the second time. She definately has very god memories on her last appearance there as she claimed the WIBF belt by beating the Russian title holder Anastasia Toktaulova in front of an amazing crowd. After her first successful title defence in Stuttgart two weeks ago against the American Hollie Dunaway, the 33 year old Julia Sahin is looking forward to her next fight. Her opponent will be announced in the next days.
The complete fightcard and additional information about this event will be announced within the next weeks.
Tickets are available at:
Universum Ticket Hotline: 040 – 696 559 59
CTS-Eventim Hotline: 01805 – 5 70 000
At all known Ticket Shops and www.boxing.de