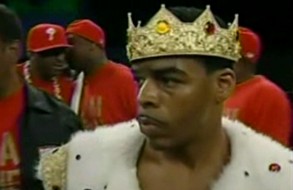 16.07.07 – By Ted Sares: The test I use is to ask myself: "If I know one of these fighters in on TV tonight, will I go out of my way to watch him." Of course, if there is likelihood that their opponent might knock him out, that could change things.
Henry Akinwande: This Londoner by way of Nigeria is no Sam Peter. He hugs and holds, and is painful to watch. .Recent loss to Oleg Platov warrants Hall of Shame consideration. DQ against Lewis was legendary.
Shannon Briggs: Non-stop action during the prefight conferences, but once the fight starts; he becomes a gasping and flexing mummy. Lately, he has been awful to watch. It's almost as painful as hearing his excuses.
Morrade Hakkar: Achieved immortality against Bernard Hopkins, another "action" fighter. Is this guy for real? He fights like a grasshopper.
Henry Maske: Eleven KOs in 32 fights says it all. Dariusz Michalczewski he is not. Nicht sehr aufregend.
Floyd Mayweather Jr: After some early sizzle, it quickly turns to fizzle. He is predictable and boring. Great skills to be sure, and maybe that's the problem, but I'll never do another PPV on one of his fights, unless it's against Cotto.
Sergio Mora: 19-0 with 4 KOs. His last fight against Eric Regan was penance for my sins. It was dreadful. Mora is just slick enough to win decisions agianst other "reality types," but he has absolutley no pop in his punches (though he did manage to stop one Archak "Shark Attack" TerMeliksetian in 2006). The Latin Snake beats a Shark. Ugh!
Zahir Raheem: Ironically, he was born in Philadelphia. This cure for insomnia is better than 2 paxils, 3 depakotes and 5 valiums. He is proof that good skills do not translate to good action.
John Ruiz: Appropriately nicknamed "The Quiet Man." Lot's of excuses, multiple broken noses (his), and ugly clinching and elbowing. Still, his former long-time and mouthy manager (Norman Stone) made up for some of the pain. Stone's bizzare in-ring behavior almost made watching John's fights worthwhile….almost.
Jermaine Taylor: Talk about feather-fisted and tentative. Talk about hype. I'd rather listen to Barry Manilow sing than watch Taylor fight. Nicknamed "Bad Intentions," he is anything but. Sure, he's got a few dollars in the bank. Now he is SOMEBODY. Maybe that's the problem. Or, if not, maybe it's time for Taylor – Steward to part ways. Whatever the problem is, let's hope Kelly Pavlik corrects this mistake forthwith.
Nikolai Valuev: Plodding monster belongs in Hollywood, though there is some fascination involved to be sure. A fight between Akinwande and this beast would be appropriate punishment for a serial killer.
Honorable mention: Rocky Juarez. He has morphed into the Rocky Horror Picture Show