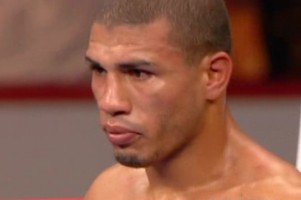 16.07.07 – By Vivek Wallace: Saturday night's highly anticipated matchup solidified the position of two young guns in boxing's 'Battalion of Young Stallions' – the welterweight division. It was a forgone conclusion, even prior to the fight, that Puerto Rican sensation Miguel Cotto (30-0,25KO's) would be fighting Antonio Margarito (34-5, 24KO's) after his showdown with the lanky Paul Williams (33-0, 24KO's). Or so we thought.
Although Paul Williams came in as the underdog, it didn't take long for the packed house in attendance or the viewers at home to see that this 'up and comer' is more than adequate to get the job done for a long time.
The only question about Paul Williams prior to the fight was whether or not he could take a pounding by arguably one of the best 'body bangers' in the game, and to his credit, not only did he do so, but he also dished out his own punishment that was unrelenting from the beginning to the end.
Coming up on the short end of the stick did absolutely nothing to tarnish the name or reputation of Mexico's finest, Antonio Margarito. Although he landed what appeared to be the harder punches late in the fight, it was the punch stats throughout the fight that ultimately did him in as evidenced by HBO's compubox.
Those are numbers even the 'Margarito-faithful' can't argue with, but more importantly, that's a work rate that very few fighters can deal with – which brings me to the next point…..
Unfortunate Advice For Cotto: 'Pick Your Poison'
The one thing that was evident last night was that both of these fighters possess two things. An unrelenting assault and a chin that's even more rugged which allows them to take an opponents best to put themselves in position to give a better one.
In a strong optical illusion last night, the comparative low punch output by Margarito gave the false perception that his work rate has slowed. People have to remember that Margarito was fighting a very lanky guy who could connect from a range that he (Margarito) couldn't – therefore he tried to pick his spots more than normal.
Either way this doesn't bode well for the guy scheduled to face the winner of the two – the also dangerous, yet vertically challenged in comparison, Miguel Cotto.
Margarito stands at 5'11", with a reach of 73 inches. Paul Williams stands at 6'2″, with a reach of 82 inches. Miguel Cotto stands at 5'7″, with a reach of 67 inches.
Numbers aren't every thing, but typically they don't lie. If we are to believe the numbers in Miguel's undefeated record – which some still question – then we should believe the numbers relative to this wicked reach/height advantage and how they could come into play.
Promoter Bob Arum stated after the fight that he's gonna " sit down with Sergio Diaz and Francisco Espnioza" – the managers of Miguel Cotto – "and discuss a possible Margarito matchup".
Trouble is, of the two choices he has to decide from, both have incredible height, reach, and conceivable chin advantages in a fight that could go the distance.
To Be The Best, You Have To Beat The Best
Miguel Cotto has handily defeated the lower tier-level and mid-range fighters which have included Carlos Quintana, Paul Malignaggi, and Zab Judah, but neither of those guys – except maybe Judah – was ever on the level of Williams, Margarito, or a Mayweather Jr.
If Cotto is to live up to the hype recently surrounding his name it'll start with a marquee matchup like this, but as if things aren't bizarre enough, word from the De La Hoya camp – according to HBO's Larry Merchant – is that Oscar is walking around now days at a trim 150 and is ready to throw his name in the hat as well.
Competition has never been more prominent in one division and each of these guys have their work cut out for them.
Considering that there's so much talent and one place they all wanna get, in an ideal world, there should be an eliminator with 6 fighters.
Kermit Cintron (28-1, 26KO's), Shane Mosley (44-4, 37KO's), Antonio Margarito (34-5, 24KO's), Paul Williams (33-0, 24KO's), Miguel Cotto (30-0, 25KO's), and Oscar Dela Hoya (38-5, 30KO's).
The winner of this eliminator should face the 'Pretty Boy' Floyd Mayweather Jr. (38-0, 24KO's) to settle it all.
The big money payday's, the name recognition, and everything else falls right into play. This would be a promoter's dream.
Today I'm gonna help kick off the campaign setting this spark ablaze. With 6 prominent pugilist and the seventh standing on top of the mountain, it should be aptly dubbed 'The Great Battle For Supremacy: 6 Steps, 7th Heaven'.
Arum, King, Goosen, etc….I hope you guys are all taking notes. This is a G.E.W.T.W (Given 'Em What They Want …Pronoucned JUDO) moment if I've ever seen one. You guys as promoters often talk the talk, so now it's time to 'take your trophies off the shelf' and test them…Simply said, walk the walk!
There's no better time than the present guys, so stop the yap and make it happen baby!
(Got Feedback?: Write Vivek Wallace at vivexemail@yahoo.com or myspace.com/anonymouslyinvolved)