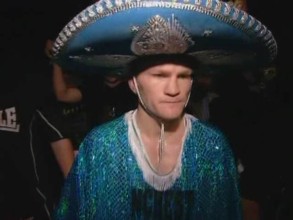 24.06.07 – By James Slater: Tonight, at The Thomas and Mack Centre, Las Vegas, Ricky "The Hitman" Hatton retained his position as the world's number one light-welterweight with a devastating fourth round KO over Mexican warrior Jose Luis Castillo. A wicked left hand to the body ended things in quite shocking fashion in round number four. The lightly regarded IBO world title was on the line, and Ricky retained it.
Of more note, though, was the twenty eight year old's retention of Ring magazine's 140 pound belt. Without a doubt, Ricky solidified his position atop all things junior-welterweight with a win that was his best since stopping all-time great Kostya Tszyu back in 2005 – if not THE best of his career to date, period.
The punch that brought the fight to a close at two minutes and sixteen seconds was, quite simply, perfect. There can be no criticism of the tough kid from the streets of Manchester this time.
Though many, myself included, gave Ricky some stick after his less than impressive performances in his last two fights – with Luis Collazo and Juan Urango – there can be no complaints after tonight's fight. In an earlier (much attacked) article of mine I wrote how Ricky needed a first-rate fan-friendly type of performance against the thirty-three year old Castillo. I also stated how if he gave one he would prove my article – that was concerned with Hatton becoming a boring type of fighter – to be false. I can hold my hands up and admit that, yes, I was wrong, and Hatton did indeed make me out a liar with his great display in Vegas tonight. I also wrote, however, the fact that I'd be pleased if Ricky did just this – and indeed, I am glad "The Hitman" is now right back on top of his game.
The action came thick and fast right from the outset. Hatton, who had been led into the ring by both Marco Antonio Barrera and Manchester United football star Wayne Rooney, went to work straight away. While Castillo, who had been accompanied in his ring walk by Julio Cesar Chavez Jr and Jorge Arce met him at ring centre.
There was a stumble from Jose seconds into the opener and then the inside work from both men set in. There were some good right hand uppercuts to the chin by Ricky, as well as a fine right hand to the chin by his challenger. To be fair, Hatton was guilty of hitting and holding somewhat, but there was nothing boring or negative about his display tonight. I put round number one firmly in "The Hitman's" column.
In round two, Hatton was looking to work on the inside yet again. He was using his strength and testing the bigger looking Castillo's.
There were good shots by both men, but the twenty-eight year old was definitely quicker than his five years older opponent. Ricky leant on and went to work, both to body and head, and certainly landed more punches for a second round. The fight had the look of a gruelling affair already, though. Two to nothing for the champion for me.
In the third, the best round of the fight action-wise, Hatton scored with bursts before tying his man up. A decent left to the body-right hand to the head combo scored for the man from Mexico, before a warning was given to him by ref Joe Cortez for a low blow. Some good uppercuts upstairs landed for Castillo, as well as a good dig to Hatton's body. Jose finished the round both landing with a long left hand to the head, as well as taking a left back from Ricky. I scored this one even, and the action was starting to really heat up.
The pattern continued in the fourth, before the shocking finish. A point was taken from Castillo for another low blow, then, after a brief exchange, a sharp left hook to the midsection caught the warrior from Mexico. Jose spun around, and in slightly delayed fashion, hit the canvas. It was clear he wasn't going to beat the count and amazingly the body puncher had been body punched into oblivion. The shot Ricky hit him with was both perfectly timed and had superb leverage. Arguably his best punch ever, Hatton had made one hell of a statement in Las Vegas. As such, he is once again one of the sport's premiere fighters and attractions. The sky is now the limit from the man from the north of England. Bring on Cotto? Bring on Mayweather? Bring on De La Hoya? Bring on anyone!
Ricky improved to 43-0 (32) while Jose, in what may well be his final fight, fell to 55-8-1 (47).
"The Hitman" is back to doing what he does best. The negatives that were starting to grow have been well and truly erased.