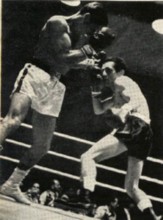 25.05.07 – By Ted Sares: He represented Brazil, in the 1956 Olympics and then turned professional in 1957 at 21. His nickname was "The Golden Bantam" and his final record was 72-2-4 with 50 KO's and a KO percentage of 68%. He was one of the few champions to have never suffered a knockout. Eder Jofre (born March 26, 1936), is considered to be the best Brazilian boxer of all time….and arguably the greatest Bantamweight of all time. In an article by Dan Cuoco, Director of the International Boxing Research Organization (IBRO), he calls Jofre "The Second Best Pound-for-Pound Fighter in Boxing History." He was inducted into the International Boxing Hall of Fame in 1992. I have him well placed in my top 25 fighters since 1950.
With one punch knockout power in either hand, he also was a slickster with great technical skills and reflexes in the style of Sugar Ray Robinson and "Feo" Rodriguez. He had the hook and the straight right; hell, he had it all. A classic body puncher who would wear his opponents down before moving upstairs for the kill, he did his work in a bobbing and weaving manner.
The Cyber Boxing Zone's biography of Jofre describes him as follows: "Eder had everything a great fighter must possess. To top off the package, he also had an iron chin and resilience of a LaMotta, Basilio, or Saad Muhammad. Perhaps his most amazing quality was his ability to adapt. Jofre was a very intelligent fighter who could change his style to adjust to any kind of opponent. He could be cute, brawl, anything…the guy was a fistic work of art, and he did all this as a vegetarian!" (GorDoom, the Cyber Boxing Zone, June 2000, "The Cyber Boxing Bio – Eder Jofre")
In 1961, he TKO'd Piero Rollo in Round 10 to win the National Boxing Association World Bantamweight Title in Brazil. In 1965, he would lose his WBC and WBA Bantamweight titles to Fighting Harada in a highly controversial SD in Nagoya, Japan. Harada would beat him again by a razor thin margin in Tokyo in 1966. Both fights with the Japanese warrior were savage ones. Losing for the second time to Harada prompted Jofre to retire, but he would make a successful comeback three years later. Harada was the only boxer to beat Jofre who many considered to be invincible. Harada was inducted into the Hall in 1995 and many consider him Japan's greatest fighter ever. He finished with a 55-7 slate
Jofre would then close out his spectacular career by winning 25 consecutive fights including the WBC Featherweight Title, and 37-2 at the time, also in 1973.
against Jose Legra in 1973. He defended the title once, a fourth-round icing of the great Mexican fighter Vicente Saldivar. Many of his opponents during this streak were tough hombres with impressive records. Legra, for example, would end his career with an astounding record of 134-12- 4. . Having become inured to the two controversial decisions in Japan, he fought his remaining bouts in Brazil. His last fight was a point's win against Mexican Octavio Gomez, 53-15-5 coming in, in 1976. Jofre was 40 years old at the time.
By going undefeated in his first 50 fights, he managed to bookend his career in a uniquely positive way, 50 in front and 25 at the end. Even the great Sugar Ray Robinson, to whom Jofre is often compared when pound-for-pound discussions take place, did not have such an auspicious start.
Sadly, few videos on Jofre fights apparently exist…. his fights with Harada and a complete version of his first win over Jose Medel on August 18, 1960 in Los Angeles can be found. No other complete fights are known to exist. Thus, historic accounts and word of mouth are the only means of learning about this fighter's greatness. However, there is a documentary entitled, "O Grande Campeão" with film highlights, though most occurred near the end of his career. It can be ordered through the web. Dan Cuoco, Director of the International Boxing Research Organization, is the best authority I know on Eder Jofre.
Let's just call him the "The Greatest Fighter Who Fought Under the Radar."
Watch for Ted Sares's new book, Boxing is my Sanctuary, due out in the fall 2007