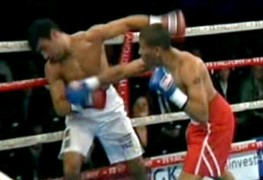 (Venezuelan knockout artist, Carlos Donquiz, on right, seen here flattening highly regarded prospect Reda Zam Zam) 31.03.07 – By Gabriel DeCrease: Mikkel Kessler is, at least, a strong favorite to take over the super-middleweight boxing division when Joe Calzaghe hangs up his mitts.
At present, it is unclear—and hard to say—whether Joe's retirement will come off the end of Kessler's long jab (or straight right hand), on the heels of a Lacy-esque schooling of "The Viking Warrior," or quietly without ever making the fight to settle the current, hotly-disputed youth-versus-experience-at-168-pounds debate. But, one way or another, Calzaghe is not long for the division, and whatever side you come out on regarding his legacy, someone is going to have to take his place as the division's leader.
Kessler, barring some unexpected collapse, is the man to fill that particular hole—no matter how the transition comes to pass. If you are a fight fan, chances are, you know this already. You have seen Kessler fight. You know his power, his sneaky speed, and his highly-marketable combination of classic good-looks and stylishly-tattooed right-hemisphere. He is a dream for Team Palle, the Copenhagen-based fight-promotions group that serves as Kessler's management-and-matchmaking squad.
However, what you might not know is that Team Palle also represents a stable of other fighters, many of whom were quickly climbing the ranks and pulling-out big victories over top-quality opposition. As went Kessler, so went his stable-mates, but that streak of universal good-fortune has recently hit a decidedly apocalyptic snag.
Flash back to January 2006. Despite being stopped at the bitter end of his fight with Arturo Gatti, Palle-promoted Thomas Damgaard earned himself and his cronies a lot of respect in the cutthroat American fight market by hanging and banging with the blood-and-guts superstar. Damgaard had never once ever even fought outside his home country, and had mostly roughed up green club-fighters and ragged-journeymen before he signed on to tangle with Gatti. Damgaard took Gatti's considerable firepower full-blast and kept coming forward, at time, landing solid, flush shots of his own. His effort made a much closer fight than the partisan scorecards reflected at the time of the stoppage—after Damgaard took a flurry of punches and went down on bended knee. The real surprise was that Gatti had fought well, showing more hand-speed and clean boxing than he had, in my opinion, since his second fight with Micky Ward. So, in turn, credit was due to the aged Dane for rising to the occasion and making a show of it. That performance, along with Kessler's continuing rise to dominance, gave the press and fans good reason to start taking Team Palle seriously when they sent a fighter to do some work in the big-time.
Damgaard retired after the Gatti fight, though he is now at the start of a comeback, and attention turned to the rest of the stable in Copenhagen. In early October of 2006, Team Palle was at the reins of the careers of three hot prospects: Rudy Markussen, Spend Abazi, and Reda Zam Zam. Markussen was, at the time, 33-1-0. A hard-punching light-heavyweight with a solid chin and a certain, decided coolness under fire, Markussen's only loss was to Sven Ottke in 2002. Markussen boxed the awkward Ottke competitively in pursuit of the IBF super-middleweight strap, and the fatal flaw in his game plan was that he gave Ottke too much respect and seemed hesitant to open-fire on the champion when he was against the ropes or in a corner. He let Ottke dictate the fight. He fought Ottke's fight—a bad move for one hoping to cash in on a puncher's chance. But it was hard to hold that loss against Markussen, Ottke's black-magic led to losses for a long list of quality fighters from Anthony Mundine to Byron Mitchell to Charles Brewer to the once highly-underrated, and underexposed Mads Larsen, who, incidentally, also hails from Denmark.
In any case, Markussen had won seven-in-a-row since his lone loss to Ottke and looked the heavy favorite going into a hometown fight against Russian Sergey Tatevosyan. Tatevosyan was older, and looked the smaller, wearier man to Markussen who had, in recent fights, looked more collected defensively and smart about knowing when to strike and when to strategize. Tatevosyan had been in against some top-tier fighters, going the distance in losses to Roman Karmazin and Howard Eastman, and stopping Armand Krajnc in seven-rounds. But by late 2006 Tatevosyan looked tired and threadbare, as if he was able to do little more than hold-on and bear it in a fight. Case-in-point, Tatevosyan dropped a fairly-called 10-round unanimous decision to Dmitry Pirog—who, at the time, was a super-green 3-0-0! When the bell rang and Markussen v. Tatevosyan came to blows (at a catch-weight just below the light-heavy limit), the leather came slowly and cautiously. Tatevosyan.seemed sluggish and unable to mount a consistent assault, as he had in his last several fights, but the surprise was that Markussen approached what appeared to be a sitting duck without the poise, pressure, and passion that he had showed in recent outings. On-and-on, the fight dragged for six-rounds, then in the seventh Markussen was caught and dropped by an uncharacteristically blistering left-hand from Tatevosyan. Markussen beat the count, barely, and then went to one-knee shortly after, without having taken any more punches, and walked back to his corner in recognition of his defeat.
One down. Markussen has not fought since. Tatevosyan rode the momentum of his victory over Marksusen into back-to-back payday-losses to Lucien Bute and Carl Froch in which the Russian looked particularly shot. Bute pounded him unmercifully. I have no special attachment to Tatevosyan, but I cringed and my heart went out to him as I watched that beating go the distance. Bute's left hand was vicious, and seemed guided by divine-order toward Tatevosyan's head every time it was thrown. By Team Palle's design Markussen was supposed to be enjoying in the bottom-half of his prime against world-class opposition right now. All the while, Kessler kept winning, so no one was the wiser.
The second Team Palle prospect to get dumped on the seat of his trunks was featherweight speedster, Spend Abazi. Abazi, originally hailing from Albania, was, at the time, a highly-touted and popular fighter well-known to European fight fans despite his soft-touch touch-and-go style. Other than a disputed decision loss early in his career to the relatively unknown Kenyan, Athanas Nzau (Spend won the rematch handily), Abazi's record was well-stocked with solid and oft-impressive victories, though admittedly over mostly pedestrian opposition. His most notable wins came over solid-but-unremarkable b-list guys like Dimitri Kirilov and Lehlohonolo Ledwaba. Despite that fact, Team Palle had done an excellent job promoting Abazi as a frequently-avoided, inexhaustible technician that would outwork, out-hustle, and outmaneuver a succession of top fighters on his way to the top. You might think of Abazi at that point in his career as comparable to a pre-Wright fight Sam Soliman in terms of his self-determination, energetic performances, and frequently iffy opponents.
After a year or so of playing the call-out-then-bail-out-game, Abazi and company decided to lay it on the line and take on Robert "The Ghost" Guerrero. Though, it should be pointed out that Team Palle hedged its bets by holding the fight in Abazi's adopted hometown of Copenhagen, perhaps pulling for sweetheart scoring in Abazi's favor if the fight were to go to the cards—which it almost certainly would considering Abazi's apparent lack of finishing skills and Guerrero's dependable chin. The assumption, of course, was that Abazi was going to win. Guerrero seemed like a good choice. He was a little green, but he had a strong fan following in North America, a reputation as a solid, well-trained fighter, and, perhaps most importantly, had demonstrated that he could be beaten on an off-night, as in his loss to Gamaliel Diaz. If Team Palle was making an attempt to reverse the Ottke-curse that screwed them in the Markussen v. Ottke fight years before. Guerrero appeared, deceptively, to fit the bill.
Guerrero was greeted by a remarkably hostile partisan mass of booing, hissing Danes, but those balled up fight fliers and concession stand napkins that rained down were about the only shots Guerrero would take that night.
Diaz set the pace in the first and second rounds by utilizing the jab and landing straight left hands at-will. "The Ghost" took charge in the third and dropped Abazi with a hard, straight left, and after Abazi beat the count, Guerrero jumped all over the obviously weary Abazi until the bell. Abazi bravely battled back in the fourth-round, but his valiant effort seemed undeniably like a last stand, even if he did pull that round out. He was again dropped, hard, in the fifth, and on-and-on until Abazi's corner retired their drained and battered man in between the eight and ninth. It seemed more obvious after the fight that Guerrero had simply been in with, and beaten, better fighters, and even bounced back after losing. "The Ghost" was a more cultivated pro who knew how to operate and breathe in the ring in a way that the showy and watchable Abazi did not. Abazi seemed to sense the disparity in talent from the first round, and let the whole of the fight turn into a fatalist last stand, in which the goal of victory was lost in the desperate attempt to survive.
Two down. Neither Team Palle, nor Abazi himself, has made any announcement about future fights. Give it time. But when his next fights are lined up I am willing to wager they will be against easy-win opponents like Marcel Kasimov and Geoffrey Munica, against whom Abazi can appear back to his old, highly-touted, quick-fisted self. So what happens when he rattles off a string of pre-packaged victories and is again expected by his over-eager fans (or maybe even the sanctioning bodies) to fight a quality opponent?
I think Abazi has been exposed, his confidence sacked, and I expect that if that situation does arise, Team Palle will have to—again—send Spend to the back of the line, or put him on permanent duty on the hometown under-card circuit against fellas with names we will never know how to—or have reason to—pronounce. But, alas, Abazi's loss and failure to cut the proverbial mustard was washed off the board, and quickly forgotten, as Mikkel Kessler was putting notches on his belt, or belts, as it is now, and being lauded copiously by Danish, European, and world media outlets. In that loss, Team Palle took another step toward being a one trick pony. And even if Kessler is a viable one man show, the stable is collapsing.
The recent first-round flattening of Team Palle light-middleweight prospect Reda Zam Zam by Carlos Donquiz is perhaps more favorably explicable than the losses by Markussen and Abazi—but it is another case of a highly-touted fighter from the stable being flattened nonetheless. It can happen to anybody. Lennox Lewis was dropped and stopped by Hasim Rahman, after all. But while Rahman is no punching-savant, no technical-genius, or steamrolling berserker, he had more legitimacy by far than Donquiz . But then again, no one called Zam Zam the division's leader either. In any case, it is worrisome that Reda was hosed by a guy carrying a 17-6-0 record into the upset in question. Donquiz had power in-spades, there is no doubt about that, all his 17 victories came by way of knockout. But a supposedly technically and defensively skilled fighter of Zam Zam's breeding should not have gotten caught like that in the first place.
But, as I said, it can happen to anyone. But the more pedestrian the fighter that catches a prospect, the bigger the holes in that prospect might actually turn out to be. Zam Zam just got caught early, and when he came up, shaken and still noticeably-rocked, the referee forewent the count and signaled the fighters immediately to continue. Donquiz went right back to work and Zam Zam had been down three-times before the fight was stopped at the 2:15 mark of the first-round. Reda might have had the opportunity to re-center himself and go on more effectively had the referee given him an eight-count, or any count at all, but he was rocked and knocked-out nonetheless. And in my opinion, no eight-second-delay would have saved Zam Zam from a first-stanza stoppage.
Before his loss to Carlos Donquiz Zam Zam was undefeated, and had posted solid wins over fellow junior-middleweight prospect Joe Wyatt and seasoned, hardened veteran journeyman Maxim Nesterenko. Zam Zam was well on his way to proving himself, and perhaps this setback will ultimately help in his development as a fighter. Perhaps, he will come back stronger. There are whispers that Zam Zam is considering making his return against unbeaten WBO champion Sergiy Dzinziruk. After being knocked-out inside one round by Donquiz, I am confident a comeback rumble with the much-bigger, stronger, pressure-pushing Dzinziruk would likely give Zam Zam another mark in the loss column and a permanent place on the always stocked list of gun-shy, banged-up journeyman. And if he wins, it would likely be a fluke that he would be wholly unprepared to carry into fights with the type of opposition that would be gunning for him at that point. I am getting ahead of myself. You get the point.
However, for the time being, Team Palle has three formerly in-demand prospects whose marketability and credibility have taken a series of hits that, in combination, would be quite a blow to the overall stable. That is, if they weren't in possession of a budding international-star in Mikkel Kessler. However, Don King experienced similar streaks of loss and tragic underperformance when he had Mike Tyson under the wraps of a Faust-like contract. And as long as he had "The Baddest Man on The Planet" winning, or even losing so long as it was a pay-per-view draw, no one ever thought to imply that King's stable was in shambles, or disarray, as it often was.
So who does Team Palle have, besides Kessler, to move to the front lines? Let's see there's Lolenga Mock, who toggles back-and-forth between looking like a once-passable shot fighter and a green, messy club fighter, Martin Kristjansen, the lightweight who was thoroughly out-boxed by the profoundly un-extraordinary Stefano Zoff in what was, arguably one of Kristjansen's better performances. Come to think of it, untested cruiserweight newbie Anders Hugger seems to be something like a prospect. He is efficient, rangy, and looks to have good instincts and technical savvy that could evolve into a solid sense of ring-generalship—which is rare these days in the division. But, at 7-0-0, Hugger is totally untested. In fact, I cringe as I remember making such affirmative, hopeful comments about Markussen, Abazi, and Zam Zam before they wandered too far off the radar of easy-opposition and were beaten.
Oh yes, I forgot to mention. Team Palle's token heavyweight prospect, the doughy slow-motion man, Claus Bertino, also suffered a wicked knockout loss at the hands of Humberto Evora on the same fight-card that saw Abazi defamed. Bertino is, somehow, the Danish heavyweight champion. He won that title, vacant as it was, in only his seventh professional fight. In his eighth fight, he was stopped by 34-year-old Portuguese heavy Evora, who fought only three professional fights before he met Bertino.
Let us all hope, for Team Palle, that Kessler is every-inch as good as they say.