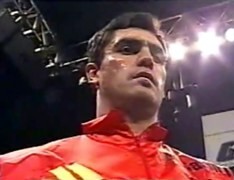 27.02.07 – By Paul McCreath: We hear a lot of grumbling these days about heavyweight boxing champions defending their titles against the same old retreads. A recent look at one top 30 list showed only three boxers under the age of 30. We have seen no less than 10 heavyweight belt holders in recent years win at least two versions of the title and five more challenge at least twice unsuccessfully. Why is this and why are we not seeing new blood rising to the top?
The answer is not all that simple. One suggestion is that due to better boxing training methods athletes including boxers just have longer careers. That idea certainly has some merit. It is not hard to look at Lennox Lewis or Oleg Maskaev and possibly reach this conclusion. But then you can look at George Foreman's comeback or just peruse the waistlines of most heavyweights today and you have to wonder if conditioning has anything to do with it at all.
If you look at a list of prominent heavyweights today you will find that slightly more than half are Americans and the rest mostly European. If you look at their ages it is a very different story.Only 4 Europeans are 35 or more while 11 Americans are in that age range. Why the difference?
In my opinion, this is caused by the fact that America is just not turning out top heavyweights like it used to. Think back a few years. There was always somebody like Ali, Frazier, Foreman, or Tyson on the way up. These were what I call class A prospects. Everyone knew from the time they turned pro that they were sure bets to make the top 10 and likely to become champions. As they developed, we all watched their progress as they fought and beat the older guys above them and eliminated them from the rankings. This does not happen any more. We have no class A prospects now and just a small handful of the B types that I would consider to have maybe a 50-50 chance at best of making the top 10. This group would include Eddie Chambers, Chris Arreola, Travis Walker, Chazz Witherspoon, Kevin Johnson, Brian Minto and perhaps one or two others. The rest are pretty much Class C longshots at best. In other words, the old guys are still around because there is almost nobody to replace them. Some may wonder why I didn't name Tony Thompson. At 35, he is hardly a young gun. Calvin Brock is excluded because he is already more or less established as a contender.
Is the situation likely to get any better? I'm afraid not. The Olympics, always the best source of future champions have had no Americans win super-heavyweight gold since Tyrell Biggs in 1984. Riddick Bowe won silver in 1988 and there has been nothing since. At heavyweight, there was Ray Mercer in 1988 with a gold medal and Nate Jones, a bronze in 1996. That's it. It is even more discouraging if you look at the world ratings today. Recently, a well respected boxing publication brought out their top 15 ratings for each division. There were no Americans rated at all from light heavyweight on up to super heavyweight. None! Counting all 11 divisions, there were only five Americans that made the lists.
So how do we get out of this mess? Clearly, we need to look at the amateur game in USA. They are not turning out the talent to the professional game any longer. Perhaps they need to focus more on attracting young fighters into boxing or more likely big changes are needed in how the sport is run. The only other possibility I can see would be if one or more of the top promoters made a concerted effort to attract six or more good young athletes to bring along together under one top trainer. They could spar with each other as well as other good heavies and appear regularly on the undercards of the big promotions. They would need to be kept busy, fighting six or eight times a year against each other and other creditable opposition to develop their talents. Today, most prospects are fed a long line of easy foes and they learn next to nothing. To progress, you need good competition on a regular basis.
Let us hope that somebody does something soon before the heavyweight situation gets even worse.