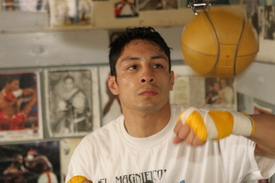 27.02.07 – Photos by Joe Miranda: Sycuan Ringside Promotions' Israel "El Magnifico" Vazquez participated in an open media workout Monday as he continued to wrap up preparations for his upcoming WBC super bantamweight boxing title defense Saturday, March 3, at The Home Depot Center in Carson, Calif.
In one of the most highly anticipated match-ups in years, Vazquez faces IBF/IBO bantamweight champion Rafael Marquez in the main event on SHOWTIME CHAMPIONSHIP BOXING (9 p.m. ET/PT delayed on the west coast).
The showdown between two of boxing's most exceptionally talented and exciting warriors at the peaks of their games will be promoted by Gary Shaw Productions, LLC, and Romanza Productions, and Sycuan Ringside Promotions and Golden Boy Promotions.
In an excellent co-feature, undefeated hard-hitting IBF/IBO flyweight boxing titleholder Vic Darchinyan defends against former IBF champ and current top contender Victor Burgos..
Tickets, priced at $25, $50, $75, $100, $150 and $200, are on sale at TicketMaster outlets and on-line at TcketMaster.com. They also may be purchased at The Home Depot Center box office from 10 a.m. to 6 p.m. Monday through Friday and on Fight Day beginning at 10 a.m.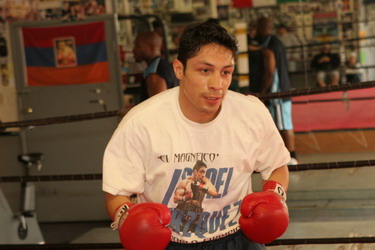 ISRAEL VAZQUEZ
"I am more motivated for this fight than I have ever been. Rafael Marquez is a great fighter. I am not nervous, but I am very excited and confident. I'm ready to go.
"I respect Marquez very much, but I am not worried about the fight. There will always be a winner and a loser. I am not losing any sleep over this, but that doesn't mean I am taking him lightly either.
"This will not be an easy fight. Marquez is really good."
"The fact that fans wanted this fight gives me more motivation. I know both of us are going to fight at a higher level than ever before. It's great that two world championships from Mexico City are fighting, but once we're in the ring and the bell sounds it will just be me against him.
"I expect there will be a feeling out process for a round or two, but I don't see how this fight cannot end up a war and the fight of the year. Anyone who is at The Home Depot Center or watching on SHOWTIME is going to get much more than their money's worth."
"I always knew there was a chance we would fight. I've watched Marquez career at a distance and knew he was dominating at 118 pounds and was looking to move up. I am a natural 122-pounder, so obviously I feel I am stronger and hit harder.
"I hope Marquez comes out aggressively like he usually does so that we can exchange blows. There is great upside for both of us in this fight, but especially to the winner. That is why I have prepared like I have never prepared before.
"That is why this is the most important fight of my career."