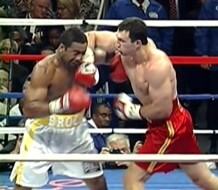 26.02.07 – By Mark Seargent: The criticisms and frustrations of fight fans with the heavyweight boxing division are varied and complex. There are complaints particularly applicable to today, such as the frequent promotional and television disputes that help to prevent, in large part, both unification fights and promising match-ups, as well as the fairly recent amalgamation of alphabet titles that gives all four champions a pedestal to claim to be the best in the world.
Recent fights seeing title holders pitted against seemingly undeserving opponents, whose rise in the boxing rankings relate more to the skills and management of outside bodies, and not necessarily to their ring craft and career. With fights taking understandable time and resources to be set up, it seems that disappointing contests, like March 10th's Wladimir Klitschko vs. Ray Austin, can contribute to taking up half the year.
Although no one could expect any modern fighter to follow in the footsteps of Muhammad Ali's vintage, in which he fought eight times in 1972-73 against a range of top quality fighters in Patterson, Quarry, Norton, Chuvalo, Bugner and Bob and Mac Foster, when high profile fights are so rare, it is very disappointing to see boxing title contests involving fighters of Ray Austin's pedigree (and he is not the only one) being made against heavyweight champions like Wladimir Klitschko.
I have no particular grudge against Austin. He is obviously an improved fighter with a tough and admirable mindset to get into any form of contention after three defeats to journeymen in his first twenty fights. And despite a somewhat slow and clumsy style, Austin has fought with some skill to gain draws against creditable opposition in former or current challengers to the heavyweight crown in Sultan Ibragimov, Larry Donald and Lance Whitaker. However, his rise to such a lofty status in the IBF and WBA rankings is both unfair and inexplicable, I think, simply because he has not beaten any top fifteen ranked fighter in any of the four sanctioning bodies.
When you consider the careers of past greats, such as Ron Lyle, Quarry and Jimmy Young only had one shot at the title my frustrations are complemented further. Wladimir Klitschko is the best all round fighter in the world, and improving still under the canny guidance of Emanuel Steward. A sledgehammer right hand supported by a rangy, stinging jab, coupled with a suspect chin, ensure an air of excitement and unpredictability whenever he fights.
Putting a title on the line in a unification bout or at least fitting him against strong opponents, who have trod the long line of consistently beating creditable opposition such as Rahman and/or rematches with Lamon Brewster, Samuel Peter and Davarryl Williamson (who has beaten Oliver McCall, Corrie Sanders and run Klitschko very close in a bout unsatisfactorily ended two years ago). These fights would not only generate much more interest and debate, but just as importantly, set a definitive guide to each fighter's standing in the division. Instead, through the machinations of skillful promotion we are will have an eight month timeframe to see the best heavyweight in the world fight strong opposition if we're lucky.
Steward inspired caution will probably see Klitschko tee off at Austin behind his jab, but I see no evidence from Austin's fights that he has either the offensive or defensive range to contain Klitschko, let alone test him. Hopefully, the opportunity for a title may inspire the 'Rainman' but once Wladimir Klitschko's rhythm settles I cannot see anything but the Ukrainaian being completely dominant and the fight not lasting for more than five rounds once those bombs start hitting their target.
It seems to me that apart from Shannon Briggs's elevation to the WBO title, and the disappointing setbacks in the careers of Brewster and Lyakovich, who served as a pugilistic treat of great skill and heart last April, the heavyweight picture has really drifted and stagnated in the past 12 months.
Vitali Klitschko's comeback is welcome in some way, although my positive memories of him are of his great potential and what he could have achieved in the ring rather than the standard of opposition who he beat, which was very thin in comparison to the likes of Tua, Rahman and Byrd, let alone Holyfield and Lewis.
Vitali Klitschko's vulnerability to injury tells me, sadly, that hopes for unification bouts and regular defenses may well be impossible. After all, through no fault of his own, Vitali's injuries closed the WBC title picture for 15 months or so. We will probably never see the extraordinary levels of skill, bravery and match-ups that the late 60s through to the 1970s provided, where promotional and ranking issues existed but did not affect the quality of the bouts. And it's for this reason, that discussion groups are dominated by the exploits of Ali, Frazier, Foreman, Liston and Holmes as well as the next tier of Norton, Quarry, Lyle and Shavers rather than today's best.
But put the four titleholders together and see Klitschko-Valuev and Briggs-Maskaev with the winner takes all, and we make a step towards progress. With top contenders facing each other regularly to provide a fair and accurate ladder towards a tilt to the heavyweight title and we may have something to talk about in the future'.