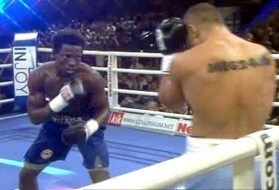 22.02.07 – Edison 'Pantera' Miranda is taking his next fight with Alan Green personally. The two meet on March 3rd in San Juan, Puerto Rico and the boxing fight will be televised live on HBO World Championship Boxing. After the fight was signed, Green stated that 'Miranda is stupid' and a 'one dimensional fighter'. He said many other derogatory comments that were for the most part ignored by Pantera. However, it quietly gave Pantera a huge injection of strength, hunger, and determination.
'I'd like to thank this little kid for saying these stupid things. If he only knew how much it helped me during camp. You can be assured that it will be hanging in my locker room before the fight, and that I will remember all of this in the ring. You can also be assured that he will never be saying these things before a fight again – that is if he can fight again. I will punish him for these stupid comments!"
Miranda now lives and boxing trains in Puerto Rico and is very excited to be fighting in his hometown. "I am very thrilled to put on a show for all my friends in Puerto Rico. They have been very good to me since I chose to live here in 2005, and I will pay them back by making it an exciting fight. The only problem is that I would advise young children not to watch this fight. Between the anger I have inside me (thanks to Green's stupidity) along with his lack of defense, it could get very ugly in the ring. I pray that he doesn't get hurt too badly."
Pantera will be fighting on the under card of Miguel Cotto as he defends his WBA welterweight title against Oktay Urkal. The fight will take place at Coliseo Roberto Clemente and will air live at 9:45 PM ET on March 3rd. Miranda's promoters, Warriors Boxing and Main Events, would like to thank Top Rank for making this fight possible.