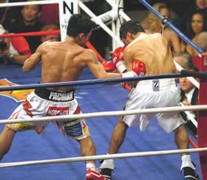 31.1.07 – By Anthony Coleman: To the casual boxing fan he's a great crowd pleasing fighter with a tremendous punch. To his near fanatical fanbase- he isn't a fighter, but a force of nature, capable of overwhelming his foes without a second's thought. However, to the boxing media, Manny Pacquiao is described in two words: the best.
At this very moment there is no bigger star in Boxing than Manny Pacquiao, and for good reason. He represents much of what is still great in this sport: he's charismatic (though he can barely speak a word of English), his fights are exciting, and most importantly he truly desires to test himself against the very best. If you need to question his quality of opposition list, go Box-Rec to see his record. From 2003 to 2006 (in five fights), he's faced Marco Antonio Barrera, Juan Manuel Marquez, and Erik Morales.
Consider the fact that Marquez, one of the best technical fighters of his generation, was avoided like a pair of green suede boots yet in his first fight after destroying Barrera, Pacquiao chooses to face him. If that doesn't impress you, well you must be one poor cynical bastard. Pac-Man's recent fights and performances is the very definition of pound-for-pound.
Also, we must acknowledge the main reason why he has such an enormous following: because he knocks fools out in exciting fights. There can be no denying the fact that Manny is one of the best punchers of his time, maybe one of the best in history. In his last 20 wins, he has recorded 19 knockouts. That is just phenomenal, especially if you consider his quality of competition. Plus in his decision victory over Oscar Larios and draw with Marquez, he nearly knocked both men out (scoring five knockdowns).
It truly needs to be emphasized and distinguish between simply scoring a knockout and stretching dudes in an exciting manner. Plenty of fighters possessed the eraser in either hand, but the way they take out their opponents leave fight fans disenchanted and bored to tears. Lennox Lewis and David Tua are the two primary examples of this fact-both men could take off a guy's head with an overhand right or left hook, but many of their fights were so lacking in action and or drama that it soured many fans on the idea of watching their bouts. This isn't the case with Manny. All of his fights, like his epic draw with Marquez or three fight series with Morales, are filled with drama and action. Even the Barrera beatdown had its fair share of action because he was so ferocious and relentless. He is always on the offensive and he combines great handspeed with his paralyzing punch and that brew almost guarantees a great fight. If there is one boxer you would pay to see it would probably be the Pac-Man.
Right now, at this very moment, the world is at his feet. With his three round demolition of Morales in their rubbermatch, and the huge buyrate and attendance receipts the fight generated, he is the biggest meal ticket at 130 pounds and can choose any path he sees hit. While he chooses who to take on next, the boxing fans and media will gladly speculate over his list of big time opponents, and how he matches up with them. Right now there are three fighters that boxing fans are salivating to see in the ring against Pacquiao. Let's take a look at these fighters.
Edwin Valero:
What he brings the table: He has perhaps the most punching power in the sport today. His technical skills leave something to be desired, however; the results don't lie- 21 KOs in 21 victories and 19 in the first round! Valero is as synonymous with the knockout as Triple H is with sledgehammers. That is why this fight is so very dangerous for Manny. I love Pac-Man and he has improved from fight to fight, but he isn't Willie Pep or Pernell Whitaker. No matter who he is facing, Pac will get touched up and Valero's punching power maybe on-par with George Forman's or Julian Jackson's. He may need only one punch to turn the lights out on Castle Pacquiao. However, Pac-Man still is a fantastic power puncher in his own right, and now (thanks to Freddy Roach) he has become a very good combination punching. If he's able to weather Valero's early onslaught, Pac could easily KO him instead.
Chances of this fight happening: The buzz and fan interest for this possible showdown increases everyday as both men continue to stay in the same division and notch KO after KO. However, there are serious barriers keeping this fight from happening. The obvious problem is Valero's health status which is keeping him from fighting in the U.S. Personally, I think it is only a matter of time before his ban is lifted here, but if the fight can't be made in the states the nest logical fight location would be in Valero's adopted home of Japan. As of right now, I think there is a forty-five percent chance that this fight will take place.
Marco Antonio Barrera:
What he brings to the table: The all-time great made quite the comeback after fans and scribes thought he was done after the beating Pacquiao laid on him. If you haven't seen this fight, there is no way to sugar-coat this; it was one of the most one-sided beatings I've ever seen. There were times in which I cringed while seeing Barrera catch huge punches to the dome and body until the referee mercifully called an end to the battering in the 11th round. Since then, Barrera decisioned Morales in their classic third encounter, and he picked up the WBC and IBF trinkets. Now at the age of 33, there is legitimate intrigue and demand for a rematch because of the way MAB has risen from the ashes and the distractions that plagued him in the build-up to his first confrontation with Pacquiao. Even at 33, Barrera is still a great ring-general and warrior and that alone will guarantee him a victory against 99% of the fighters in the world. But if we judge him based on his last performance with Rocky Jaurez then he is past his physical prime and I don't think that he'll be able to keep Pacquiao off of him for 12 full rounds. The fight would be more competitive than the first go round, but I still favor Pac-Man by lat stoppage.
Chances of this fight taking place: It all depends if Barrera gets passed Marquez in May. If he's victorious, the chance to take on Pac-Man would probably be too big an offer to refuse. This fight would probably be the biggest fight in the history of the 130 pound division (with a reported purse of 4 million dollars for both men), and to the day he dies, Barrera will always have the heart of a champion. If he is able to overcome Marquez, I put the chances of this fight being made at eighty percent.
Juan Manuel Marquez
What he brings to table: Unquestionably, this is the fight that Pacquiao probably wants the most because if he won it, it would settle all disputes on who is the better prizefighter. In case you didn't already know, these two have unresolved issues. In May of 2004, these two squared off to determine the Featherweight championship and the fight was magnificent. In the first round, Manny would drop JMM hard three times and came very close to knocking him out. Miraculously, Marquez survived (and it truly was a miracle how he survived) and dug himself back into the fight with some of the best displays of ring generalship and counterpunching I've ever seen. When the final bell had rung, and both men had finally laid their guns back in their holsters; the judges declared the bout to be a draw (one of the few times I felt a draw was truly warranted). By November of that same year, it seemed as if the rematch was a mere formality, but Nacho Beristain continued his streak of mismanaging Marquez's career by forgoing a huge payday. Instead Pacquiao, fought Erik Morales in an incredible fight and Marquez would eventually lose his titles in a much disputed decision to Chris John.
But, with his last two KO wins, Marquez is set to face Barrera in the spring, and if he wins a rematch with Pacquiao could be on the horizon. Judging on his last two performances, it would probably be good for Marquez's health and record if he stayed the hell away from Pac-Man. Now let me make one thing clear: I love JMM and I think that he is one of the best pure boxers I've ever seen. However, this version of Pacquiao would absolutely destroy him. I base my assumption on a few facts:
In his last two fights, Marquez faced two southpaws and both times he was hit early and often by their straight lefts. Sure he got the impressive KO wins, but it was clear to me that he was no longer the defensive master he once was.
In their first fight, Marquez was nearly stopped in the first round because Pacquiao was able to catch him with his straight left cross. Even though he wouldn't be dropped in any other rounds of the fight, whenever Pacquiao landed with his straight left, Marquez was visibly wobbled.
Marquez was able to get back into that fight by using his superlative boxing skills. He was able to mostly avoid Manny's straight left, and counter-punch him for most of the fight. While he's still a hell of a boxer, Marquez didn't rely on his ring generalship to win his last two fights. He relied on his bodywork, combinations and counterpunching and infighting to carry the day. Basically, he willing went to war with his opponents and that plays right into Manny's hands.
Finally, Pac-Man is no longer the one dimensional slugger that he once was. In his first fight with Marquez, he relied mostly on his left cross (which he loaded up on every time) and his range finding right jab. Now, as exhibited in his last two fights with Erik Morales, he now has a devastating left hook which he mixes in with that wrecking ball straight left and it can catch an opponent off guard when he throws it.
Add it all together I think that it is obvious: Juan Manuel Marquez is older and easier to hit, and I don't think he can take those damaging blows from the Pac-Man. I like Pacquiao in a fairly easy KO win.
Chances of this fight taking place: Honestly, I have no idea. How can you ever know what's going to happen, when you are dealing with Juan Manuel's camp. There is a reason why he has had very few career defining fights: its because his brain trust (lead by Beristian) have horribly mismanaged his career. But hopefully, for us the fight fan and the for Marquez's legacy this rematch would take place irregardless of he wins or losses to Barrera. To be blunt, Marquez needs this fight more than Pacquiao needs it, because he has more options.
Right now, Pacquiao is in the same position that Oscar De La Hoya, Sugar Ray Robinson, Ray Leaonard and Muhammad Ali were before him: being the man. Not only is he regarded as the sport's Pound-for-Pound best, but he's also the game's biggest draw (I consider Oscar De La Hoya to be semi-retired) and he's in the position of power. He calls the shots on he is going to face and most boxers will not turn down a confrontation with him because his name on the marquee will generate their most lucrative payday. At this moment the world is literally at Manny Pacquiao's feet.