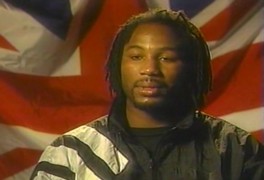 31.12.06 – By Jim Amato: Ike " The President " Ibeabuchi scored his twentieth and last victory on March 20, 1999. It was an impressive knockout stoppage of unbeaten, future WBO and IBF heavyweight champion Chris Byrd. Twenty one months earlier he had handed David Tua his first defeat. Ike was a serious heavyweight contender but then he took a detour to prison.
In March of 1999 Lennox Lewis drew with Evander Holyfield in a battle to unify the WBA, WBC and IBF titles. They met again eight months later, with Lewis getting the decision. Lennox was now the undisputed champion. Let's just say that Ike does not go to jail. Let's pretend that Lennox decides to meet Ike in the Spring of 2000 instead of Michael Grant. How would that fight had played out ? Lewis was 6'5″ tall and usually came in around 250 pounds with an 84″ reach. He was an imposing figure in the ring. In Ibeabuchi, he would not be meeting a small heavyweight. Ike was 6'2″ who would tip the scales in the 235 pound range. Lennox would have an eight inch advantage in reach though.
Going into the fight, Lewis would have the edge in experience with a 35-1-1 record against better quality opposition. Although Ibeabuchi had to be considered a serious threat, Lennox would have probably been around a 3 to 1 favorite.
Here we go…Twelve rounds for the undisputed heavyweight championship of the world.
ROUND 1- Ike rushes out and misses a few wild swings but Lennox can see that Ike means business. Lewis starts trying to use his reach and establish his jab. Some are getting in but Ike is ducking under some and ripping in some strong shots to the body. Lennox doesn't seem to like those. Still Lennox pretty much controlled the session. LEWIS WINS ROUND.
ROUND 2- Lennox is putting more on the jab and he has bloodied Ike's nose. Ibeabuchi just keeps moving in and he is occasionally landing a pumping shotgun jab of his own. Now Lennox is bleeding from his nose. Lennox lands a powerful over hand right to the jaw of Ike who took the shot very well. Pretty good action. LEWIS WINS ROUND.
ROUND 3- Things are really starting to heat up now. Ike's snorting like a freight train as he aggressively comes in. Lennox is trying to jab and tie him up but he is finding out that Ike is very, very strong. A hard left hook to the jaw by Ibeabuchi moves Lewis. Lennox comes right back and fires a vicious uppercut that snaps Ike's head back. IBEABUCHI WINS ROUND.
ROUND 4- The pattern of the fight has now been set. Ike's coming in hell or high water and Lewis has to find a way to discourage him. This is no easy task. Lewis is trying to keep him on the end of his jab but Ike is slipping more then he is taking Ike lands a nice hook followed by a short right to the jaw the got Lennox's attention. Lewis comes right back with a stiff left jab followed by a long right to the head. He finishes with a left hook but Ibeabuchi just kind of grins at Lennox. LEWIS WINS ROUND.
ROUND 5- As long as Lewis can keep some distance between him and Ike he should be able to score points with the jab. Ike has a little swelling under each eye and his nose is still bleeding from the effect of those jabs. Lewis again lands a hard uppercut that momentarily stops Ibeabuchi in his tracks. Lennox sees this and jumps on Ike throwing a volley of punches. Out of nowhere Ike lands a left hook that stuns Lennox and sends him to the ropes. A hard over hand right catches Lennox and Lewis now looks to be in distress. The crowd is on its feet as Ibeabuchi is pouring in punches. Finally Lennox is able to tie him up at the bell. ROUND FOR IBEABUCHI.
ROUND 6- Lewis looks to be OK now. He realizes that he can't get into a slugfest with this guy. Lennox is back to jabbing. Ibeabuchi is putting on tremendous pressure but Lennox is now fighting a tactical fight. Jab, jab, uppercut…Anything he can do to make Ike pay for his aggression. Slowest round of the fight since the first, clearly controlled by Lennox. ROUND FOR LEWIS.
ROUND 7- Lennox seems to have found his stride and Ike is looking a little frustrated. There are less exchanges and the Lewis jab is again a dominant factor. Lennox bounces two hard rights off the head of Ibeabuchi but they seem to have little effect. He does jolt Ike with a hard uppercut right before the bell. ROUND FOR LEWIS.
ROUND 8- Lennox's corner tells him to keep doing what he's doing. The corner of Ibeabuchi is imploring him to go back to the body. Ike listens and when he does get inside he is pounding the body of Lewis. This seems to really bother Lennox. In an attempt to keep Ike off of him Lewis lands a powerful uppercut. He attempts to throw another and boom, Ike counters with a left hook to the jaw that seemed to freeze Lewis. He then hits Lennox with a straight right to the face that sent Lewis stumbling back into the ropes. It is likely that the ropes saved Lewis from a knockdown. Ike is all over him. Lewis is trying to tie him up but a short left hook to the jaw buckles the knees of Lewis. Finally the bell sounds. The crowd is in a frenzy. TWO POINT ROUND FOR IBEABUCHI.
ROUND 9- Lewis almost looks shell shocked as he comes out but he is still jabbing. Ike has become a little reckless wading in and Lewis lands a short left hook right on Ike's nose that caused his legs to sag. Lennox quickly followed with a thudding right to the jaw and just like that, Ibeabuchi fall backwards to the canvas. Ike looks more surprised then hurt and he bounces right back up. Lewis is trying to measure Ike with long lefts and rights. Ike is trying to avoid the onslaught but finally a booming right lands sending Ike reeling. The referee is looking closely now as Lewis is following Ike, looking for the finisher. Another savage right lands behind Ike's ear and Ike drops to his hands and knees. Ever game, Ibeabuchi is up at "5" and assures the ref that he can continue. Just then the bell sounds. THREE POINT ROUND FOR LEWIS.
ROUND 10- Lewis looks a little spent after his attempt to finish Ike. Still he fires a big right hand hoping to put Ike back in trouble but it just missed. Ibeabuchi is still working to get inside but he's eating a lot of jabs for his efforts. Ike is obviously the worse for wear as his eyes are puffy and his nose and lips are dripping blood. Slow round as both boxers are trying to regroup after that torrid round nine. ROUND FOR LEWIS.
ROUND 11- It is evident that Ike needs a knockout to win and he is trying to no avail. Lewis just keeps sending out that jab. Ike throws a four punch combo to the head but only one lands cleanly on Lewis. Lennox answers with a very hard jab and a right cross. Ibeabuchi moves inside and rakes Lennox's body with some mean punches. Lewis pushes Ike off and lands a series of jabs. Lennox then lands a straight right to the forehead and Ike wobbles a bit. A follow up left misses and Lennox seems content to just go back to the jab. ROUND FOR LEWIS.
ROUND 12- Although the scoring may not reflect it, this has been an entertaining match. There is no quit in Ike, as he keeps coming in looking for the punch to turn it all around. Lennox appears to be at ease, sitting on his lead. He jabs and ties up Ibeabuchi. Ike is desperate and moves in and lands a leaping left hook to the jaw that rocks Lennox. Ike senses his opportunity and is winging away. Lewis is surprisingly cool under pressure and although he takes a few more decent shots from Ike he is finally able to work his way into a clinch. Lennox is now stalling. He's clinching and walking Ike around the ring, running down the clock. Ibeabuchi is flailing but most of his punches miss there mark. Finally the bell. ROUND FOR IBEABUCHI.
The scoring: 115-110, the winner and still the undisputed heavyweight champion of the world, Lennox Lewis.