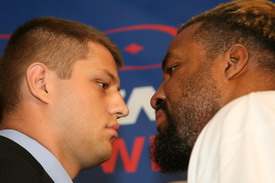 01.11.06 – Shannon Briggs, the World Boxing Organization No. 3-ranked heavyweight, worked out for the media today at Central Boxing Club in preparation for the world heavyweight championship appearance on Saturday night against defending WBO champion Sergei Liakhovich at Chase Field in Phoenix. Briggs and his camp entered the gym wearing t-shirts emblazoned with "The Great Black Hope" on the back and "Shannon Briggs, Made in Brooklyn, USA" on the front.
"People are talking about all of these Russian heavyweights," Briggs said. "I am the Great Black Hope. Rahman was the last line of defense. Now I am the first line of offense.
"I have sparred 108 rounds to prepare for this. I fight three guys every day and on Saturday night there will only be one – so it will be easy. I have scored 29 first-round knockouts and I plan to have 30 after I get done with Liakhovich on Saturday..
"On Saturday night, the fans can expect a knockout. I'm going for it. If he is still there after the first round, I will be surprised.
"I'm going to kick his ass on Saturday night. (Briggs then quipped, "Was I supposed to say kick his butt?") The title is coming back to America."
WBO Heavyweight Champion Sergei Liakhovich entered the gym shortly after Briggs' exit.
"Briggs says he is going to make short work of me? No, the truth is, that if his strategy is going to be to come at me and throw a lot of punches, it is going to be a short night for him," Liakhovich said. "Briggs better be ready and tell him to bring it all. That will make for an exciting fight."
"This fight is very important for me. I fought many different types of fighters in my amateur career, so I am ready for anything. Brewster was better than any of the other heavyweight champions and I beat him. I love boxing – it is a great sport. Boxing is my job, and I love my job."
Regarding the venue, Sergei said, "I've watched baseball at Chase Field many times. It will be very exciting to fight there. The ring will be set up on the pitcher's mound. I will be the pitcher and he will be the catcher."
"I call Briggs 'Pineapple-Head,'" Liakhovich stated prior to leaving the gym. "Hey, that's what he looks like."
Tickets to the first world heavyweight championship in the history of the state of Arizona are priced at $39, $54, $104, $204, $304 and $504 are on sale now at the Chase Field box office, Ticketmaster, ticketmaster.com, or can be charged by phone at (480) 784-4444.