30-10.06 – Undefeated Cruiserweight prospect Aaron Williams (9-0-1) has been added to the next edition of VERSUS Fight Night, in conjunction with Top Rank Boxing, on Thursday, November 2 at 9 p.m. ET. Williams will take on Mike Word in a 6 round bout. The Williams' fight will support the Kelly Pavlik / Leonard Pierre main event at the Chevrolet Centre in Youngstown, Ohio..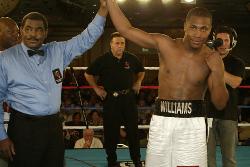 "I'd like to thank Brad Goodman and all the fine people at Top Rank for this opportunity", said Williams co-manager Patrick Doljanin. "We have worked with a number of promoters, but Top Rank is, by far, head and shoulders above the rest."
"I feel great," said a confident Williams after a grueling work-out at the famous Top Rank Gym. "Crocodile (former Team Tyson member) gets me at 5:30 every morning to run. I've been sparring with Montel Griffin and Duncan Dokiwari and I also have great a great conditioning coach in Axel Marullo. He's helped me with my diet, conditioning and strength,"
New to the Williams team is former WBA Light Heavyweight Champion Eddie Mustafa Muhammad. According to co-manager Albert Falcon, "We needed a trainer who was willing to make commit his time to taking Aaron to the next level. Eddie is that man."
Muhammad is very high on his new protégé. "Aaron is a very well schooled fighter and he keeps getting better. When Aaron spars, everyone at Top Rank stops what they're doing to watch him work."
In his last fight, the 20 year old Williams pounded out a 6 round unanimous decision over recent Lou DeValle conqueror Zack Page.
As an added bonus, Fight Night viewers will be able to score the bouts from home through the VERSUS website at VERSUS.com. The viewer's scores will be posted throughout the telecast.
Fight Night is hosted by Wally Matthews, a veteran boxing writer who has covered the sport for two decades, and Bob Papa, who has called boxing for ESPN and currently for NBC. Michael Buffer, the tuxedoed announcer who coined the catchphrase "Let's get ready to rumble!" serves as the ring announcer.