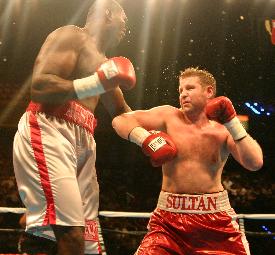 30.07.06- By Wray Edwards, all photos © Wray Edwards, ESB — click here for Ibragimov vs Austin photo gallery — The minute Sultan Ibragimov removed his robe and stood ready for the first round bell, the photographer to my left said, "He's not ready, has he gained weight?"
"Yeah, about ten or eleven" I answered, "But he has that guy next door look anyway." As the fight unfolded, my excuse did not hold water. Maybe the extra weight combined with what turned out to be a full distance match was just too much for Sultan to complete yet another stunning victory.
The First Round was typical Ibragimov. As Austin began to clinch right from the get-go, Sultan pounded fiercely at his head to try to make the huggie-bear ploy less attractive. It didn't work. Austin held throughout the match.
Sultan's extreme efforts plus (possibly) the extra weight, seemed to cause him to tire early as is evident in the following two pics in which he looks winded and discouraged, and it was only after one or two rounds: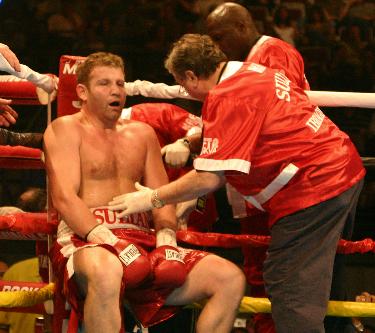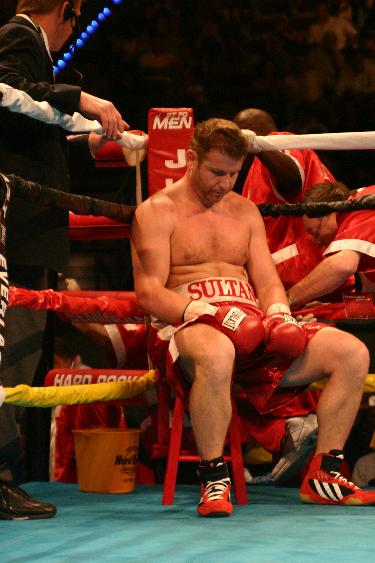 One wonders what he is thinking with his head down like that..probably just relaxing.
During the Fourth Round as Sultan was initiating one of his vicious combination attacks, he missed a sweeping left and, while falling in on Austin, caught Ray flush with a right which knocked Austin to the carpet: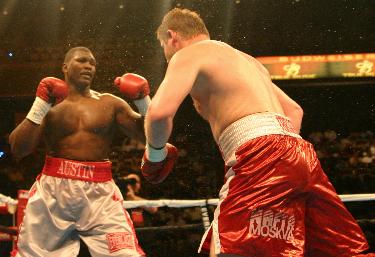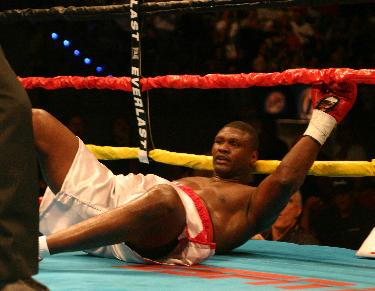 From the Fourth Round to the Tenth, Sultan exercised patience while he gathered energy to make his patented, destructive charges which are always balanced and powerful. With a five inch reach advantage, Austin had Sultan thinking twice about the necessity to cover the dangerous distance in order to land the Russian's bombs. Ibragimov has fast hands for a heavy, but despite his size, Austin's speed is pretty respectable also; quite enough to give Sultan a serious challenge.
Some of these six rounds were active while others were used by both fighters to rest a bit, even causing the fans to get a little restless at one point. The tenth round turned out to be pay-back time for Austin. He caught Sultan with a right-left combo that stunned the Russian who fell forward holding onto Ray at the hips, but as Ray backed off Sultan fell to his hands and knees. The first KD of his entire career.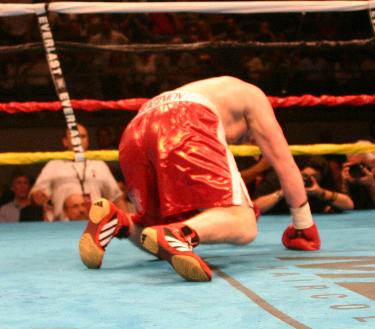 Sultan regained his feet and the two whacked away at each other until the end of the twelfth. The judges called it a draw to a vast chorus of "boos" from the fight fans. Since common sense has not yet prevailed to the point where the sanctions use uneven rounds to prevent this (when will they learn…even "The Contender" has figured this out), we must all wait for the shakeout which must now take place to select an opponent for Wlad…assuming he gets by Shannon in November.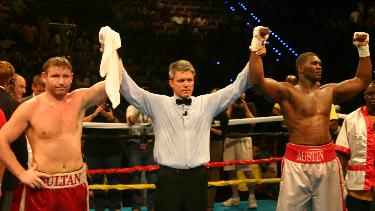 I feel that there is a possibility that Sultan's extra weight (which might be a clue to the "rigors" of his training for this fight) was an important factor in his mobility and stamina departments. This was a really good fight with both boxers throwing some heavy leather, the fans cheering and some pretty good chin displays. Teddy Atlas observed that Sultan has natural ability, but could use some technical improvements. Ditto.
This fight begs a thirteen round rematch, and elevated the market value of both boxers who showed great heart, energy and sportsmanship. Except for the draw nonsense it was a real hummer. Both men demonstrated the best there is in the sport of Boxing, and surely everybody is looking forward to their next appearances in the ring.
The under-card featured a Middleweight bout between Samuel Miller from Arboletes, Colombia and Jason Naugler from Alberta, Canada. It was a very energetic fight with plenty of action.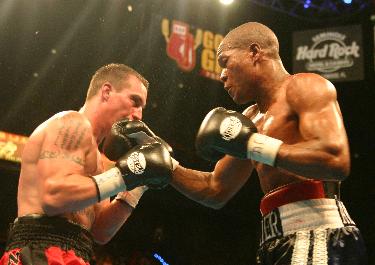 These two left everything in the ring and thrilled the fans with a non-stop, dance-and-deliver boxing match. The momentum went back-and-forth for the whole eight rounds, with Miller pounding out a UD over Naugler who raised Miller's arm himself.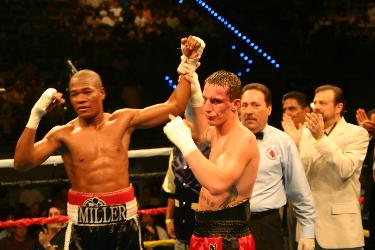 The Seminole Hard Rock, Golden Grain Promotions, and Warrior's Boxing all put on a great show with no problems. ESB hopes to return soon for yet another in a series of Boxing attractions which are making South Florida the go-to place for professional prize fight action. See you at the fights.