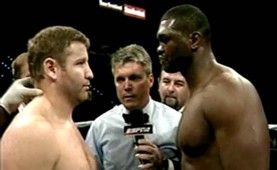 28.07.06 – By Izyaslav "Slava" Koza: Perhaps it wasn't the best fight of the year, but for a couple of heavyweights and a crappy decision this bout presented some decent back and forth action. Big punches landed, and a battle of big hearts definitely took place as both men rose up off the canvas from huge knockdowns to get back big into the fight. For my part I had Ibragimov by a slight edge since he definitely hurt Austin on many more occasions, however, some rounds were difficult to score and so a draw seems more then fair.
Sultan Ibragimov started well and with his signature opening bell aggression as he landed hard, staggering shots cleanly on Austin's head. Austin utilized his height to smother Ibragimov and clinch, ala Wlad Klitschko, and survive the early onslaught. The 2nd and 3rd rounds were close, and I disagreed with Teddy Atlas and gave Ibragimov the 3rd and Austin the 2nd, whereas he thought Ibragimov took the first two and Austin the 3rd. The fourth round seemed pretty boring, until a counter left over the top of the slow as molasses Austin right, landed full power on Austin's cheek and sent him down for a hard knockdown. Sensing blood Ibragimov moved in as Austin grabbed Ibragimov's left arm and held on for dear life.
This is the point, however, where two important issues set the tone for the rest of the contest. Sultan due to his, 11 pound extra baggage, compared with his last fight, was visibly tired and so wisely pacing himself by comparison to the Whitaker bout where he moved in for the kill and was able to sustain that hunt. This is precisely why after the fourth Austin was able to take advantage of the bout and win by not allowing Sultan to get in close and controlling the bout from the outside. The punches Austin landed were for the most part not significant but with an absence in Ibragimov's offense enough to bank the rounds. The other point in the fight was the lazy and slow right of Austin. Sultan sensing that it was the only punch Austin wanted to land was focusing on countering over the top once the right was thrown. He was so focused on this that in the tenth round, he avoided the right Austin was throwing the whole bout, but got hit full on in the face with the follow up left hook. This was really the first and only combination Austin put together and it worked to perfection. Ibragimov felt the punch on a delayed reaction, because he was completely blindsided, and staggered forward attempting to clinch but instead going down headfirst.
Getting up Ibragimov showed some tremendous championship pedigree by showing great defense in making Austin miss with the follow up KO attempts. The real pedigree, however, came in the championship rounds, where Sultan sensing the bout was close and possibly slipping away, jumped on Austin from the opening bell and landed a few staggering blows in the 11th and closed that round almost taking Austin out again. In the 12th Austin was in survival mode almost the entire stanza as Ibragimov was looking to either show he doesn't trust the judges, or that he is not afraid to come back strong from getting rocked. Austin was being knocked around the ring in the final seconds of the bout and it seemed as if Ibragimov needed only a few more seconds to end it.
The verdict was met with some protest from both corners but in reality, though Ibragimov definitely won his rounds convincingly, if all the close rounds go to Austin a draw is feasible. Teddy Atlas for his part had the bout a draw, but that was with two even rounds, one of which was, according to him the 11th, a round that I clearly thought went to Ibragimov. Still a draw seems like a fair result because both men had their moments and both showed great heart and determination to win. The only problem with the verdict is that it puts the eliminator, and #1 contender spot for the IBF belt, Wladimir Klitschko holds, in limbo. Though Klitschko is fighting, somewhat deserving Briggs next, a limbo or vacant #1 contender spot might mean a give me bout in the future. However, I think Klitschko is too much of a limelight fighter, and has too much to lose if he fights somebody of a lesser caliber if he gets by Briggs. A bout with either Austin or Ibragimov would be acceptable with the winner facing the third man out. If he fights Austin I think his speed will decimate Austin, and while if he fights Ibragimov it would depend heavily on what kind of shape Ibragimov is in. Sultan was clinched to death by Austin, and was not in good enough shape to fight off of them. Klitschko is a younger, fitter, faster, and all around better fighter then Austin, even if he has china chin issues. If Ibragimov thinks a china chin means he can come in less then stellar shape, he will be in for a rude awakening.
Congratulations to both fighters for fighting a bout well fought and good luck to both in the future.