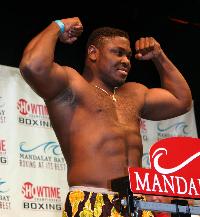 28.04.05 – photo: Wray Edwards/ESB – Undefeated and reigning NABF and USBA heavyweight champion Samuel Peter highlights the main event on a nationally televised card presented by Duva Boxing Friday, April 29, at the Plaza Hotel & Casino in Las Vegas, Nev. The world-ranked Peter faces rugged Gilbert Martinez in the 10-round bout.
The 10-round semi-main event matches highly regarded welterweight prospect Oscar Diaz against Jessie Feliciano. An added attraction features 6-foot-5-inch, 260-pound heavyweight Josh Cobb of Las Vegas, son of former heavyweight championship challenger Randall "Tex" Cobb, in a four-round bout. Four other bouts, featuring two Las Vegans plus a pair of outstanding prospects from the Duva Boxing stable, complete the card.
The card April 29 starts at 6 p.m. with doors to the Triple Crown Ballroom, located on the third floor of the Plaza Hotel & Casino, opening at 5:30. The card is televised by ESPN2..
Tickets, priced at $45 and $75, are on sale at the third-floor box office at the Plaza Hotel & Casino from 1 to 8 p.m. (Pacific) Tuesday through Saturday and from 5 to 8 p.m. Sunday and Monday. Tickets also may be purchased by calling 800-773-0992 or 702-386-2110 during those days and hours or online at www.plazahotelcasino.com
The 24-year-old Peter, originally from Nigeria, has a record of 22-0 with 19 knockouts and is almost unanimously regarded as a future world champion.
"In the past year Samuel has broken away from a host of other young heavyweights and established himself as the new force with which to be reckoned in the division," said Dino Duva, president of Duva Boxing..
"Just 10 months ago Samuel was a fine prospect, but his past two wins have not only been devastating, but he's displayed the complete package of tremendous power, relentless aggression, quickness, discipline and defense," said Duva. "Add to that his size, and Samuel has a combination that no other heavyweight can match.
"He is the man in the heavyweight division and he will be for quite a while."
Peter, who is 6-foot-2-inches and 250 pounds, is ranked No. 6 by the World Boxing Council and the World Boxing Organization and No. 9 by the International Boxing Federation following a second-round knockout of Jeremy Williams for the NABF championship Dec. 4 in Las Vegas and a fifth-round knockout of Las Vegan Yamplier Azcuy for the USBA title Jan. 22 in Miami, Fla.
The 38-year-old Martinez, a southpaw, has a record of 18-8-3 with seven knockouts and has wins over former WBA heavyweight champion Tony Tubbs and Las Vegan Charles Shufford and a draw with Clifford Etienne. Martinez also has gone eight rounds with notables such as Michael Grant and Kirk Johnson, both of whom have fought for world titles.
The 22-year-old Diaz, who has a record of 19-1 with 11 knockouts, is one of the most highly regarded prospects in the middle weight divisions. He's coming off a 10-round unanimous decision over Al Gonzales Feb. 4 in Mashantucket, Conn.
Feliciano, also 22, has a record of 12-3-2 with seven knockouts and fought Mike Arnaoutis for the vacant North American Boxing Organization junior welterweight championship in his most recent outing Oct. 22 in Santa Ynez, Calif.
Other bouts on the card include Las Vegas welterweight Juan Pablo Montes de Oca in a
six-round welterweight fight; Anthony Brown of Cleveland in a four-round middleweight bout; and Ray Biggs Jr. of Brooklyn, N.Y., in a four-round welterweight fight. Brown and Biggs Jr. are part of the talented Duva Boxing stable.
De Oca has a record of 4-8 with two knockouts, Brown is making his pro debut and Biggs Jr. has a mark of 1-0 with one knockout.