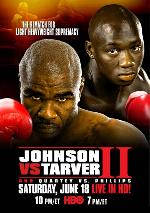 18.12.04 – By Matthew Hurley: This Saturday night's bout between light heavyweights Antonio Tarver and Glen Johnson has slowly built itself into an intriguing match up. There are a few reasons for this, the main one being boxing fans need to cleanse themselves of the recent stink of heavyweight nonsense. Anyone who paid for the two most recent heavyweight bore-athons need a night of good, technical boxing between two good fighters intent on proving their worth. Johnson is a vastly underrated fighter with a swarming style who finally achieved fistic vindication when he simply overwhelmed Roy Jones in his last bout. Tarver is a talented fighter with a motor-mouth who struck lighting in a bottle by knocking Jones out in the second round of their rematch. The question is, do their respective fights against Jones indicate anything as to how they match up against each other?
If you listen to any amount of the verbiage that spills from Antonio Tarver's mouth you come away from the supremely confident fighter either entirely convinced that he's as good as he says he is or that his words just might be all sound and fury signifying not much at all. Is he as good as he seems to think he is? Or did he simply catch a fighter at the end of his career (it had to end sometime) with a perfect punch? Add on to that the fact that Jones' chin had never really been tested before and you're left with the rest of Tarver's career. But to back peddle just a bit, there should be no taking away from his victory over Jones. It was a colossal feat and if he beats Johnson it would probably put him at the front of the line for fighter of the year honors. Yet there just seems to be some questions left to be answered about the self-professed "Magic Man". Questions that perhaps, the swarming, energetic Johnson can answer.
Johnson is a fighter whose record belies his ability. Several of his losses are the result of questionable decisions and if his style is indicative of how this fight will go it should serve him well. Tarver is a notoriously slow starter. Forget the knockout of Jones. Had he not landed that punch in the second round he would have lumbered after Jones for round after round until he caught him. The difference with Johnson is that he won't be backing up. He'll be right in Tarver's face, punching in bunches and piling up points. Should Tarver resort to his pre-Jones method of simply falling asleep he could find himself losing round after round to his busier opponent. And as for Tarver's vaunted punching power one has to again wonder whether or not he simply caught a great fighter in Jones not only with a perfect punch but with a punch that shattered a chin of glass.
The old adage that styles make fights truly applies to this bout. For all of Antonio Tarver's bravado he is not a seek-and-destroy fighter in the Thomas Hearns mold. His style is almost patient to a fault. Looking, looking, searching for an opening and ultimately giving away rounds when he should be moving his hands. Johnson on the other hand is a no-nonsense fighter who consistently comes forward and throws punches until you would assume his energy level will collapse. But it doesn't. He just keeps coming. Tarver is the more talented and more disciplined of the two boxers but such blessings do not always lead to the expected result. One fighter's greater will can potentially cancel out skill and athleticism. That fact encompasses not just boxing but all sports.
If Tarver is as good as he thinks he is he should beat the on-rushing Johnson back and knock him out in the mid rounds. However, the feeling here is that he's not quite as good as his ego would have us believe. Look for Johnson to challenge Tarver right from the opening bell and never let the "Magic Man" get his footing or catch his breath. And if this prediction should prevail don't call it an upset because this bout, between the two best light heavyweights in the division, is more of a toss-up than many would have you believe.