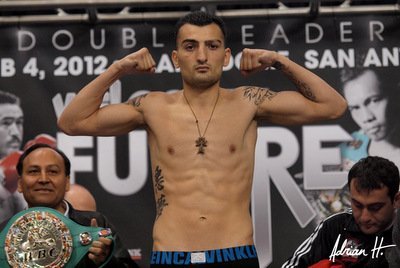 By Joseph Herron:, photo by Adrian Hernandez — On Saturday, November 10th, from the Wynn Las Vegas, top ranked Junior Middleweight contenders Erislandy Lara and Vanes Martirosyan will finally get it on in a highly anticipated WBC title eliminator contest.
While both men have finished their respective camps and are currently in Las Vegas, Nevada, Erislandy's world renowned trainer, Ronnie Shields, feels positive about his fighter's chances on Saturday night.
"We just finished up a great training camp and Erislandy knows exactly what he has to do. We know it's going to be a great fight and we're expecting to see the best version of Vanes Martirosyan on November 10th. To win this fight, Lara simply has to be Lara; display his talents and come out victorious. He's ready to go."
Though no one can question the level of talent possessed by the Cuban exile, skeptics and fight critics have publicly commented on the possibility of another questionable decision while fighting on the opposing fighter's promotional bout sheet.
During his previous appearance on a rival promoter's fight card, Erislandy took on former Welterweight Champion Paul "The Punisher" Williams in Atlantic City, New Jersey, in the main event of a Goossen/Tutor Promotion on July 9th, 2011.