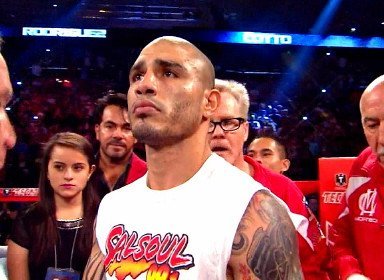 WBC middleweight champion Miguel Cotto (39-4, 32 KOs) could find himself in the position where he'll be expected to face the winner of the October 18th fight between WBA middleweight champion Gennady Golokvin and Marco Antonio Rubio next year at some point if he wants to hold onto the WBC title.
Cotto will be taking a stay busy fight on December 13th against possibly Andy Lee. After that fight, Cotto and Saul "Canelo" Alvarez will likely be meeting each other in May of 2015. Cotto reportedly intends on defending his WBC middleweight title against Canelo.
This means that if Cotto wins the fight, he's going to be in a situation where he could be fighting the Golovkin-Rubio winner.
Some boxing fans thinks Cotto will vacate his WBC 160 pound title rather than face Golovkin, but I'm not so sure he'll do that. Looking at this realistic way, if Cotto beats Andy Lee in December and Canelo in May, Cotto's self-confidence will likely be at an all-time high from those wins. Cotto already beat Sergio Martinez, and his trainer Freddie Roach is saying that Martinez was in his prime.
If Cotto actually believes that, then he's going to be feeling pretty good about himself after beating Canelo, Lee, a prime Sergio Martinez and Delvin Rodriguez in his last 4 fights. I think if Roach tells Cotto that he's got the talent to beat Golovkin, he'll believe him and take the fight with him. Of course, I think that'll be a huge overreach on Roach's part by steering the 5'7" Cotto into a fight with the big punching Golovkin, because we are talking about the 5'10" Golovkin having a 3 inch height and reach advantage over Cotto to go along with his power advantage.
Roach might be drunk on Cotto's success at that point and feel confident enough push him into a Golovkin fight, which could be his undoing. We've already seen Canelo get exposed by Floyd Mayweather Jr and look equally bad in his fights against Austin Trout and Erislandy Lara. So a victory by Cotto over Canelo is really no big deal at this point, because he's arguably should have 3 losses on his record right now.