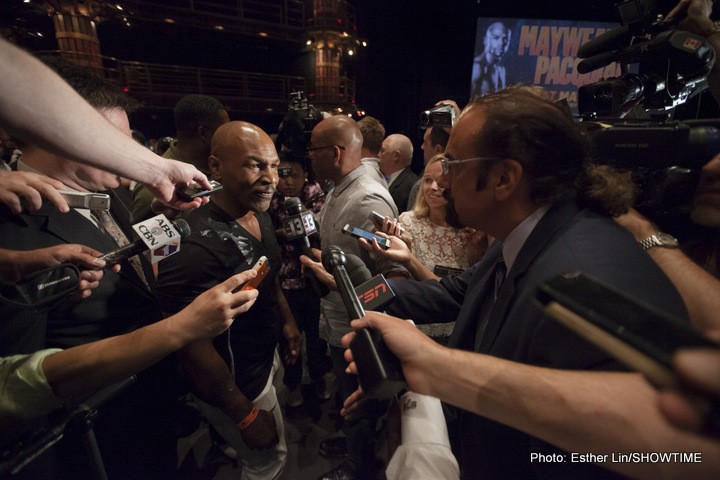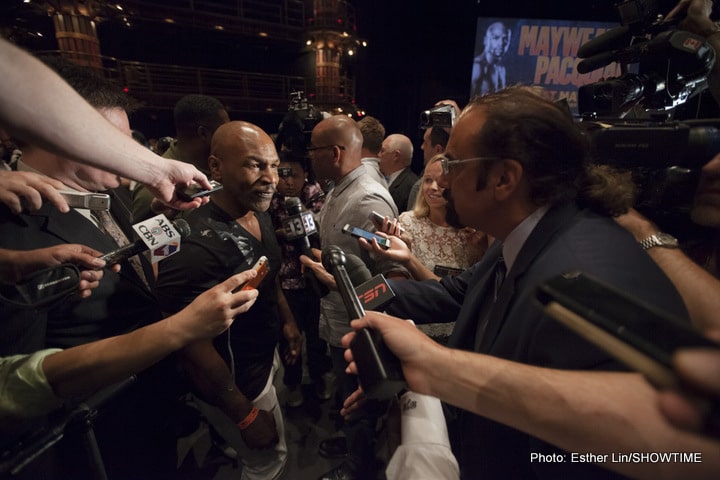 Irish Jerry Quarry was disappointed that he had not gotten a title shot after his impressive win in his last outing over undefeated slugger Ron Lyle and while he had been back in the gym for a few months after that fight, he was bored and ready for some action. So when he was approached by a wild eyed but seemingly harmless fan, professor Walter Grimley, who said he could get him his title shot but only if he came down with his staff to his laboratory and if they agreed to step into his time machine that would take them fifteen years into the future to face the champion Iron Mike Tyson. Surprisingly his trainer Gil Clancy and his staff agreed to go along with the gag and they did indeed find themselves in the year 1988 in Las Vegas, Nevada with a contract already signed to face Tyson, 12 rounds, for the undisputed heavyweight championship of the world.
At the press conference announcing the fight champion Mike Tyson said he was honored to meet a great fighter like Jerry Quarry as he was a student of fight films from the past but that Mr. Quarry, being only a cruiserweight by current standards, did not have the size or the tools to win this fight. "I just destroyed a puffed up light heavyweight, Michael Spinks, and I expect to do the same to Mr. Quarry. Jerry Quarry just shrugged his shoulders and asked, "what's a cruiserweight?" And added, "the fighters Mike Tyson has been beating do not compare to the fighters I have been battling my whole career and it seems like a lot of his opponents have been afraid of him and this time it is different as I fear no man." A look of concern briefly appeared on Mike Tyson's face as he had not expected his opponent to not be trembling at the mere sight of him.
At the referee's instructions Jerry Quarry, who tipped the scales at 202 pounds, stared into Mike Tyson's eyes and mouthed a couple of comments that only Tyson could hear but Tyson, at 220 pounds, did not seem concerned. Tyson just had a serious look on his face that showed he was ready for business.
At the opening bell Tyson rushed out to make quick work of his opponent bobbing and weaving as Quarry back tracked from side to side. The first meaningful blows were landed by Quarry thirty seconds into the round, a hard left hook to the body and a counter right hand to the head, that seemed to surprise the oncoming Tyson. He had not expected to be hit this solidly as most of his opponents had missed when Tyson had closed the distance. Tyson took the punches well and he dug two hard left hooks to Quarry's body and just missed with a hard overhand right to the head. As they fell into a clinch Tyson tried to push Quarry off of him to continue his assault but Quarry shoved back surprising him as Quarry was stronger than his weight would indicate. Tyson then moved in behind a series of left jabs and he proceeded to rip hard punches with both hands to Quarry's body as Quarry backed into the ropes, a place where most fighters against Tyson tried hard not to be. Tyson then moved in for the kill but missed on a left/right combination to the head that Quarry avoided with some head movement and in turn Quarry nailed Tyson with hard left hook and a hard right hand, both to the head that momentarily stopped Tyson in his tracks. But Tyson was not hurt and he regrouped behind two left jabs to the to the head, as be bobbed and weaved to get back inside, which he followed with a left and a right to the body with ten seconds left in the round punctuated by a hard left hook that dropped Quarry on his side. Quarry was up at the count of six as the bell rang ending the first round and he appeared to not be badly hurt as he made his way back to his corner.
Most ringside observers agreed that it had been a great round, and that no one had a clear edge up until the knockdown. There had already been more back and forth action in one round than had been seen in most of Tyson's fights up to this point in his career combined.
In the corner Gil Clancy was animated as he told Quarry, "box this guy, don't stand in there and trade with him, set up your combinations by starting with left jabs, then work the body, and then the head. You can do this, you already took his best shots and you are still in good shape, now go do it!" Kevin Rooney, Tyson's trainer, gave him similar advice. "Work behind the jab and set up your combinations. See how the jab set up the punch that put him down? This guy is ours, now let's go home early."
Quarry did not seem the worse for wear as the bell sounded to start round two and he spent most of the round back tracking from side to side behind left jabs and counter right hands to the head which although he did not appear to be hurting Tyson, each time he did so, he slowed Tyson's forward momentum. But each time Tyson did get inside, he tied him up, momentarily halting his attacks. But towards the end the round Tyson forcibly shoved Quarry off of him followed by a hard overhand right hand right on the button that dropped Quarry for an eight count. Quarry got up visibly shaken and to top it all off, he had sustained a cut over his left eye. Come on ref., Clancy told referee Mills Lane, what are you a home town guy letting him get away with this rough stuff? Which brought a stern warning from Lane that he was not going to put up with any more outbursts from Quarry's corner.
The cut was not severe and Quarry's corner kept it under control through rounds three, four, and five, which were almost carbon copies of the second round with the exception that no knockdowns occurred. It seems the quick film work done by Quarry's corner men of studying Tyson's previous fights had paid off as they borrowed tactics from fights like from his bout against James Bone crusher Smith of tying Tyson up when he got in close, boring to the crowd who had come expecting a quick annihilation of Quarry or a slugfest, but effective.
Tyson came out for round six behind a series of left jabs and when he got into range he hit Quarry with a hard left hook to the body followed by a hard straight right hand to the head that hurt Quarry and had him holding on. Tyson in his frustration at being held again threw a right elbow at Quarry that grazed his chin prompting a stern warning from referee Lane, "one more stunt like that and it will cost you a point," said Lane. From Tyson's corner Rooney yelled at Lane, "tell him to quit holding then." Tyson stepped forward to touch gloves but Quarry, with his Irish up, responded with a hard left hook that found Tyson's head. Lane then separated the fighters and warned Quarry for hitting on the break and wisely briefly halted the action. He told them both, "gentlemen I demand a good clean fight and anymore of this crap on either side will cost you points." This time Quarry offered to touch gloves which Tyson accepted and the action resumed. The rest of the round saw Tyson working his way inside but instead of setting up his power punches with jabs he started winging shots, mostly right hands, one at a time and by the end of the round A fully recovered Quarry started catching Tyson with effective counter punches with both hands.
In rounds seven through ten Quarry clearly had the edge as Tyson more and more came in standing up straighter and winging power shots to the head mostly one punch at a time which Quarry countered beautifully to both the body and the head. In those rounds Quarry used the blue print of the tactics he used to win a clear decision over Ron Lyle of moving in and out and countering his opponent's power shots. Tyson seemed perplexed in not knowing how to deal with an opponent who had not fallen in the first few rounds. But were Quarry's successes enough to overcome Tyson's big early lead?
Before the start of round eleven Gil Clancy told his charge, "you are doing great, but you are behind, so don't leave it in the judges' hands. You gotta take this guy out of there so go for broke, you can do it, remember there is no quit in a Quarry!" Kevin Rooney in the opposite corner gave similar instructions. "Mike," he said,"you are winning but we can't be sure if the judges aren't on the underdog's side. Now go and take him out of there now!" He added, "have you forgotten everything Cus (D'Amato) taught you?! Now quit screwing around and come in low, move your head, work in behind the jab, and work the body first and then the head! Don't let this guy and the judges take your belts from you!"
The pep talks from the respective corners worked wonders as round eleven of Tyson/Quarry would go down as one of the greatest rounds of all time. Tyson charged out at the opening bell and did as his trainer asked by bobbing and weaving and advancing behind stiff left jabs and when he got within punching distance let loose thunderous lefts and rights to the body and head. Quarry did his part by not moving as much. by not holding on to Tyson, and by staying in the fire fight longer by lashing out with hard lefts and rights of his own before moving off again from side to side. This back and forth action went on for most of the rest of the round when Quarry, with 20-seconds left in the round, landed one of the best left hooks of his career that had Tyson visibly hurt for the first time in the fight. Clancy saw it and screamed, "Jerry, jump on him you got him!" With that Quarry began raining left and rights from all angles, the same kind of punches he had used to stop Mac Foster and Thad Spencer. But in doing so he left his hands down too low and he could not block the tremendous right uppercut from Tyson that he never saw coming. Quarry fell hard on his face and it was amazing that he was able to get to his feet at the count of nine. He then fell into a tight clinch and he was able to make it back to his corner on unsteady legs at the sound of the bell ending the round.
Both fighters were exhausted when round twelve began and there was little action in the first minute of the round but it picked up in the final two minutes as once again Tyson, eager to keep his title, pursued Quarry attacking him with viscous two handed combinations to the head and body and Quarry retaliated with two handed counter punches as he had in the previous round. It was another great round that saw the audience give the two warriors a loud standing ovation at the final bell. Everyone waited with baited breath for the judges' verdict, the winner by unanimous decision by two points on all of the judges' scorecards and still heavyweight champion of the world, Iron Mike Tyson!
After the bout Mike Tyson had nothing but praise for his beaten foe. "Jerry Quarry is the toughest man I have ever fought and he is a great fighter in his own right. Cus and Jimmy (Jacobs) had me watch films of fighters from the past and that has been a great help in learning my trade but nothing compares to fighting one of them. I am sure the experience of fighting the great Jerry Quarry will help me as a fighter a lot in the years to come." Jerry Quarry also praised his opponent. "I thought Joe Frazier, Ron Lyle, and Mac Foster hit hard but this guy is in another league. Whew, I have never faced a guy who hits as hard as he does! He is a great boxer too and I predict that he will be champion for many years to come."
As the crowds filed out, Jerry Quarry and his staff realized that they had to get back to their own time. "Where's that Professor Grimley," he said to his staff, "we need to get back to 1973, pronto. I can't imagine staying around here in 1988 and having to fight that guy again!"
The Contender by Kent Appel
The Contender is a song I wrote that was inspired by the career of former heavyweight boxing contender Jerry Quarry who has been called by none other than former heavyweight champion George Foreman as the greatest heavyweight who did not win the heavyweight title. Foreman himself has said that he purposely avoided fighting Quarry during his first reign as heavyweight champion. Quarry was the three number one contender who defeated such fighters as Floyd Patterson, Ron Lyle, Earnie Shavers, and Buster Mathis, and is the only fighter to have fought both Muhammad Ali and Joe Frazier twice each.