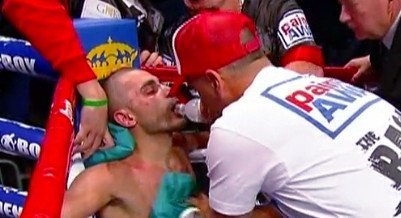 By Sevak Sarkisian: Former undisputed flyweight and super flyweight world champion Vic Darchinyan is slated to face the young unbeaten super bantamweight prospect Luis Orlando Del Valle on September 29th at the famous Foxwoods resort in Connecticut.
As most Boxing fans know, Darchinyan is a very affective heavy handed come forward type of fighter with an underrated skill set. Vic loves to apply a lot of pressure on all of his opponents and usually holds a size and strength advantage which he always makes great use of. However, it should be noted that since he made his move up to 118lbs from 115lbs his size and strength advantage hasn't been as significant and it is clear that Vic has done his best work below 118lbs. The fight against Del Valle will be Vic's first fight at 122lbs, which in my eyes serves as an advantage for Del Valle.
Though Vic Darchinyan is a great fighter, he's simply not the kind of fighter that can keep moving up in weight and keep being dominant because of the simple fact that his biggest assets are his physicality, power, pressure, and mentality. Usually fighters of his sort don't tend to bring their dominance up in weight. Vic has been able to still be a very good and competitive fighter up until now but he is no longer in his prime and going up yet again in weight will not be to his advantage.
Luis Del Valle on the other hand is obviously no were near as accomplished as Darchinyan but he is at the age of 25 compared to the 36 year old Armenian. Del Valle is also a half inch taller and naturally a larger person then Darchinyan. He also has a solid amateur back round and was a New York golden gloves champion. He loves to punch and has a decent right hand. He's also not afraid to mix it up and trade. I've only seen him fight a few times but he seems like a young fighter that believes in his physicality and power. However, one thing is for sure, Del Valle has not faced an opponent of Darchinyan's caliber and this fight will no doubt serve as his biggest test to date.
This fight in my humble opinion will be a fight of the year candidate type of fight because not only is this evenly matched fight regarding ability, but the two fighters involved both love to bring the heat and hash it out toe to toe. Not only will this fight be exciting, but it will be exciting and fought at a world class level at the same time!