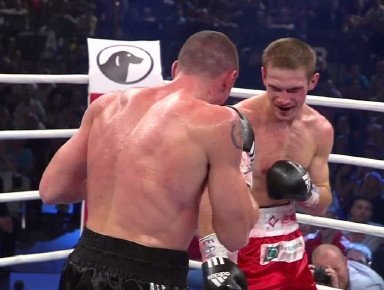 By Marcus Richardson: EBU middleweight champion Grzegorz Proksa (28-1, 21 KO's) is going to find out the hard way the difference between the world level and the European level next month against WBA World middleweight champion Gennady Golovkin (23-0, 20 KO's) on September 1st at the Turning Stone Resort & Casino, in Las Vegas, Nevada. Proksa, 27, has done well at the European level during his seven year pro career apart from the one blip on his resume when he was roughed up and beaten by Kerry Hope last March in a 12 round majority decision loss.
Proksa did a good job of avenging the loss to Hope by beating him last month in an 8th round TKO win. However, the fact that Proksa was defeated by a fighter in Hope's class isn't a good sign for Proksa now that he's stepping up against a much better fighter in 30-year-old Golovkin next month. Proksa, 5'8″, really doesn't have the size to be competing against a powerful middleweight like Golovkin. He's more of a junior middleweight that's fighting at middleweight.
To be sure, Proksa has done well against the limited opposition he's faced in this weight class, but that's kind of meaningless because Proksa hasn't faced anyone of real quality yet. His win over Sylvester is probably his best win and that was more of a case of catching Sylvester at the worst possible time in his career after he'd been beaten in his previous fight against Daniel Geale five months earlier and had lost his IBF middleweight title.
Golovkin has the advantage in this fight in that he can let Proksa run around the ring and fight with his hands down by his sides for as long as he likes, but eventually he's going to connect with a big shot and Proksa is going to likely be counting stars on the canvas. Proksa's lack of boxing fundamentals is going to get him knocked out in this fight, because you can't fight a guy like Golovkin with your arms hanging uselessly by your sides the way that Proksa normally fights.