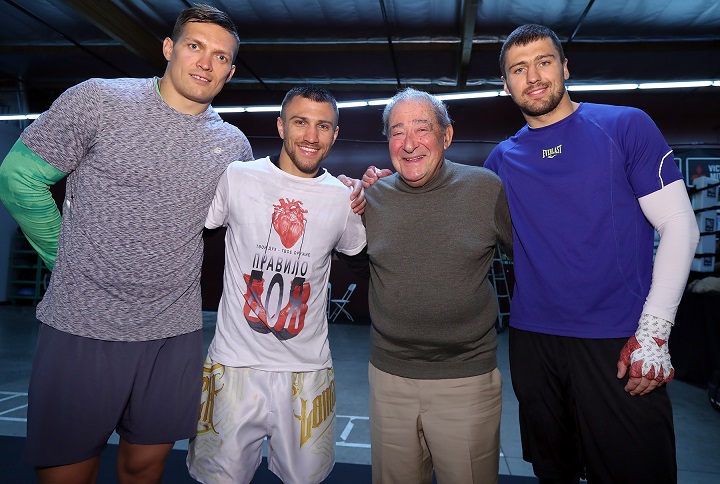 HBO Sports visits Maryland for the first time since 1979 when WORLD CHAMPIONSHIP BOXING: VASYL LOMACHENKO VS. JASON SOSA AND OLEKSANDR GVOZDYK VS. YUNIESKY GONZALEZ AND ALEKSANDR USYK VS. MIKE HUNTER is seen SATURDAY, APRIL 8 at 10:00 p.m. (live ET/tape-delayed PT) from The Theater at MGM National Harbor in Oxon Hill, Md., exclusively on HBO. The HBO Sports team will call the action, which will be available in HDTV, closed-captioned for the hearing-impaired and presented in Spanish on HBO Latino.
Other HBO playdates: April 9 (8:45 a.m.) and April 11 (12:35 a.m.)
HBO2 playdate: April 10 (1:05 a.m.)
The fights will also be available on HBO NOW, HBO GO, HBO On Demand and affiliate portals.
In a junior lightweight title fight, rising sensation Vasyl Lomachenko (7-1, 5 KOs), of Bilhorod-Dnistrovskyi, Ukraine, puts his crown on the line against Jason Sosa (20-1-4, 15 KOs), from Camden, NJ, in a scheduled 12-round contest. Named 2016 fighter of the year by several media outlets, the multi-talented Lomachenko is a two-time Olympic gold medalist who has become a two-division world champion after just a handful of pro fights.
Known for his punching power and aggressive style, Sosa is on a five-year, 20-bout unbeaten streak, amassing a 70% knockout-to-win ratio along the way. With more professional ring experience, Sosa looks to derail Lomachenko's momentum in the 130-pound division.
The middle bout is a ten-round light heavyweight fight that pits Oleksandr Gvozdyk (12-0, 10 KOs) from Kharkiv, Ukraine, against Yuniesky Gonzalez (18-2, 14 KOs), a native of Pinar del Rio, Cuba, who now lives in Miami. Gvozdyk captured the bronze medal as a member of the 2012 Olympic team, which also included the other two Ukrainian fighters on the evening's card. Gonzalez also has a rich amateur background, with more than 300 fights in his native Cuba, a hotbed of amateur boxing stars. Both men look to make a major impression in the talented 175-pound division.
Undefeated fighters vie for a cruiserweight title in the opening bout, as Aleksandr Usyk (11-0, 10 KOs) from Kiev, Ukraine, makes his second HBO appearance for a 12-round tilt with Mike Hunter (12-0, 8 KOs). Defending his 200-pound title belt, Usyk, a 2012 Olympic gold medalist, trains in Onxard, Cal. Hunter hails from Las Vegas and was a member of the 2012 U.S. Olympic Team.
Follow HBO boxing news at hbo.com/boxing, on Facebook at facebook.com/hboboxing and on Twitter at twitter.com/hboboxing.
All HBO boxing events are presented in HDTV. HBO viewers must have access to the HBO HDTV channel to watch HBO programming in high definition.
The executive producer of WORLD CHAMPIONSHIP BOXING is Rick Bernstein; producer, Jonathan Crystal; director, Johnathan Evans.
® WORLD CHAMPIONSHIP BOXING is a registered service mark of Home Box Office, Inc.
Vasyl Lomachenko and Oleksandr Usyk quotes
Undefeated champions and 2012 Ukrainian Olympic medalists VASYL LOMACHENKO, ALEKSANDR USYK and OLEKSANDR GVOZDYK hosted a Media Workout at World Boxing Gymnasium in Oxnard, Calif. today. All three are in deep training for their title defenses, which will take place Saturday, April 8, at The Theater at MGM National Harbor in Oxon Hill, MD. The event has been sold out for weeks. Promoted by Top Rank®, in association with Peltz Boxing Promotions, K2 Promotions, K2 Promotions Ukraine, Joe DeGuardia's Star Boxing and Kiddar, the three title fights will be televised live on HBO World Championship Boxing, beginning at 10:00 p.m. ET/PT.
(Photo Credit: Mikey Williams / Top Rank)
Lomachenko, Usyk and Gvozdyk were joined at their media workout by two-time Lithuanian Olympian "Mean Machine" Egidijus Kavaliauskas, who will be on the April 8 non-televised undercard in a six-round welterweight bout.
Lomachenko (7-1, 5 KOs), of Bilhorod-Dnistrovskyi, Ukraine, arguably boxing's top pound for pound fighter, makes his 2017 debut coming off a year that saw him named "Fighter of the Year" by several media outlets. Already a two-division world champion and a two-time Olympic gold medalist, Lomachenko will be defending his World Boxing Organization (WBO) junior lightweight world title against former World Boxing Association (WBA) super featherweight world champion JASON "El Canito" SOSA (20-1-4, 15 KOs), from Newark, NJ. Usyk (11-0, 10 KOs), from Kiev, Ukraine, and a 2012 Olympic gold medalist, will be defending his WBO cruiserweight world title against Top-10 contender MIKE HUNTER (12-0, 8 KOs), from Las Vegas, Nev. Gvozdyk (12-0, 10 KOs), from Kharkiv, Ukraine, a 2012 Olympic bronze medalist, enters this fight having won 10 of his last 12 fights by knockout. He will be defending his NABF light heavyweight title against YUNIESKY GONZALEZ (18-2, 14 KOs), a native of Pinar del Rio, Cuba, who lives and trains in Miami, Fla.
Here are the fighters' quotes:
Vasyl Lomachenko
"Jason Sosa is very strong, is motivated, wants to win and he can fight all of the twelve rounds. It will be a hard fight. That I know.
"My Top-Three pound for pound list is GGG, Kovalev and Crawford. I don't want to be Number One until I deserve it. That means fighting and winning against two or three world champions. After that I may be Number One but for sure not now.
"I like the weight division I am in. I have no problems making weight. I am not that anxious to leave my division and not sure I will ever fight at 140. It's hard to look ahead but right now I am comfortable in my division where I have plenty of champions to fight against."
Oleksandr Gvozdyk
"I am going into a serious fight against Yuniesky Gonzalez. He is strong, experienced, puts pressure on you, tries to drive you into the ropes. He's a tough guy and I have to deal with him. I work hard every single day trying to be the best in my division."
Alexsandr Usyk
"I have watched video of Michael Hunter and have a good idea of what he is all about. It's going to be a great fight. As an amateur I was trained by the best – Anatoly Lomachenko – just look at who he has produced as great professional fighters."
"Mean Machine" Egidijus Kavaliauskas
"I do get real mean the moment I leave the locker room, walk up the ring steps and get onto the canvas. And this is going to a big year for me. I am getting closer to my goal, a world title fight."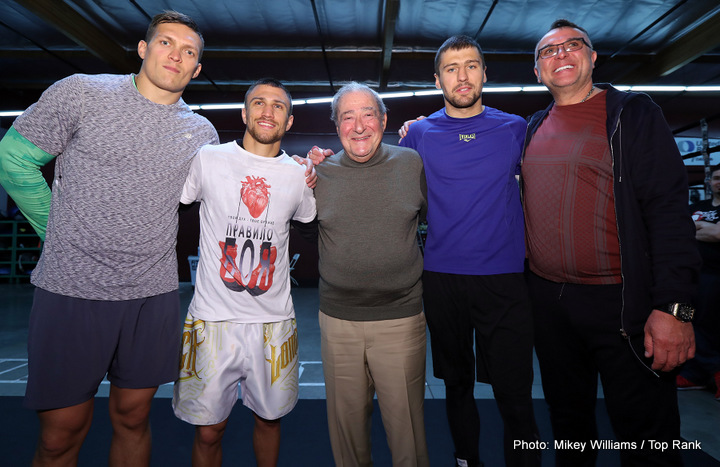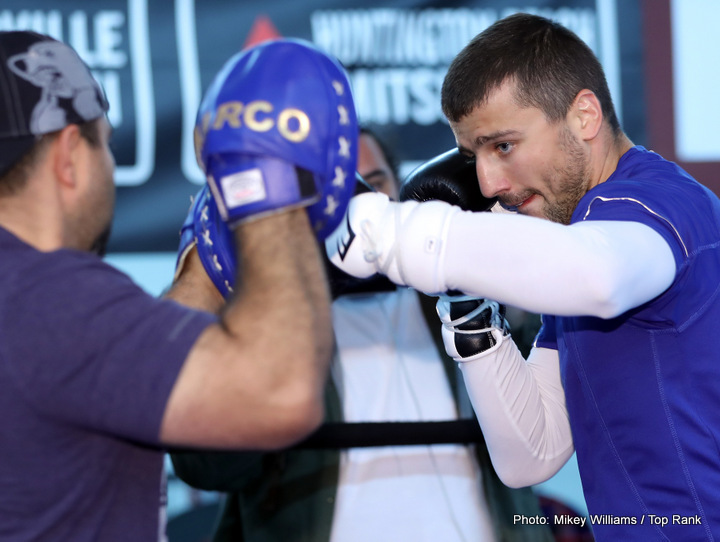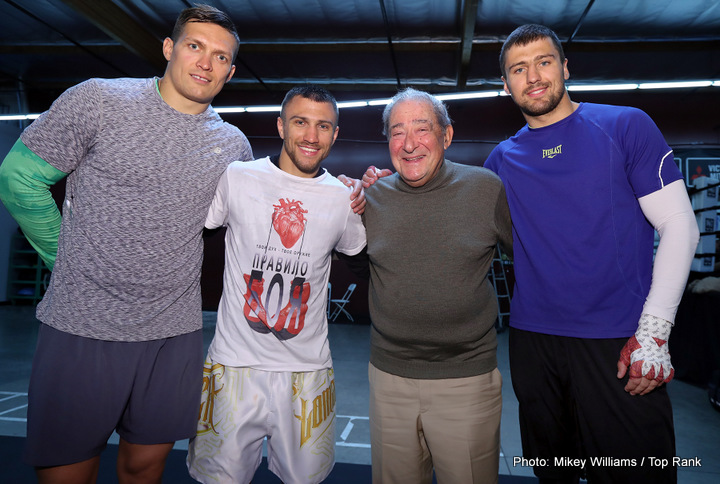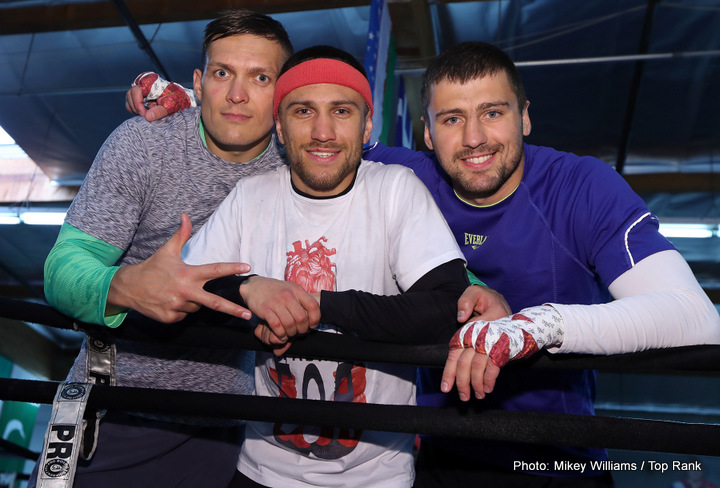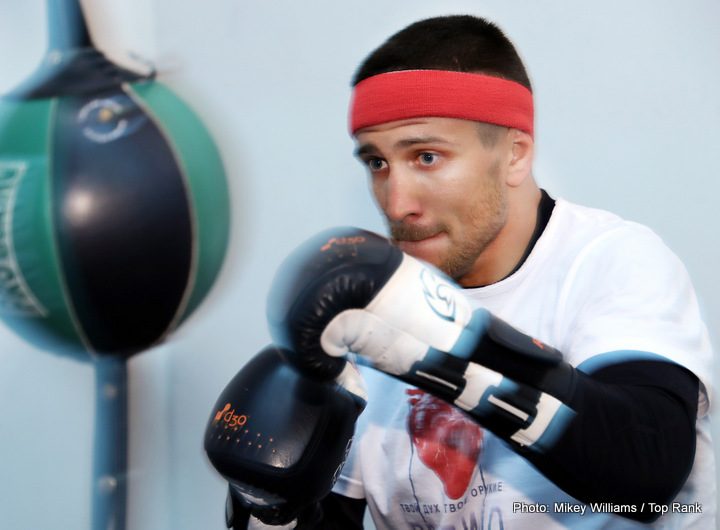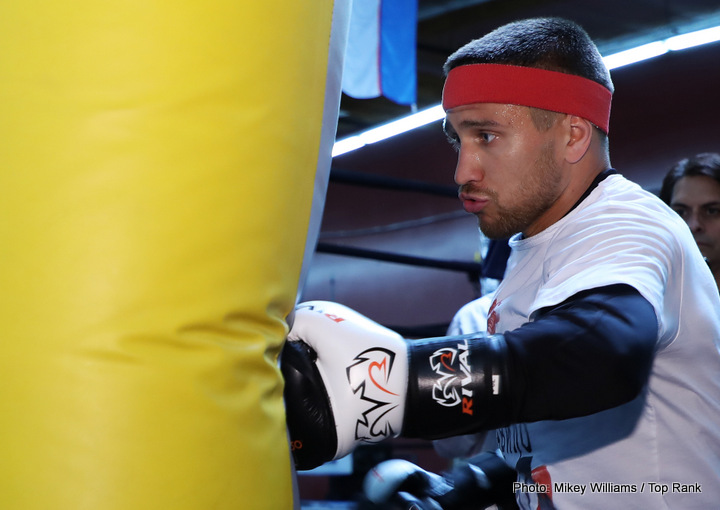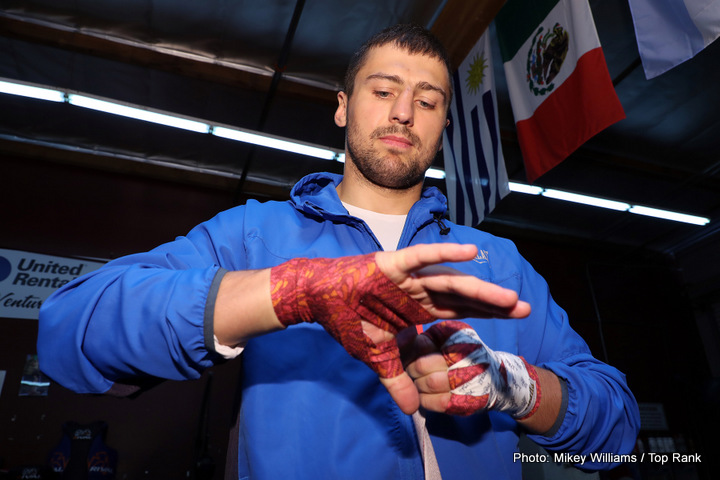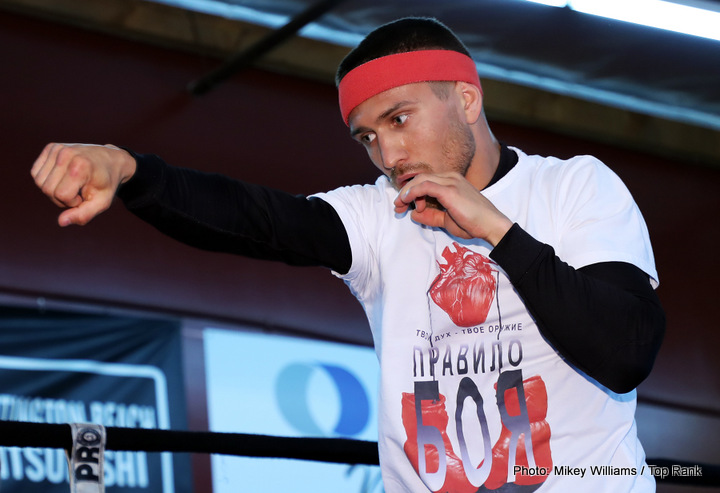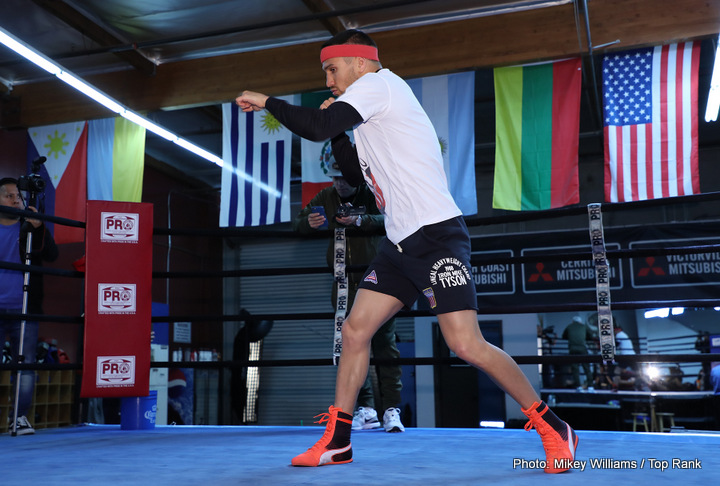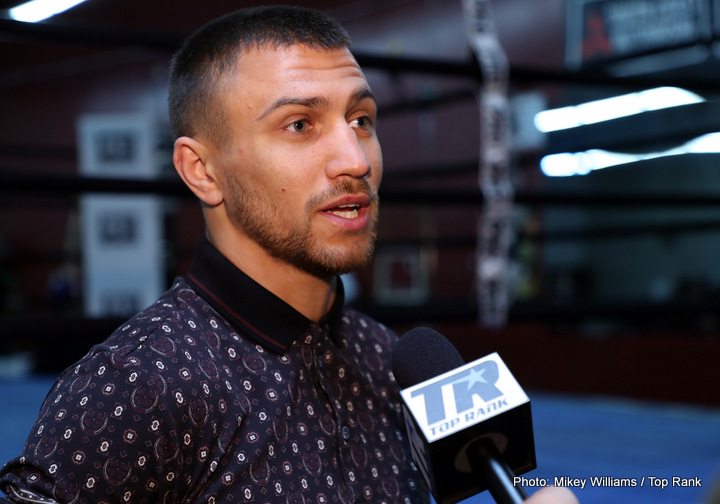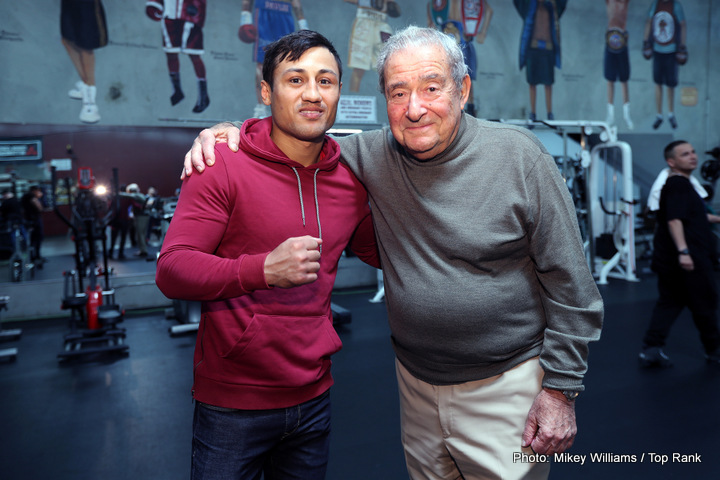 The HBO special 2 Days: Vasyl Lomachenko premieres This Saturday, March 25 at 12:10 a.m. (ET/PT) on HBO immediately following the replay of the two titles fights from Saturday night at Madison Square Garden.
In addition to Kavaliauskas, the non-televised undercard will feature undefeated No. 1 super middleweight contender JESSE "Hard Work" HART from Philadelphia, PA., and local favorites from the metro Washington, D.C. area, including undefeated prospects MIKE "Yes Indeed" REED and PATRICK HARRIS in separate bouts.