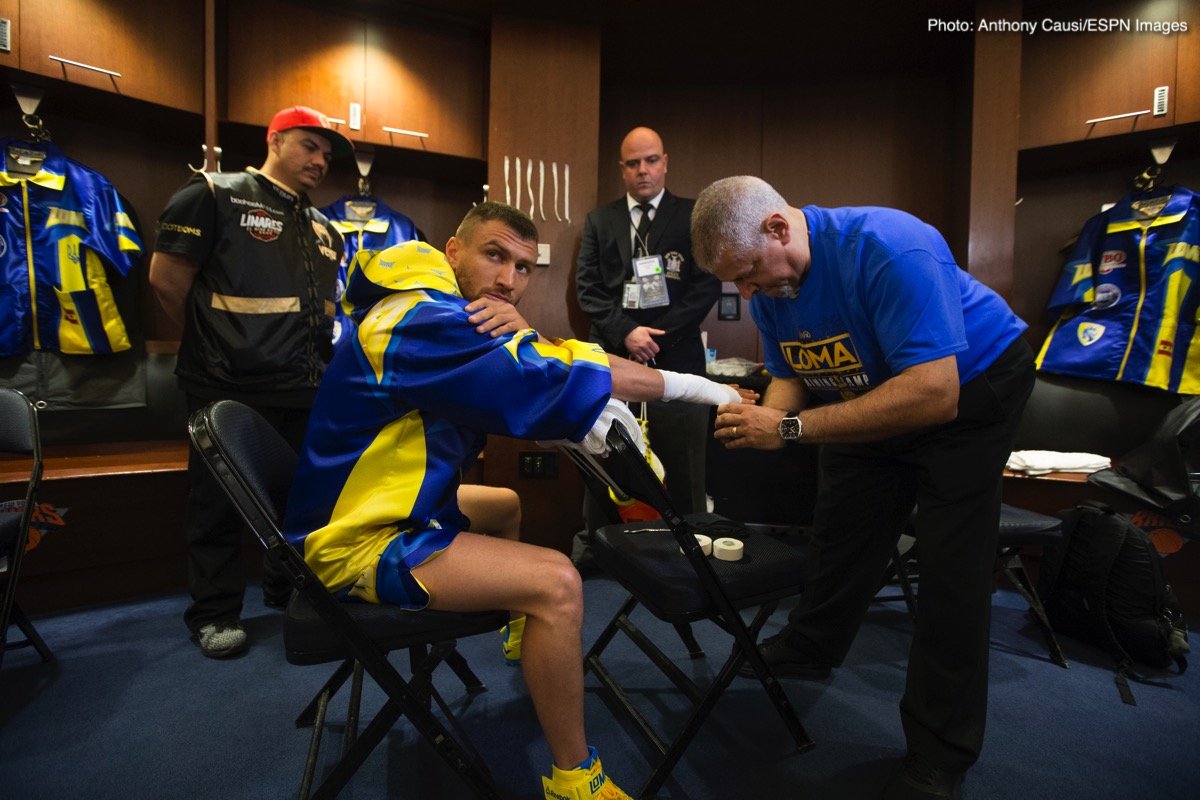 Pound-for-pound king and reigning WBA and Ring Magazine lightweight champion Vasyl Lomachenko is somewhat interested in a fight with an apparently rejuvenated Manny Pacquiao, but the fight would absolutely have to take place at 135 pounds – no higher.
This is the word according to Egis Klimas, manager of the Ukrainian southpaw. Speaking with Chris Mannix of Yahoo! Sports, Klimas said his fighter will not move up to 140, nor will he accept a catch-weight fight with Pac Man.
"We have no interest (in moving up in weight), Klimas said. "If Pacquiao can make 135, to come in and compete for (Lomachenko's) WBA title, Vasyl is the champion in that weight class, it's a possibility. There will be no catch-weight. If he wants to challenge, he needs to come down. If Manny Pacquiao wants to fight Lomachenko, he can make 135."
It now remains to be seen if Pacquiao – a champion all over again courtesy of his impressive stoppage win over defending WBA "regular" welter champ Lucas Matthysse – will consider dropping back down 12 pounds in weight. It's possible Manny could make 135 without weakening himself, as by his own admission he is no huge welterweight (then again, the 39 year old did look muscular and solid at 146 for the Matthysse win).
Pacquiao last boxed as a lightweight ten full years ago, when he sensationally iced the tough David Diaz to win the WBA 135 pound belt. Since then, Pac Man has fought as high as 154, when he administered a fearsome beating to everyone's favourite bad boy, Antonio Margarito.
How much does Pacquiao really want a big fight with Lomachenko? If Manny did push himself hard enough to make 135 again, would he be able to give the seemingly untouchable Lomachenko a real fight, even score the massive upset in defeating him?
Despite Pacquiao's age and Lomachenko's current dominance, this match-up does have some genuine intrigue to it. Currently out with a shoulder injury (Lomachenko recently informing us on social media how he will be back much sooner than anticipated, in August) "Hi-Tech" has no obvious super-fight on the horizon. Or maybe he does, in one with Pacquiao.
Promoter Bob Arum seems keen to make the fight, now Klimas says it can happen if it's at 135. Now it seems as though it's up to Pacquiao to decide whether he wants it or not.
Make no mistake, we will all tune in to see just what happens if these two stars do collide.