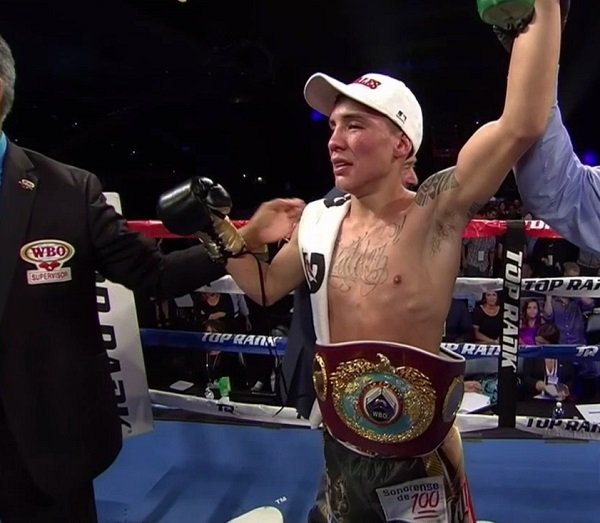 Last night in Tucson in an enjoyable 12 round fight that was full of action, up-and-coming Mexican star Oscar Valdez retained his WBO featherweight title with an up from the floor decision win over Genesis Servania of the Philippines. Valdez prevailed by wide scores of 117-109, 116-110, 115-111 and he is now 23-0(19). Servania, who proved to be dangerous and game throughout, fell to 29-1(12).
Both men came out looking to land power shots and it wasn't long before a slugfest broke out. The challenger drew first blood, sending Valdez down with a right to the head in the fourth-round. When he got back up, Valdez was under more fire. But then, in the very next session of a hot fight, Valdez decked Servania with a jolting, perfectly delivered left hook/overhand left. Servania was more hurt than Valdez had been after his own trip to the mat.
From there on in the two traded and continued to thrill the crowd. The 11th and 12th rounds were particularly entertaining, with the two going toe-to-toe in the final round. It was an excellent fight, one we would not mind seeing again – and Servania indeed called for a rematch. Bob Arum, though, promoter of Valdez, has another fight in mind: one between Valdez and Irish warrior and former two-weight champ Carl Frampton.
Frampton, who recently split with Barry McGuigan, is in need of a big fight and maybe he will agree to go back to the US, where he has fought and won before, to challenge Valdez.
"We're going to try to get Frampton," Arum told ESPN. "We would do it next year, and we would put it maybe some place in Texas or maybe Las Vegas. Frampton would probably object to coming to Tucson (Valdez' hometown), but we can find a place to do that fight. It's a great fight."
It is indeed, at least it is on paper. Frampton, as he showed in his superb win over Leo Santa Cruz, can really put on a thriller, and the former champ (who lost his featherweight belt to Santa Cruz in a return) has shown he has a good chin – maybe a better chin than Valdez, who has now suffered two knockdowns during his exciting career.
Unless he has a better, bigger fight in mind, one he has not yet spoken about in public, Frampton appears to have a perfect opportunity waiting for him to become champion again. But can Frampton beat Valdez? This one looks pretty much like a 50/50 fight.