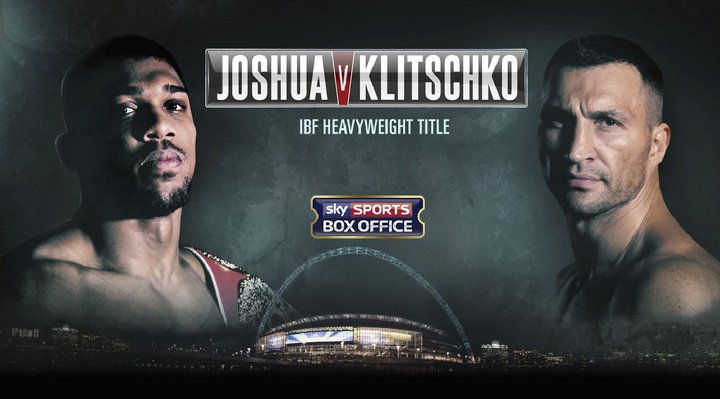 William Hill, sponsor of Anthony Joshua v Wladimir Klitschko, is predicting the global betting industry turnover could reach £100 million (£20 million in the UK alone) for Saturday's eagerly awaited world heavyweight showdown.
British sporting icon and current IBF world champion Joshua is the 4/9 favourite to win the fight – and in the process add the vacant WBA and IBO titles to his collection. AJ, who won Olympic gold at London 2012, has enjoyed a perfect start to his professional career with 18 wins from 18 fight – all coming by way of knockout. Unsurprisingly, William Hill are offering short odds of 8/13 for the Londoner to knockout Kitschko at Wembley Stadium.
The majority of the 90,000 boxing fans at the national stadium will be in AJ's corner, but one of the main reasons the fight sold out in record time was to prospect of seeing the legendary two-time world champion Klitschko in action. This will be the Ukrainian's first outing since losing the IBF, IBO, WBA and WBO titles to Tyson Fury in 2015, his first defeat in 11 years, and he is rated a 2/1 chance to return to winning ways on Saturday night.
The odds suggest the fight will end in a stoppage. However, should it go the distance then who will win? William Hill offer odds of 6/1 for AJ to win on points and 13/2 to win on the scorecards.
"Joshua v Klitschko is set to be the biggest betting fight in history, said William Hill spokesman Tony Kenny, "£20 million will be bet on the fight in the UK alone and close to £100 million across the globe.
"Both AJ and Wladimir transcend the world of boxing – and their date with destiny has got sports fans across the globe excited."
LATEST ODDS FROM BIG FIGHT SPONSORS WILLIAM HILL
To win the fight: 4/9 Anthony Joshua, 2/1 Wladimir Klitschko, 28/1 Draw
Method of result: 8/13 Anthony Joshua by KO TKO or DQ, 7/2 Wladimir Klitschko by KO TKO or DQ, 6/1 Anthony Joshua by Decision or Technical Decision, 13/2 Wladimir Klitschko by Decision or Technical Decision, 28/1 Draw
Fight to go the distance: 9/4 Yes, 1/3 No
When will the fight end? 6/5 Either in Round 1-6, 6/4 Either in Round 7-12, 5/2 Either on Points
Knock Down Specials: 11/4 Anthony Joshua to be Knocked Down, 4/7 Wladimir Klitschko to be Knocked Down, 9/1 Both Fighters to be Knocked Down.
Round Betting
Round Betting (AJ) 25/1 Round 1; 18/1 Round 2; 14/1 Round 3; 14/1 Round 4; 12/1 Round 5; 12/1 Round 6; 12/1 Round 7; 12/1 Round 8; 14/1 Round 9; 20/1 Round 10; 25/1 Round 11, 33/1 Round 12
Round Betting (WK) 66/1 Round 1; 50/1 Round 2; 33/1 Round 3; 33/1 Round 4; 28/1 Round 5; 25/1 Round 6; 25/1 Round 7; 28/1 Round 8; 33/1 Round 9; 40/1 Round 10; 50/1 Round 11, 50/1 Round 12
Tyson Fury willing to put £100,000 on Wladimir Klitschko to knock-out Joshua
Sam Eaton – The former World Heavyweight Champion got in touch with odds comparison company Oddschecker via Twitter asking for the odds of Wladimir Klitschko, who he referred to as 'the big Clit' knocking out Anthony 'Flex' Joshua.
The current best odds are 4/1 for the man from Ukraine to end Joshua's night early, a price which obviously appeals to Fury. The self-proclaimed Gypsy King then asked to have £100,000 on the knock-out, an amount some bookmakers would shy away from. However, Oddschecker got on the phone and managed to find a bookmaker willing to lay Fury's massive punt.
The Manchester-born fighter is not shy of a bet, he apparently had a pre-fight wager with his uncle and trainer Peter, that he'd beat Klitschko in his World Title bout. He also predicted Tony Bellew would TKO David Haye just last month. The ball is now in Tyson's court, if he's willing to put his money where his mouth is then the bet is his…
Oddschecker spokesman, Sam Eaton "We aren't sure if Tyson Fury is being serious, but if he is we've managed to find a partner willing to take his bet. Fury predicted that Bellew would beat David Haye, so who knows he could be on to something. The ball is in his court now."
BetStars Boxing Preview: Anthony Joshua vs Wladimir Klitschko
Anthony Joshua and Wladimir Klitschko go toe-to-toe at Wembley Stadium in London on Saturday night and it looks set to be a tremendous occasion for boxing fans around the world. Joshua is yet to be tested and is unbeaten in 19 professional bouts and meets Klitschko who has contested 63 professional bouts in an illustrious career and has dominated the heavyweight division for more than a decade.
Wladimir Klitschko to win @ 15/8
BetStars boxing expert Justin Reilly said: "Betting turnover on the fight is set to be frantic and from a value perspective the only real bet in the outright fight winner market looks to be Klitschko at 15/8 with Joshua priced conservatively at 40/85 considering his brief career to date. The prices could come a bit closer together as the week goes on and punters latch on to the proven class of Klitschko."
Fight to go the distance @ 2/1
"Both fighters possess huge KO power, however Klitschko has proven he has what it takes to win at this level over a long period of time whilst Joshua has it all to prove. Joshua has stated that he intends to go for the KO, whilst Klitschko has been a bit more reserved in his predictions. I think the fight will be a tactical one in which a KO/stoppage looks quite unlikely. The fight to go the distance is priced at 2/1," said BetStars boxing expert Justin Reilly.
Anthony Joshua to win in rounds 4-6 @ 7/2
"Again from a value perspective, the round betting/round group betting markets are where we will see most of our turnover as customers can avail of a juicier price to keep them interested," said BetStars boxing expert Justin Reilly. "Joshua to win in rounds 4-6 (7/2) and 7-9 (9/2) will be popular as punters expect him to find his feet early, then look for the KO in the middle rounds, however, Klitschko's experience and ring craft will not be easy to overcome."
Wladimir Klitschko by decision/technical decision 1pt win @ 7/1
"Joshua has the potential to win this fight easily and his followers expect him to beat Klitschko on his way to dominating the heavyweight division for many years to come," said BetStars boxing expert Justin Reilly. "With this in mind, the market looks to have somewhat underestimated Klitschko's pure ability, experience and resolution at this level. I expect the judges to be called upon after 12 rounds, with Klitschko just having too much for Joshua on this occasion. Wladimir Klitschko to win by decision/technical decision 1pt win is available at 7/1."