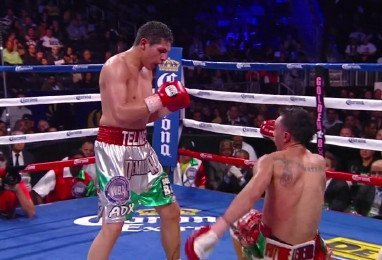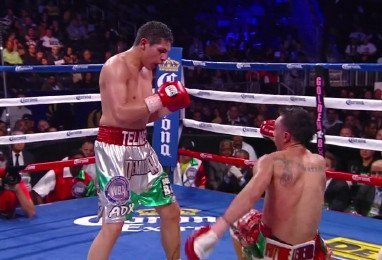 By Bill Phanco: It's not official. 41-year-old Shane Mosley (46-8-1, 39 KO's) will be challenging WBA World welterweight champion Paulie Malignaggi (32-4, 7 KO's) on April 27th in a Showtime headliner fight at the Barclays Center in Brooklyn, New York. There a couple of questions that you have to ask about this fight.
First off, how is that that the International Boxing Federation are going to allow Mosley, who isn't ranked in the top 15 by any of the sanctioning bodies, to fight for a world title? For that matter, Mosley hasn't won a fight in FOUR YEARS, and he's being given a world title shot.
The second question is why is Showtime agreeing to televise this fight as a main event to American boxing fans? I don't think it's a good product for fans, especially if you signed up for Showtime in the past just to see boxing. Having Malignaggi-Mosley televised is pretty much a waste of time because Mosley isn't the same fighter he once was and he's lost three out of his last four fights going into the Malignaggi fight. Even more, Mosley has been given two consecutive title shots in lopsided losses to Manny Pacquiao and Saul Alvarez, and yet here Mosley is being given a third straight title shot.
Golden Boy Promotions CEO Richard Schaefer said to ESPN "I looked in his [Mosley] eyes and told him he cannot make a lot of money and that a lot of people will question whether he should fight…I discussed the fight with the networks and Paulie and I felt Shane deserved the opportunity to fight for a world title again."
That's pretty funny. Paulie and Schaefer think Mosley, a fighter who hasn't won a fight in four years, deserves a title shot. It's really not surprising, though. Malignaggi was hoping to fight Ricky Hatton before this until Hatton was stopped in the 9th round by Vyacheslav Senchenko last November. Malignaggi was going to give Hatton a world title shot despite the fact that Hatton hadn't won a fight since 2008. Senchenko messed up Malignaggi's plans by beating Hatton. So basically what they've done is to interchange Hatton with Mosley, and now they've got a fighter past his best, who like Hatton hasn't won a fight in many years, and Showtime has agreed to televise it.
I guess this is just a pure business decision by Golden Boy and Malignaggi. Instead of taking on someone relevant that would have a good chance of beating Malignaggi, they've selected an old lion that the casual boxing fans are more familiar with so that the fight makes more money and Malignaggi has a better chance of winning. If you put Malignaggi in with his #2 WBA contender Marcos Maidana right now, I think Malignaggi would take a beating and lose that fight, but it wouldn't get the attention that the Mosley fight would because not as many casual boxing fans are familiar with Maidana compared with Mosley.