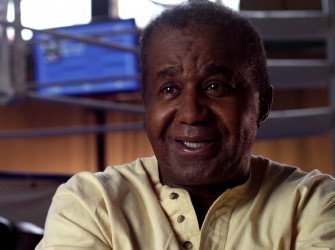 By Joseph Herron: Boxing is a symbiant industry and is very much like a family, in which everyone involved depends on each other. Currently, one of the sport's most prominent figures is in need of prayer from the entire boxing community.
According to sources close to Hall of Fame trainer Emanuel Steward, the boxing icon underwent surgery last week to repair an undisclosed stomach ailment and is currently in recovery at an unnamed location.
While ambiguity encases the 68 year old boxing legend's condition, everyone associated with the beloved trainer is absolutely certain that the world of boxing is a much better place when Emanuel Steward is involved.

Friend and colleague Ronnie Shields spoke about the importance of Emanuel's presence in the sport on last night's episode of "The Pugilist KOrner's: Weekend Wrap"
"I was about 14 or 15 years old when I met Emanuel Steward for the first time," recalls the elite level trainer. "He was so generous with his time and he continues to be one of the greatest people you'll ever meet in or out of boxing."
"This is a man who does everything he can to help everybody around him."
Everyone who has ever crossed paths with Emanuel gives a very similar testimonial. But the Houston, Texas resident recognizes firsthand how special Steward is as a trainer and mentor.
"He's one of the few trainers in the sport who can take a kid off the street and turn him into a world champion," insists Ronnie Shields.
"Most trainers in boxing, including myself, get talent that's already established at some level of the sport. Not Emanuel. He is the best trainer in boxing. He still takes raw talent from the amateur programs and turns them into great fighters. He did it with Tommy Hearns. He nurtured Tommy's career from the amateur level and cultivated him into a six division world champion."
"Now Tommy Hearns is a Hall of Fame fighter and that's why Emanuel is a Hall of Fame trainer."
While there are many proficient trainers in the sport today, Ronnie claims that the Kronk Gym captain is without a doubt the very best in boxing.
"Emanuel Steward is the best trainer in boxing today. I don't care what anybody says. I know what I'm talking about, and I know that no one is better than Emanuel Steward."
"He is the very best. When you fight one of Emanuel's guys, you'd better be ready for a fight. Emanuel is a master at breaking down fighters and coming up with a strategy to beat any opponent. He is master motivator and a master trainer. He knows this sport like the back of his hand."
While everyone remains hopeful and positive that Emanuel will make a full and speedy recovery, Mr. Shields recognizes the importance of prayer in a time when healing is required.
"I'm praying for him every day and I have hope that everything will turn out alright. It has to…because boxing needs Emanuel Steward."
To send your prayers and good wishes to Emanuel Steward, please direct them to info@emanuelstewardonline.com.