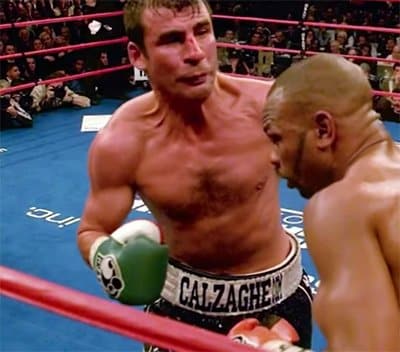 1,006 punches: that's how many Welsh dragon Joe Calzaghe threw in a fight that is exactly ten years old today.
Amazingly, when looking back on the display of sheer dominance Calzaghe put on inside The MEN arena in Manchester, he was the underdog entering the fight with unbeaten star in the making Jeff Lacy. Calzaghe, who had a history of injuries and of pulling out of fights, was supposed to be smashed by the Floridian puncher some were calling "the next Mike Tyson." Instead, British boxing bore witness to one of the finest, most ruthlessly efficient performances in ring history.
Lacy, the defending IBF super-middleweight champion, was 21-0. Calzaghe, the defending WBO 168-pound ruler, was 40-0. There was huge fan and TV interest on both sides of the Atlantic and most people tuning in felt Calzaghe, who was 34-years-old, had left it too late to take on the best, which Lacy, five years the younger man, was perceived by many to be. Instead, in arguably his career-best performance, or, as he himself refers to his performance a full decade on, his "masterpiece," Calzaghe shocked, stunned and thrilled his sport.
Today, having been retired since 2008, when he exited with a superb 46-0 record, Joe looks back on the fight with both satisfaction and gratitude:
"I bought into the hype, I didn't think I could beat him injured," Calzaghe, who had injured his wrist a month before the fight and actually wanted to pull out, told BBC Radio Wales today. "I underestimated myself and my ability. It was my dad who convinced me to take the fight. I was in the best shape of my life and dad could see that. The doctor told me not to fight, but dad wasn't having it. The special relationship we had, nothing demonstrated it better. He said I could beat him with one hand – and he was right."
Indeed, the fight was no contest almost from the very start. Way too fast, way too accurate and way too classy for the man dubbed "Left Hook," Calzaghe, with his formidable southpaw skills, proceeded to school Lacy, thoroughly out-punch him and finally beat him up severely. Even at the time, experts felt Lacy, after around the 8th or 9th-round, should have been pulled out, so badly was he being beaten. Back then, there were concerns the hammering Lacy took might have ruined him as a top class fighter. Although he fought on for a considerable amount of time, Lacy really was never the same.
As for "The Pride of Wales," he went on to solidify his greatness. Now on the big stage, Joe would defeat Mikkel Kessler in front of 50,000 fans in Wales, and then travel to the US to see off legends Bernard Hopkins and Roy Jones Junior up at light-heavyweight. Today, though, Calzaghe has a special place in his heart for the Lacy beat down:
"I am grateful because he came to the UK and laid it all on the line," Joe said of his adversary from ten years ago. "My popularity after fighting Lacy was great, it was the fight that changed my career. Ten years on and I am really proud of it. That was the fight when I made boxing history. It was my master class."
And to think, Joe wanted to pull out a month beforehand. How good was Calzaghe that March night in 2006 – good enough to have beaten any super-middleweight either before or after him? Maybe.