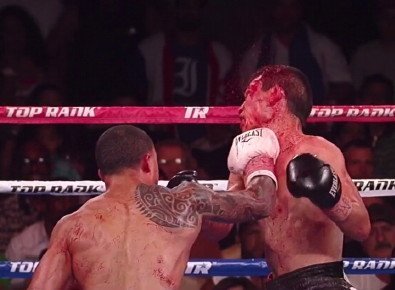 Using a high volume punching attack, super bantamweight contender Chris Avalos (23-2, 16 KO's) outworked the quicker and harder hitting Drian Francisco (24-2-1, 19 KO's) in winning a 10 round unanimous decision tonight at the Texas Station Casino, Las in Vegas, Nevada, USA.
Francisco looked like the better fighter, but he didn't have the engine to throw as many punches as Avalos and that ultimately was the deciding factor in the fight. The judges' scored it 96-94, 97-93 and 97-93.
Avalos attacked all night and was frequently nailed with uppercuts and looping shots coming in and while in close. Francisco was able to take advantage of Avalos' low guard over and over again in the fight. You've got to give Avalos a lot of credit for having a great chin because of a lot of fighters would have been knocked out by the shots that Francisco nailed him with.
Francisco did a lot of holding, but Avalos helped out a lot by not working on the inside like he should have. He could have prevented a lot of the clinches from Francisco if he simply kept his hands busy, but instead Avalos would let Francisco clinch him, and then he'd tag in the back of the head. I saw Avalos nailing Francisco with rabbit punches all night while in the clinches and it seemed pretty blatant.
In the last three rounds, both guys were toe to toe with Avalos getting the better of the action simply because he was throwing so many punches. Francisco had gassed out and couldn't keep up with the fast pace that the 23-year-old Avalos set.
—
In the co feature bout, junior middleweight Glen Tapia (19-0, 11 KO's) defeated Abraham Han (19-1, 12 KO's) by an 8th round stoppage in a bloodbath. Han was cut on the left side of his head from a head-butt early in the fight, and then later cut in the 7th round over his left eye. Tapia knocked Han down with a right in the 7th round.
In the 8th, Tapia hit Han with a scorching right hand that caused his head to snap back hard and sent blood flying into the crowd. The fight was halted after the 8th round because Han was too beat up because of the cuts the punishment he was taking.