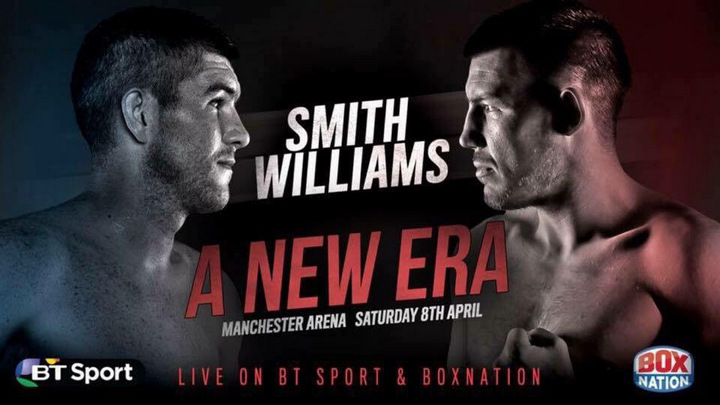 Unbeaten British Super-Welter boss Liam Williams is back on Welsh soil and itching to rumble after a highly productive two week tutorial in the unforgiving fight gyms of Las Vegas, writes Glynn Evans.
The bull strong, bionic punching rumbler from the Rhondda meets Liverpool's Liam 'Beefy' Smith at the Manchester Arena on April 8th and insists that his US excursion has placed him into the best form and condition of his five and a half year pro career.
Here, in his own words, he recounts the experience:
'I went to Vegas for a full two weeks and sparred at three gyms; Skipper Kelp's Fight Capital Gym, the (Ismael) Salas Boxing Academy and the Mayweather Gym. Unfortunately Floyd Jr wasn't there; he'd probably got wind I was coming for him (laughs)!
'We sparred Monday, Wednesday and Friday both weeks and got in some great work with (Cuba's) Yordenis Ugas, a former world amateur champion and Olympic bronze medallist, plus a (9-0 middleweight) Quatavious Cash and a few of Mayweather's super-middles. They all came to have a 'go'.
'It was a pretty hostile environment to be honest –especially at the Salas' gym where you had loads of Cubans hanging over the ring ropes – but let's just say I acquitted myself well, more than held my own with everyone I sparred.
'When we first arrived, all the Yanks were a bit stand-offish but they warmed to us once they could see we meant business. When I popped into the Top Rank Gym, Derrick Harmon, an ex pro who'd beaten Glen Johnson and boxed Roy Jones, asked if I was 'Liam from the UK' because they'd heard on the grapevine good things about what I was doing in the other Vegas gyms. Word had got around.
'The main purpose of the trip wasn't really the sparring but to keep myself fresh mentally. I've been in training for quite a while and sometimes at Gary's in Cardiff it could get a bit monotonous and repetitive.
'We certainly didn't go for a holiday – I worked my balls off – but it was great to be away from the distractions you get at home. I got to see The Strip and one night had a good feast at 'Hooters', as a treat. I stayed at a fabulous time share apartment with a big pool and spa so I could just lounge around the pool between training sessions. Very relaxing.
'The weather was boiling – too hot to handle – and we were able to work outside. I ran up the steps in Majestic Park and did some tough runs up Red Rock Mountain. This camp I'll certainly not have to worry about weight.
'The all round Vegas experience – training alongside so many top pros and experienced coaches – has definitely made me a better all round fighter. Holding my own in different gyms in a different country really bolstered my confidence.
'I'll have two more weeks in Cardiff – lots of hard gym and track sessions – then we'll wind down fight week. I've three more spars scheduled but once I feel 'perfect' I just stop, regardless of how far out the fight is. Nothing is set in stone.
'Saturday 8th April is the toughest fight of my life, biggest occasion of my career and I'm really enjoying the moment, taking everything in my stride, sucking up the experience and atmosphere. I know there's going to be many more even bigger and tougher fights ahead of me after I've dealt with Smith.'
Smith vs. Williams is part of an unmissable evening of action on April 8th; local hero Terry Flanagan makes the fifth defence of his WBO World Lightweight crown against dangerous Russian Petr Petrov; double Olympic Gold Medallist and women's boxing icon Nicola Adams OBE fights for the first time as a professional and former Team GB Heavyweight standout Daniel Dubois makes his highly-anticipated professional debut.
Tickets for April 8 priced £50, £70, £100, £150, £200, £300 and VIP £500 are available from eventim at www.eventim.co.uk and 0844 249 1000 and the Manchester Arena at www.manchester-arena.com and 0844 847 8000.
Liam Smith Doesn't Think Williams Is Ready – Joe Gallagher
In the fight game, there's an old adage that you can't buy, steal, beg or borrow experience and Manchester trainer Joe Gallagher believes that Liam Smith's superior seasoning will be the crux to Team Beefy emerging victorious when the ex WBO champ goes to battle against unbeaten Welsh warlord Liam Williams, the unbeaten British champion, in the unmissable super-welter shoot out at Manchester Arena on April 8th.
Scouser Smith is four years older, boasts eight more pro fights (four at world title level), 60 more pro rounds and has been fighting for pay for 37 months longer. Speaking to Glynn Evans, former Ring magazine Coach of the Year Gallagher stated:
'The way Liam Smith sees it, Williams' team turned the fight down a couple of years back saying he wasn't ready then, and 'Beefy' thinks he's not ready now. No doubt Williams wanted the fight back then but his team didn't believe in him. Why not? The seed of doubt will have been sown.
Liam Williams has always been two years behind 'Beefy', a prospect while 'Beefy' was making British title defences and carving his name on the international scene. Williams has since grown into the role of champion himself after picking up the British and Commonwealth titles that my Liam discarded. He's a solid operator with a good jab, good balance, good timing and good shot selection. I know his trainer Gary Lockett studies Liam Smith a lot and will devise a decent game plan. Team Williams has been growing in confidence of late.
Yes, he's very strong, a good body puncher and he carries a heavy right hand. But he's got longstanding hand problems and he's going to have to throw hard and often if he's to stand any chance of upsetting Liam Smith.
I'm sure that Team Williams feel they've now got the momentum here, that the timing is right for them. That's great but 'Beefy' was on a similar run before the 'Canelo' fight and it's not as if he lost to a Latvian!'
Super-Welterweight rivals Liam Smith and Liam Williams clash in one of the most anticipated domestic dust-ups in recent times on a show headlined by Terry Flanagan defending his WBO World Lightweight Title against tough Petr Petrov; slick South African Zolani Tete faces Arthur Villanueva in a final eliminator for the WBO World Bantamweight strap; double Olympic Gold Medallist and women's boxing icon Nicola Adams OBE fights for the first time as a professional and former Team GB Heavyweight monster Daniel Dubois makes his highly-anticipated professional debut along with a talent packed undercard.
Smith vs Williams at the Manchester Arena on April 8
Former WBO Super-Welterweight boss Liam Smith has blamed long-term rival Liam Williams for costing him the chance of winning the prestigious Lord Lonsdale belt outright and has vowed to settle the score when they clash at the Manchester Arena on Saturday 8th April, live on BT Sport and BoxNation.
Smith and Williams collide in what promises to be the best domestic dust up of the year, with fight fans across the country labelling it as a true 50/50 contest. However, warrior Smith has questioned if the Boxing Writers' Best Young Boxer of the Year is ready to step up to World level.
"He was my mandatory challenger for over twelve months and he wouldn't take the fight," said Smith. "Fair play to his team, they openly said that he wasn't ready to face me but it's Liam Williams' fault I haven't got a British title outright. I'll settle that score when I beat him in April.
"This is a fight that I'm massively confident of winning and it's one that I'll happily win and put to bed. I'm a bit curious as to why people are made up for this fight now and why they weren't at the time I was British Champion but I'm happy to take it and settle the score."
Smith vs. Williams features on the undercard of Terry Flanagan's fifth WBO World Lightweight title defence against dangerous Russian Petr Petrov, also on the card double Olympic Gold Medallist Nicola Adams OBE and amateur Heavyweight starlet Daniel Dubois make their highly-anticipated debuts.
Tickets for April 8 are available from eventim at www.eventim.co.uk and 0844 249 1000 and the Manchester Arena at www.manchester-arena.com and 0844 847 8000.