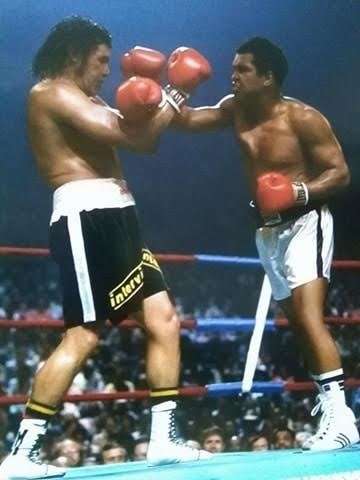 Spain's Alfredo Evagelista is, along with Earnie Shavers, Larry Holmes and Leon Spinks, one of the last surviving former fighters to have gone toe-to-toe with an ageing, yet still hugely influential Muhammad Ali.
As with Shavers and Spinks, Evangelista is best known for his fight with Ali. It was back in May of 1977, some forty years ago, when a 22 year old Evangelista entered the ring against the 35 year old Ali. A huge underdog, the challenger who was born in Uruguay surprised quite a few people by pushing Ali all the way to the final bell, losing a 15-round unanimous decision in Landover, Maryland.
In defeat, as he explains today in broken English, Alfredo "found the humility that was needed to become a world champion."
Today, aged 62 and in excellent mental and physical shape, Evangelista trains young fighters in his homeland. The former seven-time European heavyweight champion is also happy to look back on his long, 23-year pro career.
It is that competitive fight with Ali that Evangelista recalls most fondly, however.
Here the man who walked away with a hard earned 61-13-4(41) ledger (during which Alfredo was stopped just four times) speaks exclusively with ESB:
Q: What are your memories of your fight with Ali, from 1977?
Alfredo Evangelista: "I gave Ali a great fight. It was an unforgettable day that I will simply remember all my life. Ali was of course a fighter I admired greatly."
Q: What did it mean to you to be able to go all 15 rounds?
A.E: "That let me know that I could become a world heavyweight champion, from my humility. I knew it was [going to be difficult] but I knew now that I could do it."
Q: You also fought Larry Holmes in a world title challenge (being stopped in the 7th round). Who was the greater fighter, Ali or Holmes?
A.E: "Oh, Ali of course. Holmes too was very good, but Ali was the greatest in all of boxing!"
Q: Who was the hardest puncher you ever fought? You were stopped just four times.
A.E: "Yes, this is because I had boxing technique, which allowed me to finish [most] fights right throughout my career. Renaldo Snipes I would say was the hardest puncher I encountered in the ring (Snipes being a fighter Evangelista defeated via split decision in 1983)."
Q: Leon Spinks you also fought, in 1980, yet he stopped you in the 5th round?
A.E: "Yes, that was a fight I did not expect at the time. I did not have enough time to prepare myself as I should have. He surprised me."
Q: Have you any regrets about your career, and what was your career highlight?
A.E: "I will never regret anything about my boxing career, it was more than I could ever have wished for. If I were a virgin today, and born again, I would do exactly the same with my life. I was born for boxing. This is the thing: my pride – to have been a seven-time champion of Europe, beating Lucien Rodriguez, and to have fought two world title fights, against Ali and Holmes. And to have met four other world champions and with me asking to be able to fight in the biggest and best venues of the boxing world, for example, Madison Square Garden and Las Vegas. Boxing is my whole life."