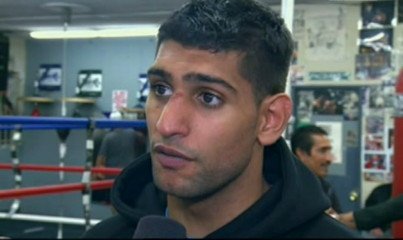 Stephen Espinoza, the President of Sports for Showtime, thinks Floyd Mayweather Jr. (45-0, 26 KO's) vs. Amir Khan (28-3, 19 KO's) on May 3rd would be a good fight for Showtime pay-per-view due to the 27-year-old Khan's fighting style. While Espinoza still isn't saying that he specifically prefers Khan to Marcos Maidana as Mayweather Jr's next opponent, he does seem to be dropping an awfully big hint by praising Khan's fighting at length in an interview with ESPN from today.
"Who will be most entertaining once the bell rings? Espinoza said to ESPN. "That's the way we will evaluate the May fight and every fight after that. I like the Khan fight stylistically. I think Amir provides a set of challenges based on his skills that Floyd hasn't seen in a while. For that reason, I think it will be a very entertaining fight."
What seems to missing here from Espinoza is an analysis of Khan's last 4 fights. He is, after all, 2-2 in his last 4 fights. He got knocked out by Danny Garcia and beaten by Lamont Peterson. Golden Boy Promotions had to pull Khan back from facing quality opposition to get him to stop losing.
If Espinoza was aware of Khan's poor record in his last four fights, he'd see things a little differently. If Espinoza had an employee working for him who wasn't getting the job done and failing over and over again at tough tasks, would Espinoza be in favor of giving that employee a pay raise? In boxing you kind of have to see things like that, because it's a sport where an athlete has to earn things. Unfortunately, Khan has not been up to the standards that fans are accustomed to seeing in terms of Mayweather's opposition. It's good that Espinoza likes how Khan fights, but if he's getting beaten when facing quality opposition then what's the point? He might as well go find someone that can shadow box really well and have them fight Mayweather next because they look so good shadow boxing.
Hopefully there's a group of people that are involved in picking out Mayweather's next opponent rather than 1 or 2 guys, because if his opponent is going to be picked due to how they fight rather than the end results [winning], then boxing fans could be stuck with a real stinker of a PPV fight on May 3rd.